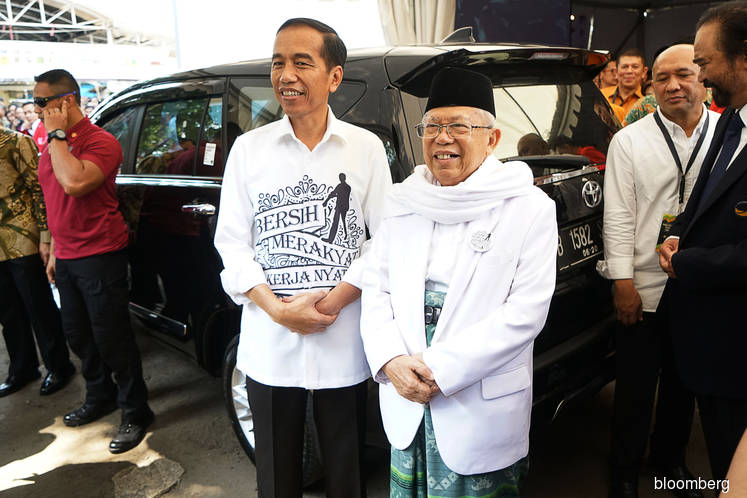 JAKARTA (Nov 2): Indonesia's anti-corruption agency is on a graft-busting spree, snaring a former parliament speaker, a minister, a provincial governor and dozens of lawmakers in recent months.
So far, the list hasn't included anyone President Joko Widodo needs to win re-election in April. But the arrest of executives of two of Indonesia's biggest conglomerates — Lippo Group and Sinarmas — in recent weeks for alleged bribing of government officials add those targeted by the Corruption Eradication Commission, known as KPK's, this year.
Although the anti-graft agency is technically independent, its campaign targeting high-profile politicians and executives is seen burnishing President Joko Widodo's image as a crusader against corruption — among the top issues the electorate cares about. For the president, known as Jokowi, the crackdown sharpens his message with voters without disrupting political alliances that are crucial to maintaining power in Indonesia.
"The need to compromise with Indonesia's old guard political elites has seen Jokowi's once-stellar anti-corruption credentials take a series of hits during his time in office," said Hugo Brennan, a senior politics analyst for Asia at Verisk Maplecroft. "The KPK's corruption crackdown will do Jokowi's re-election chances no harm, as long as no close allies in his government are caught up in scandal ahead of April 2019."
Muslim Aspirations
In the world's largest Muslim-majority country, presidential candidates' religiosity may count more than day-to-day issues of food and fuel prices and corruption. More than 60% of the participants in the Jakarta based Populi Center's latest survey consider "fighting for the aspirations of the Muslims" as the most important factor in favoring a candidate, followed by infrastructure and corruption.
After a divisive governor poll in Jakarta last year exposed the danger of sectarian tensions in elections, Jokowi picked the country's senior most Islamic cleric as his running mate. The incumbent and Ma'ruf Amin are pitted against Prabowo Subianto and Sandiaga Uno in the April 17 election.
Under Widodo, known as Jokowi, Indonesia has climbed several notches in Transparency International's corruption perception index and the World Bank's ease of doing business ranking, but corruption is among the top three issues that could influence voters, according to Populi.
"The corruption crackdown will influence rational voters and they will continue to support Jokowi," said Usep Akhyar, a Jakarta-based political analyst for Populi. "But for those voters, who think the president is not in favor of the majority religion, the corruption crusade may not matter."
Track Record
While Subianto is targeting Jokowi on economic issues including the slump in the currency to a two-decade low, rising prices and joblessness, the incumbent — a former furniture exporter and the first non-elite to become the president — is highlighting his record of building roads, airports, dams and tackling corruption to seek a re-election.
Jokowi, who has managed to maintain his squeaky clean image, saw one of his ministers resign in August after being questioned by the anti-graft agency and the former parliament speaker, an early backer from coalition partner Golkar party, former speaker Setya Novanto, was sentenced to 15 years in prison for his role in a multi-million dollar national electronic identity card scam.
The arrest of Lippo executives and provincial government officials has turned the spotlight on corruption in the bureaucracy even after Jokowi scrapped hundreds of rules and regulations to enhance the ease of doing businesses. The president, who vowed to cut corruption by 70% after winning the election in 2014, has often blamed thousands of redundant laws for holding back the nation's progress.
Lippo Group Vice Chairman James Riady was grilled for more than nine hours on Tuesday by the KPK as a witnesses in a bribery case linked to approvals for the conglomerate's US$18.3 billion Meikarta township project near Jakarta. Riady has denied any wrongdoing and told reporters on Tuesday he will continue to cooperate with KPK in the probe and give more statements if necessary.
The anti-graft agency also named three senior executives of Sinarmas group companies as suspects in an investigation into approvals for oil palm plantation. Sinarmas said it will fully cooperate with the investigations.
"This year looks set to be the KPK's most active on record in terms of the number of corruption cases it has investigated and prosecuted," Brennan said in an email. "Jokowi deserves credit for providing the KPK with the necessary political cover to pursue high-profile corruption investigations, most notably in the case of Setya Novanto."
A survey by Transparency International Indonesia last year showed that bribes accounted for an average 10 of production costs and about 17% of the participants said their businesses failed as competitors bribed officials for favors. But the crackdown under Jokowi holds out hope, according to Transparency International.
"He's clean, his family is not involved. He's not a party chief, so what he does cannot be associated with the party," said Wawan Suyatmiko, researcher at Transparency International Indonesia. Jokowi's decision to unveil a national strategy to prevent corruption that included identifying beneficial owners of companies is example of his commitment to tackle corruption, he said.
But for KPK to carry on its campaign against corruption, the agency needs to be better armed and courts should hand out tougher punishment to convicts , according to Indonesia Corruption Watch. Corruption convicts must be stripped off their ill-gotten assets as a strong deterrence, the watchdog said.
"Indonesia has made incremental anti-corruption gains with Jokowi at the tiller," Verisk Maplecroft's Brennan said. "But graft remains pervasive and is still among the top challenges associated with doing business."