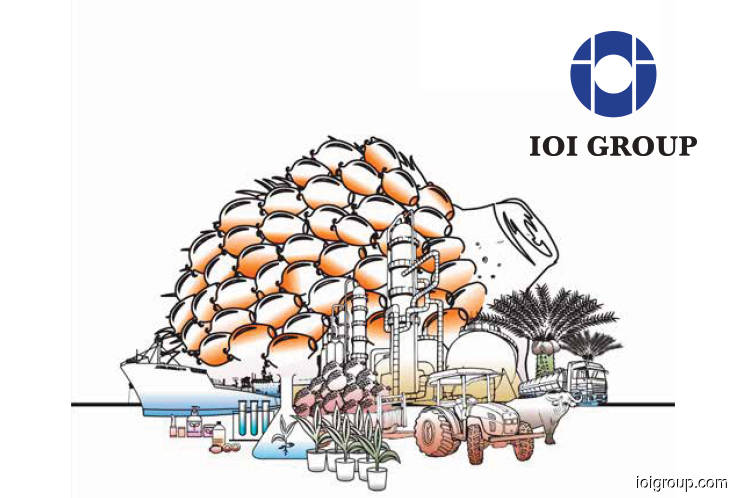 KUALA LUMPUR (Aug 17): IOI Corp Bhd's net profit for the fourth quarter ended June 30, 2018 (4QFY18) retreated 88.72% to RM35.8 million from RM317.5 million previously, mainly on foreign exchange losses incurred in the quarter, compared with gains in the same period last year.
Quarterly earnings per share (EPS) slumped to 0.57 sen, from 5 sen in 4QFY17. Nonetheless, the company declared a second interim dividend of 4.5 sen per share, against 5 sen in the same quarter last year.
In the quarter under review, IOI Corp booked a net forex loss of RM169.2 million from its foreign currency-denominated deposits, against a gain of RM112 million last year, resulting in a gap of RM281.2 million on this item alone.
IOI also incurred a lower operating profit, mitigated by better interest income and performance from its associates and joint ventures.
Quarterly revenue rose 4% to RM1.8 billion, from RM1.73 billion.
For the full-FY18 period, IOI's net profit more than quadrupled to RM3.06 billion from RM743.2 million the year before, while revenue climbed 2.32% to RM7.42 billion from RM7.25 billion in FY17.
The jump in earnings was supported by a forex gain of RM297.7 million throughout FY18, as opposed to losses of RM298.8 million last year.
In terms of operations, IOI said its plantation segment's FY18 profit fell 17.91% to RM1.01 billion in due to lower realised crude palm oil and palm kernel prices, as well as lower CPO extraction rates mitigated by higher production of fresh fruit bunches.
Its resource-based manufacturing segment's profit more than doubled to RM384 million from RM184.7 million in FY17, backed by higher sales volume across all sub-segments and higher margins from the oleo-chemical sub-segment.
IOI expects palm oil prices to be supported at RM2,200 per tonne, amid slower-than-expected growth in production and inventory volumes.
It is looking forward to a seasonal production increase in Malaysia, as well as continued growth from its young plantation in Indonesia and from its associate Bumitama Agri Ltd.
On its manufacturing segment, IOI expects the oleo-chemical sub-segment to perform "relatively well", owing to moderately low feedstock costs, notwithstanding the US-China trade spat uncertainties.
IOI cautioned the strengthening US dollar will contribute to forex loss on its greenback-denominated borrowings in the "medium to long term".
It however added that the retention of the balance of the Loders Croklaan [Group BV] share sale proceeds in US dollar, will provide a natural hedge and mitigate part of this translation loss.
IOI rose 4 sen or 0.88% to RM4.57 today, for a market capitalisation of RM28.47 billion.