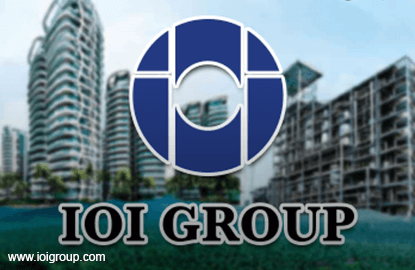 KUALA LUMPUR (Aug 23): IOI Corp Bhd slipped back into the red for its fourth quarter ended June 30, 2016 (4QFY16), with a net loss of RM59.0 million or 0.94 sen a share, compared with a net profit of RM112.7 million or 1.78 sen per share a year earlier.
The group had reported a net loss of RM719 million for 1QFY16, but posted a profit in the second and third quarters.
In a filing to Bursa Malaysia today, IOI Corp said the 4QFY16 loss was due to lower contribution from resource-based manufacturing segment.
The segment suffered a loss of RM58.5 million, as compared to a profit of RM99.1 million in 4QFY15, mainly due to a fair value loss on derivative financial instruments of RM121.9 million, which are primarily trade-related foreign exchange forward contracts.
Aside from the fair value loss, the segment also saw lower margins derived from oleochemicals sub-segment, as a result of high palm kernel raw material cost and partly due to lower contribution from specialty oils and fats sub-segment, arising from the group's Roundtable on Sustainable Palm Oil (RSPO) certification suspension.
IOI Corp's revenue for 4QFY16 fell 3.9% to RM2.82 billion, from RM2.93 billion a year earlier.
For the full financial year (FY16), IOI Corp reported a more than 12-fold increase in net profit to RM629.7 million, compared with RM51.9 million for FY15, due to a lower net foreign currency translation loss on foreign currency denominated borrowings and higher contribution from resource-based manufacturing segments.
Revenue was 1.7% higher at RM11.74 billion, compared with RM11.54 billion for FY15.
On prospects, IOI Corp said with recent rebound in crude palm oil price and the expected increase in palm production over the next few months, the plantation segment is expected to perform satisfactorily.
"As for the resource-based manufacturing segment, we expect the operating conditions for the oleochemicals sub-segment to remain challenging, due to the current high palm kernel prices. However, the group will strive for operational excellence and cost efficiency to sustain its oleochemicals business performance.
"For our specialty oils and fats sub-segment, with the recent lifting of suspension on our RSPO certification, the group's priority is to work towards regaining some of the business in Europe and the United States that were lost during the suspension period," it said.
IOI Corp added that the volatility of the U.S. dollar-ringgit exchange rate will continue to affect the non-cash flow foreign exchange translation gain or loss, arising mainly from its medium to long-dated U.S. dollar denominated borrowings, as well as the fair value gain or loss on derivative financial instruments.
IOI Corp shares closed down one sen (0.23%) to RM4.43 today, for a market capitalisation of RM27.86 billion.