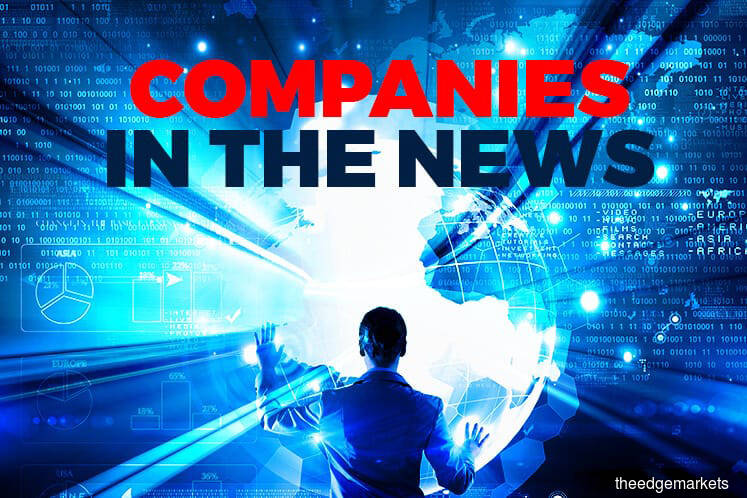 KUALA LUMPUR (March 5): Based on corporate announcements and news flow today, companies in focus tomorrow (March 6) could include IOI Corp, AirAsia, YFG, LBS Bina, Lii Hen, Globetronics and Prestar.
IOI Corp Bhd declared a special dividend of 11.5 sen per share to be paid on March 30, with the ex-date on March 16.
This follows its earlier announcement of a 4.5 sen per share interim dividend payable on the same date.
IOI Corp's net profit in its second quarter ended Dec 31, 2017 skyrocketed over 37 times to RM595.9 million from RM15.6 million previously, thanks to fair value gain on derivative financial instruments and foreign exchange gains on foreign currency-denominated borrowings.
AirAsia Bhd has issued a statement denying claims that its group chief executive officer Tan Sri Tony Fernandes will be resigning from the group to venture into the financial technology sector.
The statement referred to a hoax screenshot of a news story titled Tony Fernandes leaves AirAsia, jumps on financial tech, which was circulating on social media.
The group advised members of the public and the media to disregard the hoax and said Fernandes remains committed to AirAsia and will continue to oversee its strategic direction and business operations.
Practice Note 17 company YFG Bhd has bagged a RM5.4 million subcontract to install the electrical system for an office building in Ipoh.
The electrical and mechanical engineering services provider said the job was awarded to its wholly-owned subsidiary YFG Engineering Sdn Bhd.
"The project involves the supply of materials, labour, tools equipment, workmanship, including delivery, installation and testing & commissioning for execution of electrical system, installation of extra low voltage installation, and information and communication technology services," said YFG.
It added that the project, to be completed in 16 months, is expected to contribute positively to the group's revenue and earnings for the financial year ending Sept 30, 2018.
LBS Bina Group Bhd has entered into a heads of agreement with NWP Holdings Bhd to jointly undertake a development project relating to the transformation of Zhuhai International Circuit (ZIC) in China, in which LBS has a 60% stake.
LBS will be subscribing to 1.1 billion NWP shares, representing 73.7% of the latter's shares, for a cash consideration of RM93.5 million or 8.5 sen per share.
The purchase price represents a 35% discount against NWP's closing price of 13 sen on March 2. NWP shares were suspended from trading on March 5 pending the announcement, and will resume on March 6.
Furniture manufacturer Lii Hen Industries Bhd is buying a plot of agricultural land in Muar for RM6.3 million as part of its factory expansion plan.
The group said its unit Kejora Juara Sdn Bhd is buying the 9.64-acre land from four individuals — Hing Cheng Chai, Koh Eng Luu, Toh Alai and Toh Seng Leong.
It said barring any unforeseen circumstances, the estimated time frame for the acquisition shall be four months from the date of the S&P agreement.
Globetronics Technology Bhd has proposed a one-to-two share split, followed by a bonus issue on the basis of one bonus share for every six split Globetronics shares.
Presently, Globetronics' issued share capital is RM155.75 million comprising 285.6 million shares, its bourse filing showed.
The proposals will increase Globetronics' issued share capital to between RM179.55 million with 666.3 million shares and RM205.99 million comprising 676.56 million shares, subject to whether its outstanding employees' share option scheme options are implemented and exercised.
The exercises are expected to raise the marketability and liquidity of its shares, which has appreciated by 20% over the past year, the filing said.
Prestar Resources Bhd wants to acquire an 8,304 sq m leasehold land in Shah Alam with buildings on-site for RM19.25 million as it expands its material handling equipment trading and services business.
The company inked an agreement with Skyhub Technologies Bhd for the acquisition of the land, which together with the buildings have a market value of RM20 million based on an independent third-party valuation, according to Prestar.
Skyhub is owned by its directors Chew Ee Suan and Chew Ee Sin. Ee Suan holds 51% in the company, while Ee Sin owns the remainder 49%.
Located in Kampung Melayu Subang, Prestar said the 99-year leasehold land measuring 8,304 square metres houses two units of single-storey semi-detached factory cum a three-storey office building, together with two guardhouses.