This article first appeared in Capital, The Edge Malaysia Weekly, on November 6, 2017 - November 12, 2017.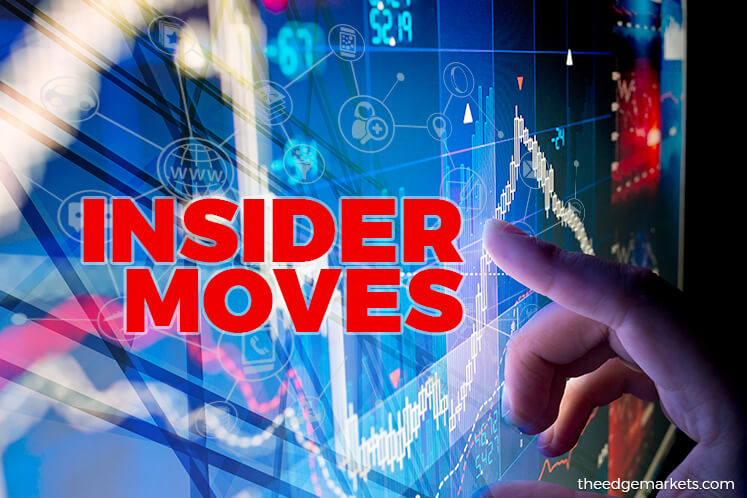 Notable filings
ONE of the notable filings with Bursa Malaysia between Oct 23 and 27 shows the emergence of Tan Sri Khoo Chai Kaa as a substantial shareholder in Titijaya Land Bhd. He now holds an indirect 9.25% stake in the company via Titi Kaya Sdn Bhd, which is an indirect subsidiary of his listed property and construction group, Brem Holding Bhd.
Past filings show the block of shares was issued at RM1.45 apiece or a total of RM70.13 million on Oct 20. The block was part of a total of 79.73 million shares issued as payment for Titijaya Land's acquisition of NPO Builders Sdn Bhd, a property company with freehold land in Penang.
Titi Kaya is now the second largest shareholder of Titijaya Land, behind Titijaya Group Sdn Bhd, which owns 52.63% of the company. Titijaya Group is the vehicle of Titijaya Land group managing director and founder Tan Sri Lim Soon Peng.
Last Wednesday, Titijaya Land closed at RM1.49 for a market capitalisation of RM778.87 million while Brem ended at RM1.09 for a market capitalisation of RM375.37 million.
During the period under review, Paragon Adventure Sdn Bhd acquired another 10.82 million shares in Goh Ban Huat Bhd via the acceptance of its mandatory takeover offer at RM1.40 apiece, raising its stake in the company to 56.79% as at Oct 27.
On Sept 27, Paragon Adventure had emerged as a 51% shareholder of Goh Ban Huat after buying business tycoon Tan Sri Robert Tan Hua Choon's stake. Paragon Adventure is the vehicle of Datuk Seri Edwin Tan Pei Seng and Datuk Seri Godwin Tan Pei Poh, sons of Datuk Tan Eng Boon of Joland Group.
Over at Compugates Holdings Bhd, Datuk Khor Chong Hai surfaced as a substantial shareholder in the company with 9.09% equity interest following a private placement. Filings show that he bought 213.43 million shares on Oct 26.
According to an announcement on May 23, the private placement was expected to raise RM7.47 million for debt repayment and working capital. Khor is now the second largest shareholder of Compugates, behind founder and managing director Goh Kheng Peow, who holds a 10.67% stake. Last Wednesday, the stock closed at three sen, down 28.57% over the past year.
Filings show that Papago (HK) Ltd is no longer a substantial shareholder of M3 Technologies Asia Bhd after selling 24.2 million shares or a 4.13% stake on the open market over several trading days. The disposals would have left Papago with a roughly 4.9% stake. It had emerged in M3 Technologies Asia in November 2012 with 9.55% equity interest. Year to date, M3 Technologies Asia has risen 274%.
Notable movements
Last Wednesday, Ta Win Holdings Bhd's shares closed at RM1.31. Having begun the year at 35 sen, the stock surged past RM1 for the first time in a decade in June. It has gained about 274% year to date.
Ta Win founder Chen Hsi-Tao has been slowly paring his stake since early June. According to an Oct 23 filing, he sold two million shares on Oct 20, which left him with a 7.54% stake compared with 41.1% back in May.
Pioneer Conglomerate Sdn Bhd, meanwhile, has been accumulating Ta Win shares. As at Oct 25, it was Ta Win's largest shareholder with a 24% stake. The vehicle of Datuk Yeo Boon Leong — the executive chairman of Asia Poly Holdings Bhd — Pioneer Conglomerate had emerged in the enamelled copper wire manufacturer on Oct 10 with a 5.44% stake.
Euro Holdings Bhd's share price ended at 18 sen last Wednesday, down 30.77% from its year-high of 26 sen last March. As at Nov 1, the stock had fallen nearly 16% year to date.
According to filings, non-executive chairman Datuk Seri Mohd Haniff Abdul Aziz sold a total of 900,000 shares between Oct 23 and 26, leaving him with 9.43 million shares or a 3.53% stake as at Oct 27.