This article first appeared in Capital, The Edge Malaysia Weekly, on February 19, 2018 - February 25, 2018.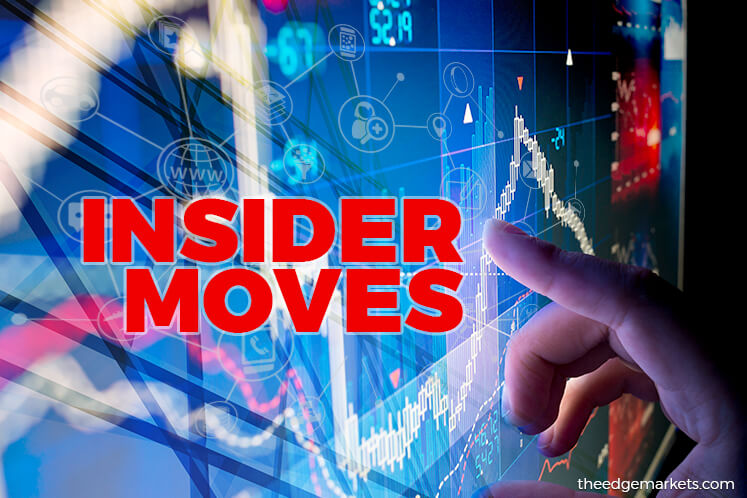 Notable filings
BETWEEN Feb 5 and 9, notable shareholding changes in companies listed on Bursa Malaysia included that at Industronics Bhd.
Luk Tung Lam, a Singapore national, emerged as a substantial shareholder in the electronics and system integration outfit after he acquired 8.86 million shares or a 8.63% stake on Feb 2. The transaction price was not disclosed and, at press time, it was not known who the seller was.
On Feb 6, Everest Hectare Sdn Bhd disposed of 1.6 million shares in apparel maker Asia Brands Bhd. Choo Bay See became a substantial shareholder on the same day with the acquisition of 1.6 million shares, bringing her total shareholding to 5.18 million shares or a 6.55% stake, from 4.52% previously.
Earlier, on Jan 30, Everest Hectare had disposed of 7.08 million Asia Brands shares, bringing the total shares disposed of to 8.68 million or 11% equity interest.
Everest Hectare — the vehicle of Asia Brands chairman Ng Chin Huat and his wife Yap Su P'ing — currently holds 38.56 million shares or 48.7% as at Feb 6. 
On Dec 12 last year, Asia Brands entered into a conditional share subscription agreement for 37.2 million new shares — 31.99% of its enlarged share capital — with Trackland Sdn Bhd, which will raise gross proceeds of RM27.57 million.
Over at paper packaging company Ornapaper Bhd, executive director Sai Chin Hock transferred his 4.06 million shares, or 5.5% equity interest held via Intisari Delima Sdn Bhd, to his elder brother Sai Ah Sai on Feb 5. The shares were transferred at RM1.30 apiece, for a total consideration of RM5.27 million.
Intisari Delima, the vehicle of the Sai family, was left with 22.69 million shares or 30.6% as at Feb 5.
The elder Sai was appointed a non-independent, non-executive director of Ornapaper on Jan 1.
At human resources and education services provider SMRT Holdings Bhd, independent non executive director Leow Nan Chye disposed of his entire holding of 735,200 shares, or a 0.2% stake, at 18.23 sen apiece, for a total consideration of RM134,027.
Leow was appointed to the board on Oct 5, 2005.
Notable movements
Between Feb 5 and Feb 9, Naim Indah Corp Bhd executive director Toh Hong Chye disposed of 119.8 million shares, or 8.9% equity interest. During the period, Naim Indah's shares were trading at 4 sen to 6 sen apiece.
Johor-based Voon Brothers Construction Sdn Bhd had emerged as a substantial shareholder in Naim Indah on Jan 29 with 109.72 million shares, or 8.15%, after it acquired shares through a creditors capitalisation exercise.
On Feb 9, Voon Brothers disposed of 23 million Naim Indah shares, leaving it with a residual shareholding of 86.72 million shares or a 6.44% stake.
Between Jan 30 and Feb 9, the counter declined 38.4% to 4 sen. The stock has lost 58% of its market value over the past 12 months closing at of 4 sen apiece last Monday.
Meanwhile, Top Glove Corp Bhd executive director Lim Cheong Guan disposed of 48,000 shares, or 0.004% of the glovemaker's issued shares, on Feb 2. His total shareholding now stands at 20,000 or 0.002%.
Between Jan 24 and Feb 9, Top Glove's share price dropped 5.1% to RM9.30 The stock had appreciated 82.6% over the last 52 weeks to settle at RM9.20 last Monday. 
Save by subscribing to us for your print and/or digital copy.
P/S: The Edge is also available on Apple's AppStore and Androids' Google Play.