This article first appeared in Capital, The Edge Malaysia Weekly, on August 13, 2018 - August 19, 2018.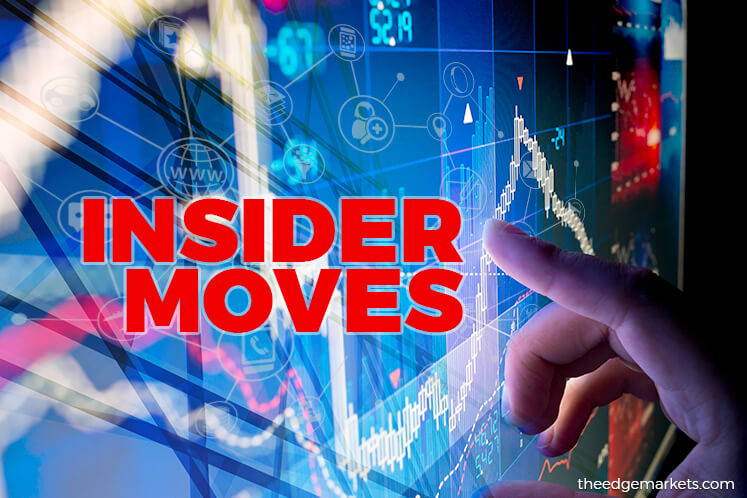 Notable filings
FROM July 30 to Aug 3, notable filings include that for Med-Bumikar Mara Sdn Bhd's (MBM) off-market disposal of 10 million Ewein Bhd shares or a 3.32% stake on Aug 1, which reduces its stake to 8.47%.
MBM has been reducing its stake in the Penang-based property developer. It held 22.06% equity interest in the company as at April 6, 2018, according to Ewein's 2017 annual report. However, MBM remains Ewein's second largest shareholder after Datuk Ewe Swee Kheng (37.87%).
Formerly a metal sheet enclosure fabricator, Ewein is now more known for its property development business. Its RM800 million City of Dreams project in Bandar Tanjong Pinang, Penang, is on track to be completed by the end of 2019. The company has also been granted rights to acquire 50 acres of to-be-reclaimed land at Gurney Drive within a 10-year period for RM2.83 billion. The land will be divided into 10 parcels and developed over 10 years.
Between July 30 and Aug 2, SCH Group Bhd's largest shareholder, Datuk Ong Choo Meng, acquired 11.95 million shares, or a 2.15% stake, increasing his equity interest to 29.43%.
The quarry machinery and equipment distributor is in the midst of diversifying its business into event equipment business and fertiliser. On July 18, SCH acquired TK Tent & Air-Conditioning Rental Sdn Bhd from Hextar Holdings Sdn Bhd for RM50 million. Ong is the largest shareholder of Hextar with a 64.7% stake, while the remaining shares are held by his wife and son.
On Aug 7, SCH completed the acquisition of a 83.33% stake in PK Fertilizers (Sarawak) Sdn Bhd for RM19.05 million, satisfied by RM11.45 million cash and 40 million shares at 19 sen per share. The acquisition makes PK Fertilizers Sdn Bhd a substantial shareholder in SCH with a 7.2% stake.
Datuk Tan Choon Hwa, currently the largest shareholder of SMTrack Bhd, disposed of five million shares or a 3.4% stake in the radio frequency identification solutions provider on July 30, reducing his holding to 12.76%.
SMTrack's plan to acquire the US-based Wellspring Worldwide Ltd for RM310 million was dropped on April 18, after considering the latter's performance in the financial year ended Dec 31, 2017 (FY2017), which did not meet SMTrack's expectations.
The plan would have seen SMTrack becoming the franchise holder of Tutti Frutti Frozen Yogurt. Wellspring's major shareholders include Jay Kim with a 40% stake, Savvy Valley Sdn Bhd (20%) and Lembaga Tabung Haji (10%).
 
Notable movements
Closing at RM1.20 on Aug 8, Rohas Tecnic Bhd's share price has declined by 19% or 28 sen year to date.
On Aug 1, Rohas Tecnic announced that it had entered into a non-binding term sheet with the shareholders of Phu My Vinh Construction and Investment Corporation (PMV) in respect of a proposed sale and purchase of 40% of PMV shares for an indicative price of RM40.6 million. PMV owns and operates two water treatment plants in Long An Province, Vietnam, with a total water supply capacity of 55,000 cu m per day.
Meanwhile, Imaspro Corp Bhd saw its second largest shareholder, Yu Kuan Chon, acquire 1.33 million shares or a 1.66% stake between July 31 and Aug 2. As at Aug 7, Yu's direct and deemed stakes in Imaspro totalled 20.5%, down from 24.97% as at Sept 29, 2017, according to Imaspro's 2017 annual report. The largest shareholder with more than 42% equity interest was Swiss Revenue Sdn Bhd, which is controlled by managing director Tong Chin Hen and his wife Chan Sow Keng.
Imaspro's share price decreased by 3.2% during the period under review. Closing at RM2.13 on 
Aug 8, the counter was up 17.68% year to date. Imaspro is involved in the manufacturing and distribution of pesticides and related agrochemicals.
Save by subscribing to us for your print and/or digital copy.
P/S: The Edge is also available on Apple's AppStore and Androids' Google Play.