This article first appeared in Capital, The Edge Malaysia Weekly, on November 27, 2017 - December 03, 2017.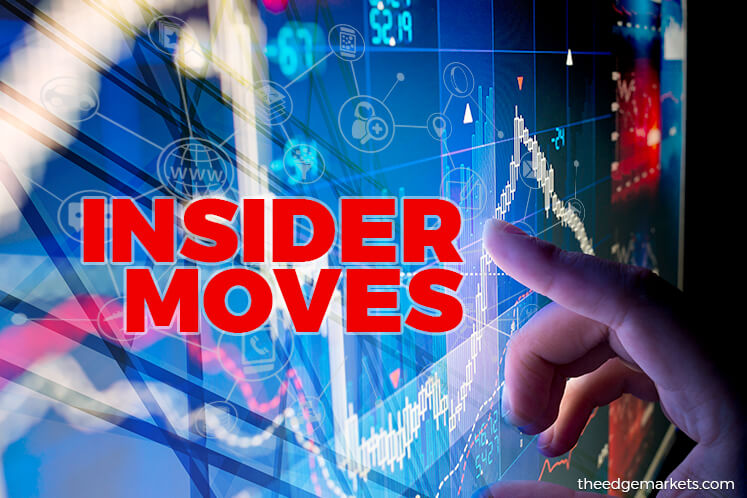 Notable filings
BETWEEN Nov 13 and 17, notable filings included those at Compugates Holdings Bhd, which saw its CEO and substantial shareholder, Goh Kheng Peow, trim his holding by 24.42 million shares via a direct business transaction on Nov 14.
Stock market data shows the same number of shares changing hands in a single direct deal at three sen apiece that day, just above the 2.5 sen the shares fetched on the open market. Post-disposal, Goh's direct stake is 9.63% and he is deemed interested in another 2.63%.
The consumer electronics distributor, which recently diversified into the distribution of green energy products, agriculture and timber concession business, completed a private placement at 2.3 sen per share to raise working capital and pare borrowings last month. The placement of 213.43 million shares was taken up by Datuk Khor Chong Hai, who emerged as a substantial shareholder with a 9.09% stake as at Oct 26.
Hubline Bhd saw its chairman, Ibrahim Baki, increase his stake by 36.3 million shares between Nov 15 and 17 through Ibz Corp Sdn Bhd. Post-acquisition, Ibrahim's indirect stake, held through Ibz, increased to 6.1%. His direct stake was 1.73% as at Nov 17.
Between Sept 14 and Oct 19, Hubline's share price surged more than three times to 19 sen from six sen, on speculation that the company is negotiating a preliminary agreement with a "large oil and gas/chemical company" for the provision of logistics services. The company said this in response to an unusual market activity query from Bursa Malaysia. At the time of writing, it had yet to announce any memorandum of understanding. The stock closed at 12 sen last Wednesday.
Tiger Synergy Bhd saw executive chairman Datuk Tan Wei Lian, executive director Datin Sek Chian Nee and managing director Tan Lee Chin dispose of a total of 36.48 million shares on Nov 10 and 14. Wei Lian is Sek's husband and Lee Chin's brother. Post-disposal, Wei Lian's direct interest is 10.81% while he is deemed interested in another 4.36% through his wife (3.074%) and sister (1.286%).
Yinson Holdings Bhd executive chairman Lim Han Weng sold 13 million shares on Nov 10, reducing his direct stake to 16.03%. He is deemed interested in another 9.02% stake.
On Nov 21, the company said it agreed to sell 26% equity interest in Yinson Production (West Africa) Pte Ltd to Japan Sankofa Offshore Production Pte Ltd for US$117 million or RM488.53 million. The funds raised will be used for working capital (US$42.5 million), capital expenditure (US$24 million) and repayment of borrowings (US$50 million). The deal, which does not need shareholders' approval, is targeted to be completed in the first quarter of next year.
Notable movements
Seacera Group Bhd's share price fell 9.74% from 77 sen to 70 sen between Nov 13 and 21.
Filings show Synergy Platform Sdn Bhd emerging as a substantial shareholder after it acquired 20.81 million shares or a 5.91% stake in the company on Nov 17. Seacera group managing director Zulkarnin Ariffin is deemed to have an indirect interest in Synergy Platform. On the same day, he disposed of 13.33 million shares in Seacera, trimming his direct stake to 8.84%.
iDimension Consolidated Bhd's share price has been in decline since Oct 16. Between Nov 1 and 17, the counter dipped 33.3% to five sen from 7.55 sen apiece.
Ang Beng Leong is no longer a shareholder after he sold his entire stake of 40.19 million shares on Nov 15. Interestingly, Ang was among the group of shareholders with a collective 18.01% stake who called for an extraordinary general meeting in October to remove two iDimension executive directors, Tan Kian Meng and Pang Lee Fung, and appoint Ang and Yap Tet Soon to take their place. However, the resolutions were not passed at the Nov 3 EGM, with only 31.3% voting for the removal-cum-replacement and 68.7% voting against.