This article first appeared in Capital, The Edge Malaysia Weekly, on January 22, 2018 - January 28, 2018.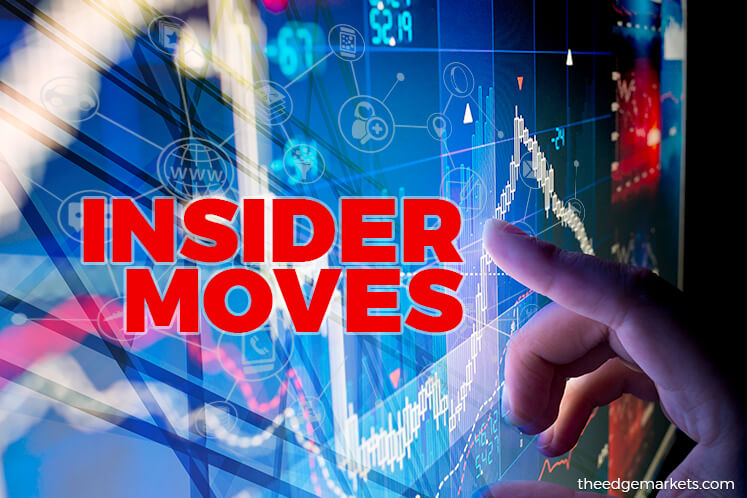 Notable filings
BETWEEN Jan 8 and 12, notable filings included that of Tey Por Chen ceasing to be a substantial shareholder of Asdion Bhd on Jan 9 after selling 3.29 million shares.
Tey, who still held a 7.61% stake in the company after selling 1.46 million shares over Jan 3 and 4, had been paring down his holding since late November last year, filings with Bursa Malaysia show. As at Nov 29, Tey had trimmed his stake to 13.71% after selling 8.88 million shares over Nov 28 and 29.
Asdion, whose subsidiaries are involved in logistics, commodity trading and property development, saw its net loss for the second quarter ended Sept 30 last year narrow to RM598,000 from RM1.05 million a year ago. This was despite revenue slipping 60% year on year to RM1.12 million.
Over at Maxwell International Holdings Bhd, its largest shareholder Li Kwai Chun continued to dispose of shares in the shoemaker. She sold 14 million shares at 1.5 sen each on Jan 5 and 8, reducing her holding to 23.07%. The 59-year-old Hong Kong national, who was redesignated as non-executive director from president on July 31 last year, had sold 21 million shares on Dec 29 last year, also at 1.5 sen each. She had a 58.33% stake in Maxwell as at March 31 last year, according to its 2016 annual report.
No new substantial shareholder had emerged in the company at the time of writing.
Maxwell's share price, which has been hovering at 1.5 sen to two sen since the beginning of the year, spiked 133.33% from 1.5 sen to 3.55 sen apiece between Jan 15 and 17. It closed at 3.5 sen on Jan 17.
The Practice Note 17 status company announced on Jan 15 that it had been given a six-month extension until the end of June to submit its regularisation plan.
Meanwhile, a Jan 12 filing with Bursa shows that 79.55% of Hovid Bhd is in the hands of managing director David Ho Sue San and Fajar Astoria Sdn Bhd — Ho's special purpose vehicle with private equity partner TAEL Partners Ltd, which jointly offered 38 sen per share to privatise the home-grown pharmaceutical company.
According to the filing, 44.89% of the company's share capital had been received by the joint offerors as at Jan 12, increasing their total holding to 78.61% from 33.72% on Oct 9 last year when the offer document was dispatched. Their total holding would rise to 79.55% if another 7.74 million shares received by the joint offerors that have yet to be verified were included. The joint offerors do not intend to maintain the listing status of Hovid, whose public shareholding spread is below the required 25%.
Notable movements
Between November last year and Jan 12, Diversified Gateway Solutions Bhd's share price surged 210% from five sen to 15.5 sen. The company, whose shares were previously thinly traded, caught investors' attention after Insas Bhd surfaced as a shareholder with a 19.91% stake or 270 million shares in DGSB early last November. The stake was acquired from Omesti Bhd.
According to filings with Bursa, Lau Chi Chiang disposed of 4.6 million shares in the company on Jan 5 and ceased to be a shareholder. Lau was formerly the executive director of DGSB. He retired on Sept 14 last year.
Between Jan 9 and 12, Tiger Synergy Bhd saw its share price fall 20% from five sen to four sen apiece. On Jan 10, executive chairman Datuk Tan Wei Lian sold 20 million shares in a direct trade, reducing his direct and indirect stake in the company to 10.03%.
The company recently announced plans for a four-into-one share consolidation and an issuance of redeemable convertible notes to raise up to RM150 million to fund its current property projects.
Save by subscribing to us for your print and/or digital copy.
P/S: The Edge is also available on Apple's AppStore and Androids' Google Play.