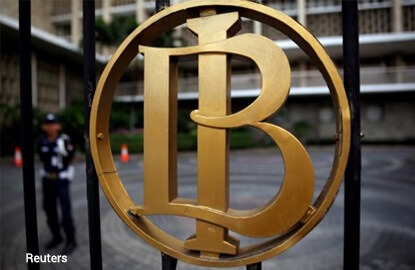 JAKARTA (Jan 18): Indonesia's central bank is widely expected to keep its benchmark policy rate unchanged on Thursday, as it monitors the rupiah's movement at a time of global uncertainty and price pressures at home.
Bank Indonesia (BI) cut its benchmark six times last year, by 150 basis points to 4.75% to aid economic growth. During 2016, the inflation rate was low, current account deficit comfortable and the rupiah relatively stable.
All 22 analysts in a Reuters poll predicted the central bank will leave the main rate unchanged on Thursday.
"BI's monetary policy easing cycle may have come to an end," the World Bank said in a report published on Tuesday.
It said the space for easing is more constrained than in October — when BI made its last trim — "given U.S. interest rate normalization and downward pressure on the rupiah".
Capital Economics said BI is also likely to consider risks of higher inflation, due to government plans to hike some liquefied petroleum gas prices and electricity tariffs.
"BI expects this to push inflation towards the top of its target range, weakening the case for further monetary loosening," the consultancy wrote on Monday.
Higher inflation seen
Earlier this month, BI Deputy Governor Perry Warjiyo said that although the central bank has room for more easing, it needs to "calibrate" an expected acceleration in inflation when deciding its main rate.
He said inflation may rise to 4.6% in 2017, due to adjustments in administered prices, from 3.02% in December.
Warjiyo, hinting at a hold on Thursday, said BI may prefer to use liquidity management tools to support economic growth, while its main policy rate will be used to maintain financial market stability.
Some analysts said Southeast Asia's largest economy still needs loosening to lift sluggish growth, which slowed to 5.02% in the third quarter and may slow again to 4.97%, according to BI's forecast.
Out of seven analysts who gave views for the benchmark at the end of March, three saw BI making a 25-basis-point cut to 4.50%, while the other four projected no change.
Taimur Baig, Deutsche Bank's chief Asia economist, said "Indonesia's economic turnaround, which seemed apparent in the first half of last year, appears to have stalled" and that might prompt BI to cut before April.
DBS economist Gundy Cahyadi sees a rate hike, but not until 2017's second half.