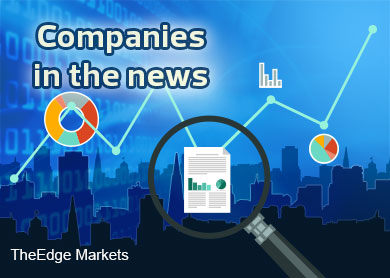 KUALA LUMPUR (Nov 11): Based on corporate announcements and news flow today, the companies that may be in focus tomorrow (Wednesday, Nov 12) could be the following: Inari Amertron Bhd, Malaysian Resources Corp Bhd, Teo Seng Capital Bhd, Pelikan International Corp Bhd, Tambun Indah Land Bhd, Hong Leong Industries Bhd and Minetech Resources Bhd
Electronic component manufacturer Inari Amertron Bhd is on track to achieve its RM1 billion revenue target by the financial year ending June 30, 2016 (FY16), Chief Executive Officer Lau Kean Cheong said after the group's extraordinary general meeting today.
The group's FY14 revenue has rose to RM793.66 million from RM241.14 a year earlier, lifting its net profit to RM101.27 million from RM42.01 million.
Lau said revenue growth would be underpinned by booming demand for radio frequency (RF) and opto electronic products, as the growth rate of the former has outperformed the semiconductor sector as a whole.
According to Lau, the growth is mainly driven by rising demand for smartphones and tablets.
Therefore, he said Inari will focus in producing electronic components to cater to the booming industries.
On top of that, Lau also foresee that Inari's fibre optic division will emerge as a new income driver in FY16 or FY17.
Inari share price went up five sen or 1.67% to RM3.04 today, with 7.59 million shares traded, giving it a market capitalisation of RM1.86 billion.
Malaysian Resources Corp Bhd (MRCB) has been pre-qualified for the proposed construction of an RM800 million waste-to-energy incinerator project in Taman Beringin, Kepong.
Imran Salim, MRCB group chief operating officer, said the group had passed the pre-qualifying stage for the incinerator project and was preparing to send in its final submission.
"We have pre-qualified and now we are going for the full tender," Imran told reporters after MRCB's ground-breaking ceremony for an overhead bridge project.
Imran, however, refused to confirm if the group was among four shortlisted firms for the construction of the incinerator.
In September, The Edge Financial Daily, quoting sources, reported that MRCB, UEM Environment Sdn Bhd, DRB-Hicom Bhd and Puncak Niaga Holdings Bhd had been shortlisted for the project.
MRCB share price fell two sen or 1.3% to settle at RM1.53 today, with over a million shares traded, giving it a market capitalisation of RM2.69 billion.
Poultry firm Teo Seng Capital Bhd, whose net profit has jumped 56% for the third quarter ended Sept 30, 2014 (3QFY14), has proposed a special dividend of five sen per share plus bonus issue of shares and warrants to reward shareholders.
Teo Seng's net profit for the 3QFY14 rose to RM10.76 million from RM6.89 million on the back of a 19% rise in revenue to RM95.66 million.
For the cumulative nine month period, net profit almost doubled from RM17.69 million the same time last year to RM30.65 million, while revenue was up 12.8% to RM272.48 million from the previous corresponding quarter.
Teo Seng also declared a special single tier dividend per share of five sen for the quarter, bringing total dividend declared to date to 10 sen, significantly higher than the one sen dividend declared for the same period last year.
The company proposed up to 100 million bonus shares on the basis of one bonus share for every two existing shares held by its shareholders on an entitlement date to be determined later.
The bonus issue also comes together with up to 50 million warrants on the basis of one warrant for every four existing shares.
Stationary manufacturer Pelikan International Corporation Bhd announced that it had entered into a heads of agreement with its Germany-listed subsidiary, Herlitz AG (Herlitz) to pave the way for the implementation of its "asset streamlining exercise".
Based on a filing with bursa Malaysia, the agreement provides that Pelikan and Pelikan Holding AG (PHAG), its 96.45% owned subsidiary will inject assets from Pelikan's worldwide stationary businesses into Herlitz for a consideration of EUR231.2 million or RM971 million by February 28, 2015.
The consideration is at a discount of 7.2% on Pelikan's independent auditor PricewaterhouseCoopers (PwC)'s EUR249.2 million or RM1.05 billion valuation.
Assets which will be injected by Pelikan and PHAG are Pelikan Germany, Pelikan Belgium, Pelikan Schweiz, Pelikan Italy, Pelikan Japan, Pelikan Middle East, Pelikan Mexico, Pelikan Colombia, Pelikan Argentina and its logistics property.
In addition, the agreement proposed the issuance of up to 32.9 million new Herlitz shares at an offer price of EUR1 per share and an offer for sale by Pelikan of up to 60 million Herlitz shares at a minimum price of EUR1 per share.
The proposed issuance of new shares for sale will raise gross proceeds of EUR92.9 million or RM390 million for Pelikan. The proceeds will be used for business and development, working capital, repayment of bank borrowings and funding the streamlining exercise.
Pelikan share price was unchanged at RM1.20 today, with 2.57 million shares transacted, giving a market capitalisation of RM658 million.
Tambun Indah Land Bhd today terminated the conditional sale and purchase agreement (SPA) that propose to acquire 27 parcels of freehold lands from TPPT Sdn Bhd, which spans almost 210 acres, for a purchase consideration of RM150 million.
The SPA was entered into between Tambun Indah's wholly-owned subsidiary Palmington Sdn Bhd, and TPPT on Jul 11, 2014.
According to Tambun Indah's filing to Bursa Malaysia today, upon the termination of SPA, a refund of deposit that amount to RM15 million shall be expected from TPPT no later than 21 working days.
Nonetheless, Tambun Indah also mentioned that it will continue to seek opportunities to expand its landbank further.
With 614,600 shares done today, the property developer fell eight sen or 3.54% to close at RM2.18, giving it a market capitalisation of RM898.59 million.
Hong Leong Industries Bhd (HLIB) today announced its first quarter financial year ended Jun 30, 2015 (1QFY15) results.
HLIB registered a 33% increase in net profit to RM48.17 million in 1QFY15, from RM36.07 million in previous corresponding quarter; backed by a 1.54% growth in revenue of RM524.49 million, against RM516.53 million last year.
It attributed the improvements to mainly favourable sales mix and lower production costs for consumer products segment, along with a gain of RM12.6 million arising from the redemption of investment in unit trust.
HLIB share price climbed four sen or 0.87% to close at RM4.62 today, giving it a market capitalisation of RM1.47 billion.
Minetech Resources Bhd announced that it has entered into a memorandum of agreement (MOA) to acquire Glamour Heights Sdn Bhd (GHSB), a Perak property development player, together with two of its existing projects.
According to Minetech filing to Bursa Malaysia today, the acquisition is priced at RM27.45 million for this proposed acquisition.
On its press release today, Minetech says that the purchase consideration will be fully satisfied via issuance of new ordinary shares of 15 sen each, therefore the acquisition is not expected to drain its cash flow.
The two on-going projects, which are the development of residential high rise buildings and mixed housing project, will come with a guaranteed profit of RM27.38 million by GHSB.
Chin says that the rationale of venturing into property development is to transform Minetech from pure traditional quarry mining to a comprehensive total building solutions provider.
Minetech share price inched up one sen or 7.14% to 15 sen today, with 14.78 million shares traded, giving it a market capitalisation of RM99.76 million.