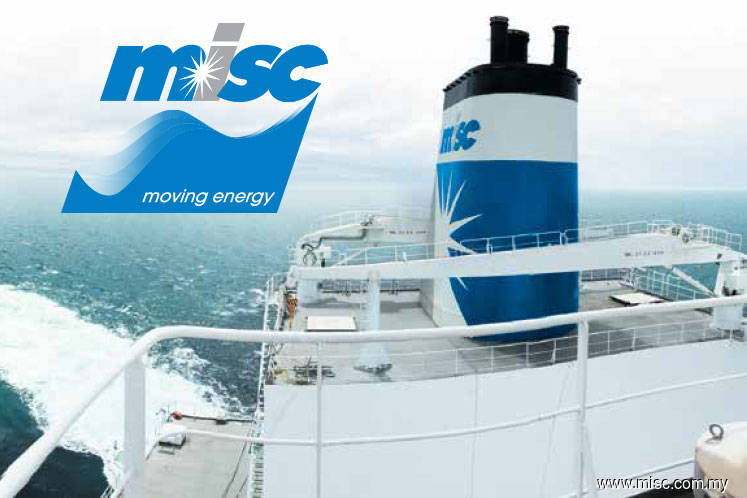 KUALA LUMPUR (Feb 13): MISC Bhd's fourth-quarter net profit tumbled 87.1% to RM68.2 million from RM529.8 million a year ago, dragged mainly by higher impairment loss of RM553.9 million in the current quarter under review. 
Operating profit for the three months ended Dec 31, 2017 (4QFY17) was 5.9% lower at RM627 million from RM666.5 million in 4QFY16, on lower contribution from its liquefied natural gas (LNG), as well as its petroleum segments' offset gains in offshore, heavy engineering and other operations. Earnings per share fell to 1.5 sen in 4QFY17, from 11.9 sen in 4QFY16. 
Quarterly revenue also slid 3.3% to RM2.43 billion, from RM2.52 billion in 4QFY16, no thanks to lower revenue across its operations, save for LNG.
Nevertheless, the shipping firm declared a fourth interim dividend of 9 sen per share for the financial year ended Dec 31, 2017 (FY17), payable on March 15. This brings total dividends for the year to 30 sen per share — unchanged from FY16.
For the full FY17, MISC's net profit came in 23.2% lower at RM1.98 billion, from RM2.58 billion the previous year — again largely due to impairment loss of RM687.5 million for the year, compared with RM358.8 million in FY16. 
This came despite operating profit rising 10.2% to RM2.7 billion, from RM2.45 billion in FY16. Also dragging the numbers in the year were the absence of net gain on acquisition of subsidiaries, which amounted to RM856.2 million in FY16.
However, revenue rose 4.6% to RM10.04 billion in FY17 from RM9.6 billion in FY16, with higher contribution from its LNG and offshore operations mitigating the slight decline in its petroleum and heavy engineering operations.
On prospects, MISC said the oversupply of tonnage and cut in global oil production by Organization of the Petroleum Exporting Countries in 2017 will continue to weigh on the petroleum shipping segment in 2018.
"Similarly, the LNG shipping segment faces an ongoing tonnage oversupply situation and the difficult market will persist in 2018. Lack of short term positive indicators suggests another challenging year," MISC added in its bourse statement today. 
Although the low level of project approvals in 2017 will not spell a greater level of activity for the offshore market in 2018, MISC noted recovery in oil price will likely drive the global revival of upstream projects.
"Assuming final investment decisions are taken during 2018, it will shape a robust and healthier outlook for 2019," MISC said.
At 2.51pm, MISC shares were down 5 sen or 0.7% at RM7.08, with 1.47 million shares traded, giving it a market capitalisation of RM31.78 billion.