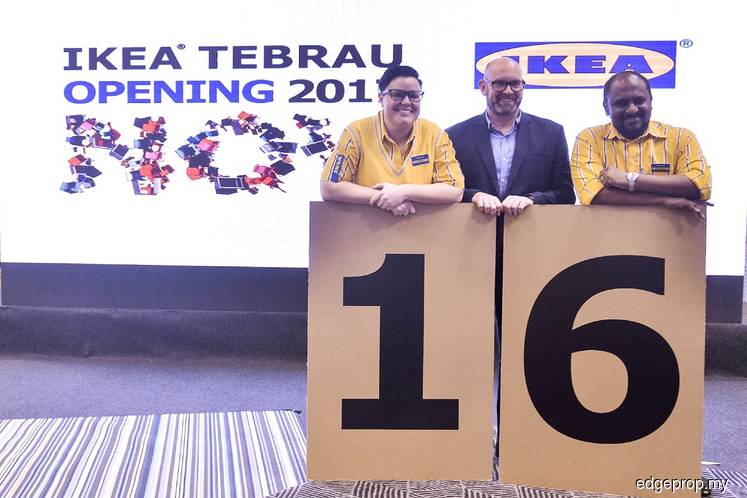 JOHOR BAHRU (Oct 5): IKEA Tebrau will open its doors on Nov 16, becoming the Swedish affordable furniture's first store in Malaysia's southern region and the largest one in Southeast Asia.
"With the opening of IKEA Tebrau, more than 1.8 million people living within a 60-minute drive of the store will enjoy easier access [to] over 8,000 well-designed, functional and affordable Swedish home furnishing. As we progress, we hope to serve millions more from the state of Johor and beyond!" said IKEA Southeast Asia retail director Mike King at the store's media preview and roof capping event, a Swedish tradition to celebrate the end of construction and thank neighbours for their help during the building phase.
IKEA Tebrau is 502,815 sq ft and is designed with sustainability in mind.
Pre-installed with solar panels that will cut down electricity usage by a whopping 45%, the store is constructed in accordance to Leadership in Energy and Environmental Design (LEED) and Green Building Index (GBI) certification requirements.
Located within a 20-minute drive from central Johor, IKEA Tebrau is connected to the Pasir Gudang Highway and Senai-Desaru Expressway.
The store also has indoor and outdoor carparks with 1,771 parking bays, including electric car charging stations.
"Our increased presence in others parts of Peninsular Malaysia reflects our vision to create a better everyday life for more Malaysians. IKEA Tebrau is significant to our overall ambition to expand in Southeast Asia," added Mike.
This store comprises all customary features of an IKEA store including 54 showrooms for home furnishing inspiration, flat-packed products ready to take home on the same day, a supervised playground for children, IKEA Restaurant that sits 750 customers, IKEA Bistro as well as Swedish Food Market.
"As we gear-up towards the opening, we are working on the final phase of interior fittings, operational setup, merchandise planning and co-workers' training. Over the past year, we have recruited over 300 co-workers for IKEA Tebrau," said IKEA Tebrau store manager Annie Chandler.