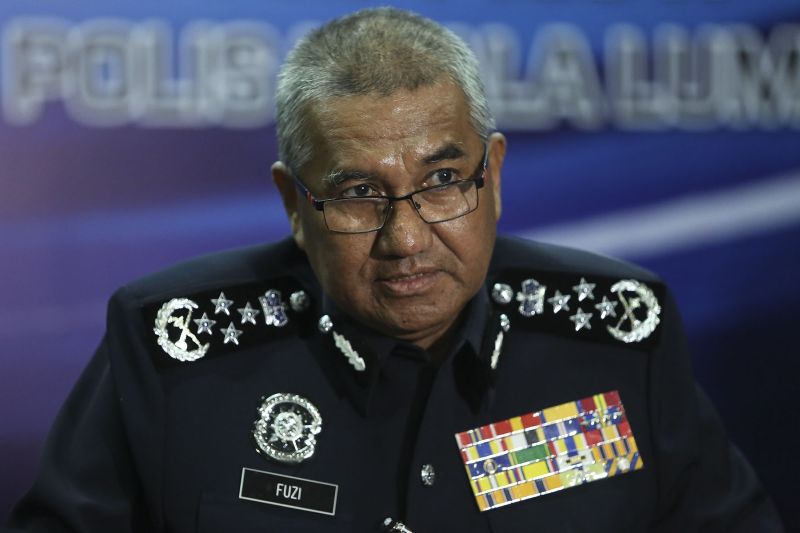 ISKANDAR PUTERI (Oct 13): Inspector-General of Police Tan Sri Mohamad Fuzi Harun today denied that the police are sabotaging efforts to trace fugitive financier Jho Low.
When asked to comment on Prime Minister Tun Dr Mahathir Mohamad's statement that sabotage within the Government was among the reasons why it was  difficult for Malaysia to pin down and arrest fugitive businessman Low Taek Jho, or Jho Low,  Mohamad Fuzi said the police did not know there was a sabotage, Bernama reported.
"I don't know who (is is behind the) sabotage. As far, as I'm concerned PDRM is not involved. We (police) are also looking for him (Jho Low) and his father, and have requested the assistance of Interpol," he added.
On the repory lodged by an aide of Datuk Seri Najib Razak to investigate allegations that former Prime Minister was linked to several murders, Fuzi said the police would call the politicians involved, if necessary, to facilitate the investigation.
He confirmed the report lodged by Najib's aide and that investigation would be conducted according to normal procedures, Bernama reported.
The report was lodged at Sentul (district police headquarters) by Najib's aide against certain politicians with regards to their allegations (against Najib).
"So. we will investigate and take appropriate action. This is a normal process," he told reporters after opening the Malaysia Royal Police (PDRM) National Sports Day at Puteri Harbour Marina here today.
Najib, in his official Facebook page last Thursday (Oct 11) said he had asked his aide to lodge a police report to enable the police to initiate investigation regarding the allegation that he was involved in the case of the murder of several individuals including Mongolian Altantuya Shaariibuu and Deputy Public Prosecutor, Datuk Anthony Kevin Morais.