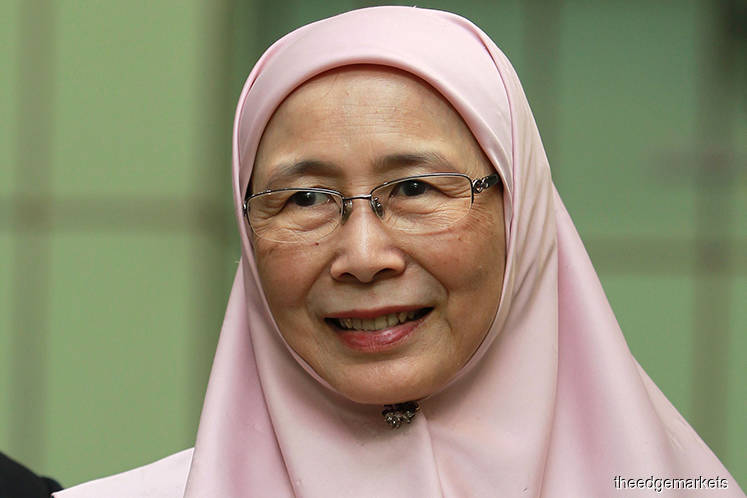 KUALA LUMPUR (Aug 8): The new voluntary contribution scheme for housewives by the Employees Provident Fund (EPF) will be carried out in three phases, the first of which enables housewives to open EPF accounts with a minimum RM5 starting Aug 15.
"Upon (this) the government will then contribute RM40 monthly," Deputy Prime Minister Datuk Seri Wan Azizah Wan Ismail said at the launch of the programme today.
"As a start, the target group consists of housewives, heads of households (who are married men), single mothers and widows registered in the e-Kasih database," she said.
The e-Kasih platform is a national database that supports the planning, implementation and monitoring of poverty programmes for those in the Bottom 40 (B40) income group.
In the second phase of the programme, the government will contribute an additional RM10 under the Social Security Organisation (SOCSO), Wan Azizah said.
This will require legislative changes as protection under SOCSO is currently not extended to housewives, she noted.
"We hope to be able to launch this phase early next year," she added.
The third phase programme will see 2% of the husband's EPF contribution channelled to his housewife's account.
This phase requires amendments to be made to the EPF Act (1991), which will be tabled in the next parliamentary sitting, she said.
"We are still exploring the various options for this, taking into consideration several financial and non-financial factors.
"We hope to be able to launch this phase in early 2020," Wan Azizah said.
Meanwhile, EPF chief executive officer Datuk Shahril Ridza Ridzwan said the programme is not about increasing the EPF's assets but about extending coverage and providing social security for more Malaysians.