This article first appeared in The Edge Financial Daily, on August 10, 2018.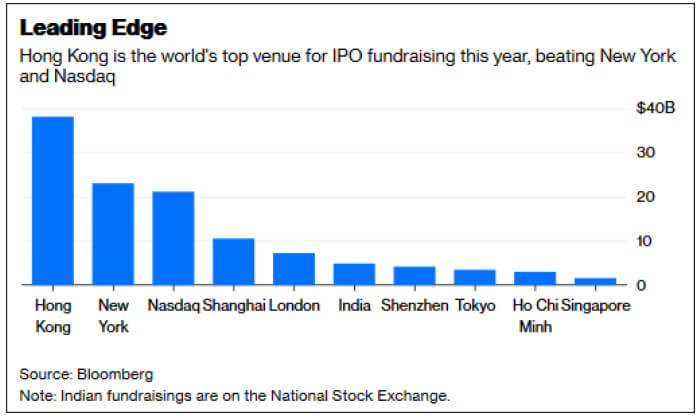 BRACE, brace. Hong Kong's initial public offering (IPO) take-off is going to come to a screeching halt.
There is a flood of deals still in the pipeline, it is true, from food delivery giant Meituan Dianping to biotech unicorn Innovent Biologics Inc. But investor fatigue is setting in, with many of the hot sales that helped to reignite the market in the past year trading below their offer prices or showing lacklustre gains.
China Tower Corp closed unchanged on its debut on Wednesday, after completing the world's biggest initial public offering in two years. 
That mirrors the performance of smartphone maker Xiaomi Corp, another keenly anticipated listing that has little changed a month after it started trading. Ascletis Pharma Inc, a Hangzhou-based maker of HIV drugs, has slumped 20% since making its entrance at the end of July (1). 
Even the online insurer that sparked a revival of Hong Kong's IPO frenzy is in the red. ZhongAn Online P&C Insurance Co, a company backed by Internet behemoths Tencent Holdings Ltd and Alibaba Group Holding Ltd, surged on its debut in September, but now stands 42% below its price on listing.
 
Two-thirds of IPOs that raised more than US$1 billion in the two years ended July 2017 were below their offer prices after six months; three-quarters had dropped after a year, data compiled by Bloomberg show. Ironically, the cause of the pain can be traced partly to measures Hong Kong Exchanges & Clearing Ltd has taken to fight back against a US market that was luring away China's new-economy stars. 
Under chief executive officer Charles Li, the exchange operator opened the gates to both dual-class stocks such as Xiaomi and "pre-revenue" biotech firms such as Ascletis. The promise to IPO hopefuls was simple: List in Hong Kong and get access to the trading pipes that allow investors in mainland China's partially closed capital markets to buy into the city's stocks (another Li initiative). 
Often unable to list at home, this offered a way for Chinese pharma and tech companies to tap the wall of mainland investment money. It also helped Hong Kong to regain its crown as the world's biggest IPO fundraising venue.
Hong Kong's pitch also held out the prospect of a more direct route back into the mainland stock market, via China Depositary Receipts (CDR), though this did not pan out as hoped. 
China decided that CDRs were a concept whose time had not yet come, forcing Xiaomi to postpone a sale that it had planned to conduct simultaneously with its Hong Kong IPO. That is not all: China's stock exchanges subsequently said they would not let mainland investors buy shares with weighted-voting rights, closing Xiaomi off from the Shanghai and Shenzhen stock connects.
The takeaway? Hong Kong probably is not ready for companies that have yet to turn a profit. The two big gainers among listings since mid-2017 are Chinese new-economy firms that are making money: Tencent-backed online bookstore China Literature Ltd and biotech WuXi Biologics (Cayman) Inc. 
A biotech firm that is further along than Ascletis in clinical trials, such as Innovent, may win more fans, but even that is no guarantee. Cancer drug developer BeiGene Ltd dropped on its debut on Wednesday.  
Chinese IPOs tend to be smaller in the US but their performance has been better, with lack of profitability no bar in a market that prizes growth. 
Conversely, earnings are no shield when growth prospects dim: Qudian Inc, a Beijing-based online lender that is profitable, plunged by more than half since March amid a regulatory crackdown on the industry.
The lesson for China's budding new-economy stars is that Hong Kong may not be worth the hassle. And for the city's IPO investors: Stick to firms that are already in the black. — Bloomberg
(1) Barring very weak demand, new listings do not tend to fall much in the first month as bankers stabilise their prices.