This article first appeared in The Edge Malaysia Weekly, on January 1, 2018 - January 07, 2018.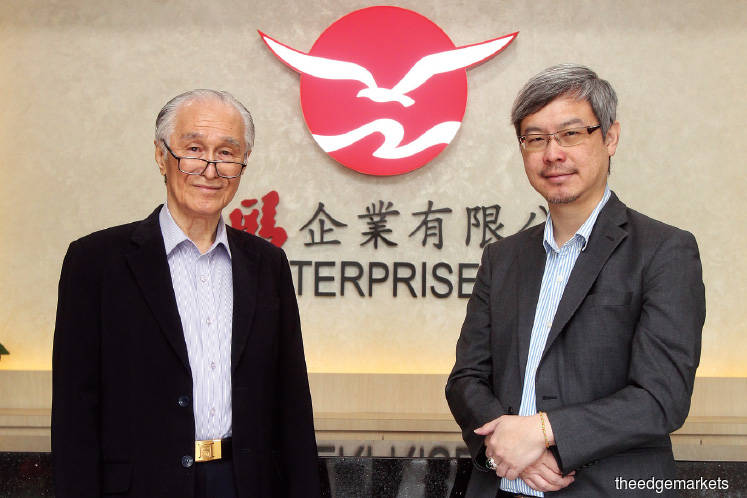 HAI-O Enterprise Bhd co-founder and group executive chairman Tan Kai Hee is not shy about the group's ambition to knock Amway (Malaysia) Holdings off its pole position as Malaysia's largest multi-level marketing (MLM) company in terms of membership.
Hai-O has 150,000 active members presently, compared with Amway's 240,000.
"In the future, maybe another eight to 10 years, or even sooner, our membership could overtake Amway's. We are targeting 180,000 members by financial year ending April 30, 2018," he tells The Edge in an interview.
On average, Hai-O registered 5,000 new members per month in FY2018. Its membership has almost tripled over two years, from 53,000 in FY2015 to 140,000 in FY2018.
In terms of profitability, Hai-O has already overtaken Amway. For FY2018, its net profit jumped 64% to RM59.5 million from RM36.3 million the previous year. This was mainly attributed to the stronger performance of its MLM segment — which made up 80% of the group's bottom line — driven by the launch of new products, an effective member retention programme and increased sales via the e-commerce platform.
Meanwhile, Amway posted a net profit of RM54.6 million for FY2016 ended Dec 31. For the nine months to Sept 30, 2018, its net profit was RM39.2 million.
For the cumulative six months ended Oct 31, 2018 (1HFY2018), Hai-O's net profit surged 53% to RM39.3 million from RM25.65 million a year earlier, thanks to the higher sales volume of consumer products. Annualised, net profit could hit a new record of RM78.6 million in FY2018, breaking its all-time peak of RM70.6 million in FY2010.
"Hai-O will continue to grow, because we have built such a strong foundation. We don't have a specific growth target. Sometimes, we can grow very fast. Sometimes, growth can decelerate. But once we fix all the potential problems that cause deceleration, growth will gain momentum again," Tan says.
Hai-O registered a 10-year compound annual growth rate (CAGR) of 10.8% for its net profit and 7.9% for revenue.
As at end-October, it had net cash of RM92.6 million, compared with RM73.8 million a year ago.
The company paid a dividend per share of 16 sen. It has a dividend policy of paying out at least 50% of its profit after tax.
Established in 1975, Hai-O is a household name offering a wide range of complementary medicines, medicated tonics, as well as wellness, beauty and healthcare products and clinical services.
Hai-O is the first traditional healthcare company to be listed on Bursa Malaysia, in 1996. From a humble beginning, it has gone through many ups and downs over the years to emerge stronger, with a market capitalisation of more than RM1.5 billion.
Today, the principal businesses of the group are wholesale and retail, MLM, pharmaceutical manufacturing and Chinese medicinal clinics.
In setting up Hai-O, Tan says he was inspired by the story of Jonathan Livingston Seagull, written by American author Richard David Bach.
First published in 1970, the fable revolves around a young gull with an ambition to fly perfectly, but because of his unwillingness to conform, he was cast out by his community. Nevertheless, he continued to learn, pushing himself and eventually achieving perfection. He later returned to the flock to teach the others what he had learnt.
"In Bach's timeless spiritual classic, Jonathan Seagull persisted in reaching for his goals and [quenching his] thirst for knowledge. That has been the spirit of Hai-O over the past four decades," Tan says.
It should come as little surprise that Hai-O means seagull in Mandarin. Tan likens Hai-O to a seagull that has been soaring bravely over the past "40 golden years", and is now flying steadily towards another "40 diamond years".
"With the advent of new technology and digitalisation, we will see many huge changes in our industry. It will be a different ball game. But I'm sure we can do much better in the next 40 years than we did in the past 40 years. We will continue to fly higher," he says confidently.
Tan says the higher cost of living has presented a good opportunity for Hai-O as more people, especially those without employment or who need side income, are turning to MLM.
"We will continue to not only provide the best products and services, but also take good care of our members to ensure they won't leave us," he says.
Tan, 80, was appointed to the board in August 1975, and took over as group executive chairman in February 2016. A well-known businessman with more than 40 years of commercial experience in the trading business, he is also the secretary-general of Malaysia-China Friendship Association and life honorary president of Malaysia-China Chamber of Commerce.
Hai-O's share price has risen in line with its better financial performance. Year to date, the counter has doubled to RM5.35, bringing it a market capitalisation of RM1.5 billion.
The stock had been hovering at between RM2.20 and RM2.50 from 2013 to 2016, giving it a market capitalisation of about RM500 million.
"At the beginning of the year, our share price was still at about RM2.50. After that, we announced a 1-for-2 bonus issue [ex-date March 28]. In other words, at the current price level, our shares have actually tripled to RM8 [-cum-bonus]," Tan explains.
Hai-O's share price rally, backed by its strong fundamentals and positive outlook, has prompted research analysts to raise their target prices.
Kenanga Research is maintaining its "market perform" rating,  but with a higher target price of RM5.60. "We believe the 16 times price-to-earnings ratio (PER) is justified, considering Hai-O's net profit growth [is] averaging at 31% per annum over the next two years," analyst Wan Mustaqim Wan Ab Aziz wrote in a Dec 19 report.
Tan acknowledges that Hai-O's PER is now comparable to its rival Amway's. Hence, the company needs to constantly deliver good financial performance to justify its higher PER.
"We will continue to focus on our businesses. We always believe better earnings will eventually be reflected in our share price. Our PER is getting higher, from 10 to 12 times to more than 20 times currently."
He says higher expectations have put pressure on them, but also motivated them.
Save by subscribing to us for your print and/or digital copy.
P/S: The Edge is also available on Apple's AppStore and Androids' Google Play.