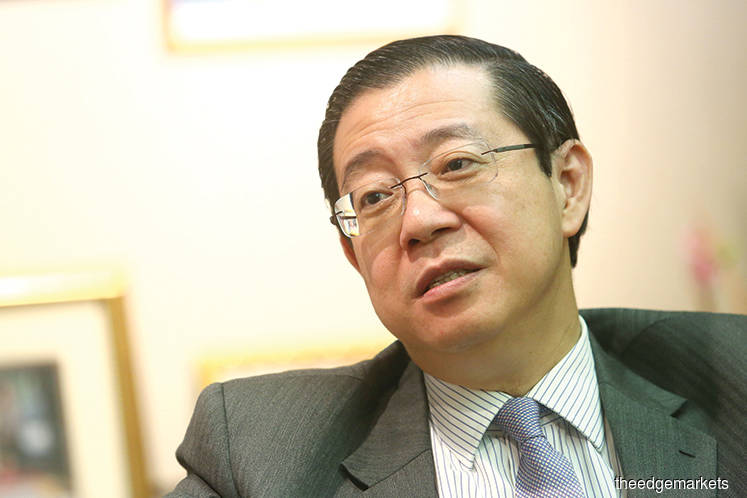 KUALA LUMPUR (June 13): Finance minister Lim Guan Eng has rejected the claim that the government's federal debt figure of over RM1 trillion has been disproved by Moody's Investors Service.
"I would reject what former Prime Minister Datuk Seri Najib Razak claims, that our debt level is not at RM1.087 trillion. The federal debt is at that level because we want to include those contingent liabilities and government guarantees which have now become direct debt," Lim said.
Lim was speaking to reporters on the sidelines of a Ramadhan dinner organised for the less privileged families by Country Heights Holdings Bhd.
The Pakatan Harapan administration has never denied that direct government debt stood at RM687 billion, he said.
Lim however, stressed the importance of taking into account government guarantees which have or will become direct government debt, citing the example of loan guarantees of the insolvent 1Malaysia Development Bhd (1MDB) as a form of government liability.
"Why don't you call a spade, a spade? Why do you want to hide behind the definition? You are not only deceiving the people, you are also deceiving us, by pretending our debt level is not so high," Lim said.
In a Facebook and Twitter post earlier today, Najib referred to Moody's statement today on Malaysia's debt, saying Moody's had independently assessed the government's debt claim and also Putrajaya's "self-declared" debt-to-gross domestic product (GDP) ratio of 80.3%.
"Moody's have found those claims to be untrue, and have maintained our debt ratio to be the 50.8%, declared by the Barisan Nasional government previously," he said. "You can mislead the people but you cannot mislead the experts."
Lim however, said Moody's report showed the rating agency is aware that the federal government debts had incurred as a result of undertaken large scale infrastructure projects, which he said should also be taken into account for debt assessment.
There is no doubt that the zerorisation of goods and services tax (GST) will have an impact on government revenue, the minister said. He however, pointed out that the Sales and Services Tax (SST) will be reinstated in September.
"Moody's also mentioned that [effectively] removing the GST will be encouraging for consumption, and with the increased consumption, that will also help spur the economy," Lim said.