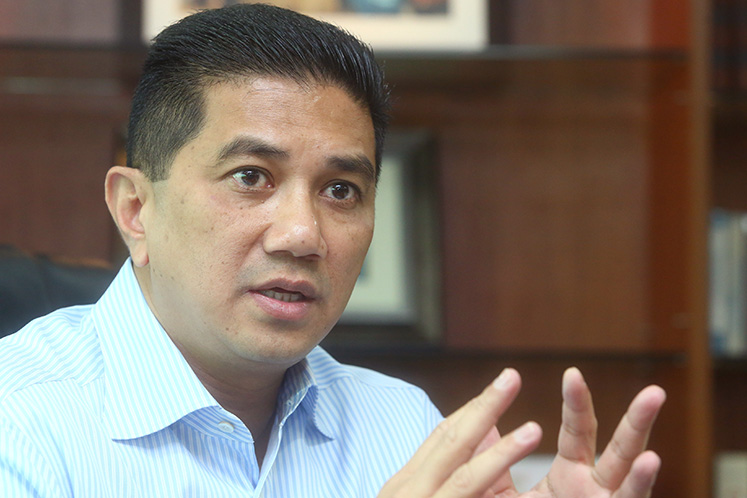 KUALA LUMPUR (Dec 3): The Government will strengthen the country's economic fundamentals based on innovation, creativity and value-added activities to increase the industries' productivity and competitiveness, said Economic Affairs Minister Datuk Seri Minister Azmin Ali.
He said efforts would be intensified to create a dynamic ecosystem, encourage the adoption of the latest technology and e-commerce, as well as harness the benefits of the digital platform to promote products and services to penetrate international markets.
"The Government will encourage the manufacturing sector to transition towards producing diverse high value-added and complex goods," he said when tabling the motion on the mid-term review of 11th Malaysia Plan in Parliament today.  
Azmin said manufacturing sub-sectors with high-growth potential, such as aerospace and medical devices, would also be prioritised.
In connection with this, he said industry players needed to increase productivity as soon as possible through the use of robotics, automation and innovation, as well as engaging in sustainable production and research and development  
The Minister said in order to increase the agricultural sector's economic contribution, the government would continue efforts such as growing the agri-food sub-sector and create job opportunities, nurture entrepreneurship and create wealth from the sector, the country's third most important revenue source.
He also said several fields would be emphasised, such as biotechnology and nanotechnology, as well as digital, green and neuro technologies, to boost the development in science, technology and innovation.
Through this policy, he said, the government expected Malaysia to be one of the main destinations for technology-based industries and ranked among the top 30 nations in the Global Innovation Index by 2025.
"Cyberjaya, the nucleus of the Multimedia Super Corridor, will be given a new breath of life as the main catalyst to spur the growth of innovation and technology in Malaysia.
"Among others, the innovation ecosystem will be strengthened and small cities will be built. Foreign direct investment on technology will be encouraged to be based in Cyberjaya," Azmin said.
He said the Government would reform the Bumiputera Empowerment Agenda by inculcating a positive change to the mindset and harmonious values, strengthening institutional effectiveness and programmes, empowering human capital, and strengthening education and training to obtain high paying jobs.
"Effective controls as well as corporate and wealth ownership, spearheaded by Permodalan Nasional Bhd, will continue to be given priority.
"Through Bumiputera agencies such as the Bumiputera Agenda Steering Unit, Bumiputera-owned small and medium enterprises (SMEs) will continue to be empowered to be more resilient and sustainable, and capable of penetrating global markets," Azmin said.
He said the Government would ensure that the Bumiputera Economic Empowerment Agenda develop a new generation of Bumiputeras that would be resilient and hardworking as well as have integrity and strong moral values, in line with The Future of the Bumiputera and Nation Congress 2018 held on Sept 1, where 63 resolutions covering various matters were created.
Azmin said a special programme would be initiated to empower the Orang Asli, and Sabah and Sarawak ethnic groups, in rural and non-urban areas.
"Among the initiatives include offering more programmes and education opportunities, skills and entrepreneurial training," he said.
He said several special programmes for certain groups within the Indian and Chinese communities would be initiated to grow their economic potential and to eradicate poverty.
To increase women's participation in the labour force, Azmin said employers would be encouraged to provide childcare services and flexible working schedules.
He said emphasis would continue to be given to grow human capital to fulfil industry requirements and support economic growth to reform the labour market towards the creation of a skilled and highly-paid workforce by encouraging automation and innovation, acceptance of the latest technology and commercialisation of intellectual properties.
"Priority will be given to high-quality investments to create more skilled job opportunities," he said.
To increase wages and salaries, Azmin said, a continuous review on the minimum wage policy and the formulation of a National Salary Index would be implemented.
"The issue of different minimum wage levels between Peninsular Malaysia and Sabah and Sarawak has been resolved.
"Besides that, we will encourage the expansion of the productivity-linked wage system," he said.
Meanwhile, the Government is determined to reduce the dependency on foreign workers by improvements to foreign worker management.
"Among the steps proposed will be the application of a progressive-tiered levy based on the number of foreign workers hired," Azmin said.
To increase the purchasing power of the people and to reduce the burden of high cost of living, focus will be given to stem the rise in the prices of goods via steps such as price control, intensifying enforcement and improving the level of consumerism.
The Government also targets to build 200,000 units of affordable housing in 2018-2020 by encouraging more participation from the private sector.
"A National Affordable Housing Council will be established to coordinate the management of public affordable housing," Azmin said.
In order to strengthen regional economic development, the minister said development programmes at the national, regional and state levels must be streamlined.
"Coordination among states in infrastructure preparation will be improved to optimise resource utilisation, as well as to modernise and diversify the economic base to boost economic development," he said.
Azmin said homegrown economic activities in rural areas would be improved to generate income, and create job and business opportunities.
"Sustainable rural economic activities such as agro-based industries, eco-tourism and agrotourism will also be encouraged.
"Assistance will be provided to prepare business premises for micro-entrepreneurs and SMEs in rural areas, he said.
Azmin said Sabah and Sarawak had the potential to generate higher economic growth through the optimisation of their natural resources.
"Towards that, the government will distribute oil and gas revenue in a fair manner according to the existing legislation.
"A special Cabinet committee has been established to review and monitor the revenue distribution in accordance to the Malaysia Agreement 1963," he said.
Azmin said the measurement and mapping of native customary rights land would be carried out to enable the development of these land to create economic activities and generate income for the local residents.
"Cooperation between the state governments, relevant agencies, land owners and investors will be improved," he said.
On the third national car, Azmin said the project had the strategic role of boosting innovation and would act as the catalyst to improve engineering capabilities as well as build a technical and high-impact ecosystem to compete at the global level.  
"This project has taken into account the latest automotive technology developments into autonomous vehicles. It is also a green project as it focuses on the use of renewable energy," he added.