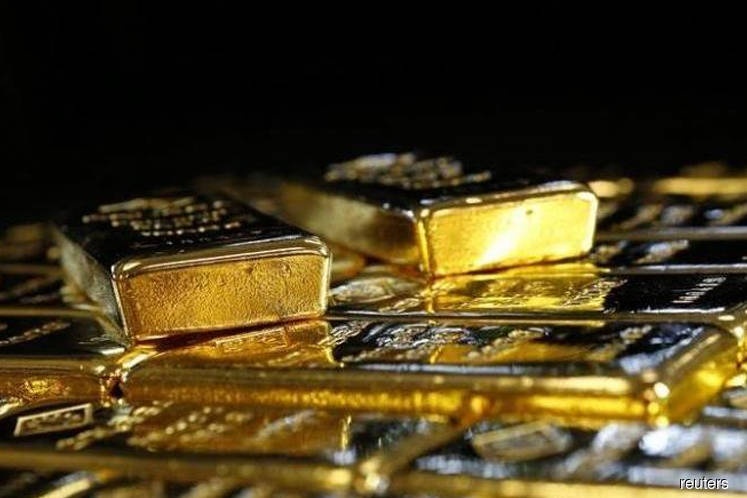 BENGALURU (Aug 28): Gold inched down on Tuesday from a two-week high hit in the previous session, as the dollar firmed against yuan, making the precious metal expensive for buyers in the world's biggest consumer China.
China's central bank raised its daily guidance rate for the yuan by the most in nearly 15 months on Tuesday, sparking a demand for dollars.
Spot gold fell 0.2% to US$1,209.04 an ounce at 0358 GMT, after hitting its highest since Aug 13 at US$1,212.38 on Monday.
US gold futures were down 0.1% at US$1,215.40 an ounce.
"The downtrend on the dollar has reversed, with markets probably concerned over the (currency) fixing in China. The market is still a little bit nervous overall when it comes to buying into the weaker US dollar narrative," said Stephen Innes, Asia-Pacific trading head at OANDA in Singapore.
The dollar index inched up 0.1% against a basket of six major currencies on Tuesday, after falling to a more than three-week low.
Gold has lost its appeal as a safe-haven asset, having fallen over 7% so far this year, amid international trade disputes and the Turkish currency crisis, with investors increasingly turning to the US dollar instead.
The yellow metal, however, has recovered after touching 1½-year lows on Aug 16 at US$1,159.60 as the dollar's run slowed after President Donald Trump criticized the US Federal Reserve for raising interest rates at a time when the government was trying to stimulate the economy.
"We need a complete flip around momentum in the US dollar for gold to push above US$1,230 and move to US$1,260. Unless the Fed takes the December rate hike off the table, gold does not have a chance to get near any of those supportive levels," Innes said.
Gold is highly sensitive to rising rates, which lift the opportunity cost of holding non-yielding assets such as bullion, while boosting the dollar, in which it is priced.
Spot gold may rise to US$1,224 an ounce, as it has broken a resistance at US$1,209 per ounce, according to Reuters technical analyst Wang Tao.
Spot silver was down 0.3% at US$14.81, after hitting its highest since Aug 15 at US$14.92 on Monday.
Platinum was up 0.4% at US$802.74, after touching a two-week high at US$807.60.
Palladium fell 0.1% to US$947.75. At US$950.25, prices matched 1½-month highs hit on Monday.