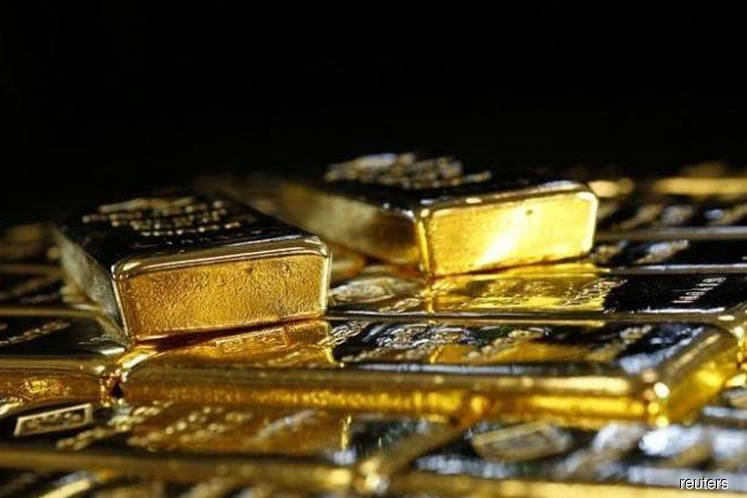 BENGALURU (Sept 5): Gold prices edged up on Wednesday, supported by technical buying amid worries over inflation in emerging markets, but gains were curbed as the dollar rose broadly on heightened concerns about international trade conflicts.
Spot gold was up 0.2% at US$1,193.24, as of 0758 GMT. In the previous session, it hit US$1,189.20, its weakest in more than a week.
US gold futures were mostly steady at US$1,198.40 an ounce.
"Gold is holding up at these levels well as there are some uncertainties stemming from emerging market currency crisis," said Hareesh V, head of commodity research, Geojit Financial Services.
"When the currency weakens, inflation shoots up and gold has historically performed well during those times."
Inflation worries generally boost gold, which is seen as a safe haven against rising prices.
Emerging markets stocks and currencies were under increased pressure on concerns about inflation in Turkey and after data showed South Africa had slumped into recession in the second quarter.
Fresh US tariffs on another US$200 billion worth of Chinese goods could take effect after a public comment period ends on Thursday.
The dollar index, which measures the greenback against a basket of currencies, rose 0.2% at 95.617.
"The growing frustration towards trade tariffs and what will be the end result of all of this is supporting the gold prices," said Naeem Aslam, chief market analyst, Think Markets UK Ltd.
"Secondly, there are some serious concerns about recession, given that South Africa has slipped into it. If emerging markets start to perform really bad, every one will catch the cold. This should support the gold price."
Meanwhile, markets will be closely watching an employment report due on Friday for clues on the pace of US interest rate increases.
The yellow metal has lost about 8.4% this year amid rising US interest rates, trade disputes and the Turkish currency crisis, with investors parking their money in the dollar, undermining the metal's safe-haven status.
The bearish sentiment in gold has reflected in heavy liquidations in SPDR Gold, the world's largest gold-backed exchange-traded fund. Holdings have fallen 14.2% since a peak in late April, and 1.1% to 746.92 tonnes on Tuesday.
Spot silver climbed 0.4% to US$14.13, after falling to its lowest since January 2016 at US$13.97 in the previous session.
Platinum dropped 1% to SU$768.50. In the prior session, prices touched US$761.80, their lowest since Aug 16.
Palladium dipped 0.5% to US$975.30, after touching an 11-week peak at US$988.47 on Tuesday.