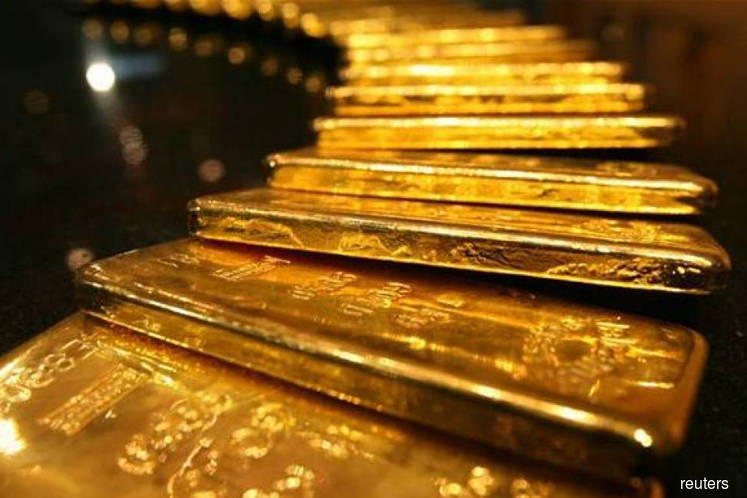 LONDON (Sept 3): Gold prices steadied on Monday as the dollar held near a one-week high on worries over an escalation in trade conflicts between the United States and its trading partners.
A firmer US currency makes dollar-priced gold more expensive for holders of other currencies, potentially sapping demand. Safe-haven demand for gold has this year been overshadowed by the metal's relationship with the greenback.
US President Donald Trump said on Saturday there was no need to keep Canada in the North American Free Trade Agreement and warned Congress not to meddle with negotiations or he would terminate the trilateral trade pact, which also includes Mexico.
Meanwhile, Bloomberg News reported that Trump was prepared to quickly ramp up a trade war with China and had told aides he was ready to impose tariffs on US$200 billion more in Chinese imports as soon as a public comment period on the plan ends on Thursday.
"For as long as the trade war fears that are helping dollar strength continue, gold is going to come under pressure," said ETF Securities commodity strategist Nitesh Shah.
Gold prices are down about 8% so far this year against a backdrop of rising US interest rates, trade disputes and the Turkish currency crisis, with investors parking their money in the US dollar.
Spot gold was mostly unchanged at US$1,200.47 an ounce at 1023 GMT, after touching an intra-day low of US$1,195.36.
US gold futures were flat at US$1,206.70 an ounce.
The dollar index, which measures the greenback against a basket of currencies, was barely changed at 95.171.
If gold recovers to US$1,210 per ounce there are good chances of seeing further rebounds to US$1,230, said ActivTrades chief analyst Carlo Alberto De Casa. But a decline below US$1,200 would see prices test US$1,180 and to the following support placed at US$1,160, he said.
There was some indication that the bearish sentiment in the market has started to shift slightly as there was a reduction in net short positions in the COMEX gold contracts in the week to Aug 28, the first time in more than a month.
Major US economic data due this week, such as a manufacturing survey on Tuesday and an employment report on Friday, could influence gold's moves as investors are looking for clues on the pace of US interest rate hikes.
Meanwhile, liquidations continued in SPDR Gold, the world's largest gold-backed exchange-traded fund. Holdings have fallen over 13% since a peak in late April.
Spot silver was steady at US$14.48 an ounce, after earlier falling to its lowest in more than two weeks at US$14.37.
Platinum rose 0.2% to US$784 an ounce, while palladium was unchanged at US$980.10, after hitting a 10-week high on Friday at US$984.97.