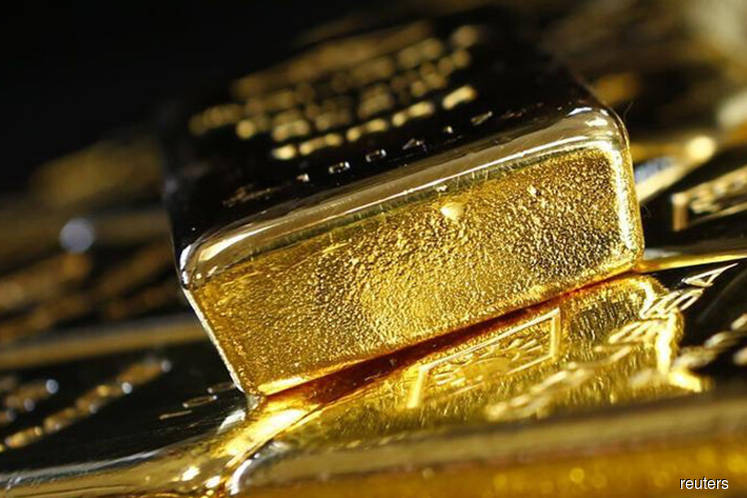 BENGALURU (Aug 21): Gold prices climbed on the back of a weaker dollar on Tuesday, extending gains into a third session, after US President Donald Trump said he was "not thrilled" with the Federal Reserve for raising interest rates.
Spot gold was up 0.3% at US$1,193.92 an ounce at 0355 GMT after gaining 0.5% in the previous session.
US gold futures were up 0.5% at US$1,200.6 an ounce.
Trump's remarks are having a negative effect on the US dollar, and in turn, lending support to gold prices, said Stephen Innes, APAC trading head, OANDA.
The dollar sagged against major peers and the yen on Tuesday after Trump criticised his own appointee, Fed Chair Jerome Powell, for raising interest rates.
Gold is highly sensitive to rising US rates, as these increase the opportunity cost of holding non-yielding bullion while boosting the dollar, in which it is priced.
The US central bank has raised rates twice this year and targets two more hikes, with the next one slated in September. However, Atlanta Fed President Raphael Bostic on Monday said he was maintaining his expectation for one more interest rate hike this year.
Meanwhile, investors looked ahead to the release of Fed's August meeting minutes on Wednesday and the bank's annual policy symposium at Jackson Hole later this week.
"Until there is a sustained sell-off in the dollar, speculators will be more prone to sell upticks (in gold)," Innes said.
Spot gold may end its current bounce around a resistance at US$1,206 per ounce, and then resume its downtrend, Reuters technicals analyst Wang Tao said.
In equity markets, Asian stocks rose on Tuesday, supported by hopes that Beijing and Washington would dial back trade hostilities ahead of a US-China meeting this week, but comments from Trump about manipulation of the yuan and the Federal Reserve policy capped gains.
Among other precious metals, spot silver climbed 0.3% to US$14.75 an ounce. Platinum rose 0.6% to US$798.50, while palladium remained steady at US$910.50.