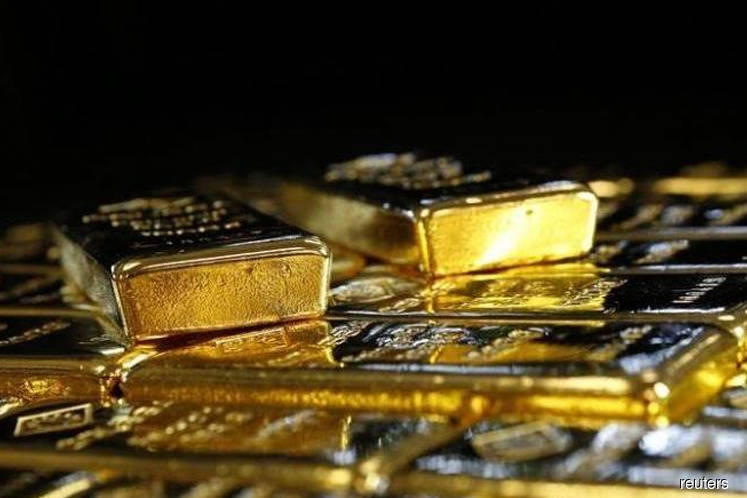 BENGALURU (Aug 24): Gold rose on Friday after falling in the previous session, as the dollar eased and markets awaited a speech by the Federal Reserve chairman for fresh clues on the direction of US monetary policy.
Spot gold was up 0.3% at US$1,188.96 an ounce at 0716 GMT, after falling 0.9% on Thursday. Prices have risen about 0.3% so far this week.
US gold futures were up 0.1% at US$1,195 an ounce.
Fed Chairman Jerome Powell is set to speak at an annual meeting of central bankers in Jackson Hole, Wyoming, later on Friday.
Fed policymakers broadly agree that US interest rates should rise further this year and next, despite President Donald Trump's displeasure with such a plan, two policymakers' comments underscored on Thursday.
"Fed officials have been repeatedly saying that rates will be raised in the future and there was no surprise in that. What their reaffirmation tells the market is that the central bank will not be influenced by Trump," said Ji Ming, chief analyst at Shandong Gold Group.
Rising interest rates reduce the demand for non-interest bearing bullion.
Gold has lost its appeal as a safe-haven asset, having fallen about 9% so far this year, amid international trade disputes and the Turkish currency crisis, with investors increasingly turning to the US dollar instead.
However, prices have recovered after touching 1½-year lows last week.
US and Chinese officials ended two days of talks on Thursday with no major breakthrough as their trade war escalated with the activation of another round of tariffs on US$16 billion worth of each country's goods.
"Investors are worried about the trade war and that has helped the dollar. But, the dollar will not be as strong as it has been going forward and that should help gold prices to go up," Ming said.
The dollar index, which measures the greenback against a basket of six major currencies, fell 0.2% to 95.471 on Friday, after rising 0.6% the day before.
"There is some buying as gold has been in a downward trough for a while. US$1,200 remains an interesting level and we might see prices going down again if that level does not hold," said Brian Lan, managing director at dealer GoldSilver Central in Singapore.
Negative sentiment towards gold is reflected in record net-short positions and liquidations in exchange-traded funds (ETF), with holdings in the largest gold-backed ETF, SPDR Gold Trust, falling over 3 million ounces from a peak in late April.
Spot silver was up 0.8% at US$14.58 an ounce.
Platinum was up 1% at US$782.70 an ounce.
Palladium rose 0.5% to US$919.85 an ounce.