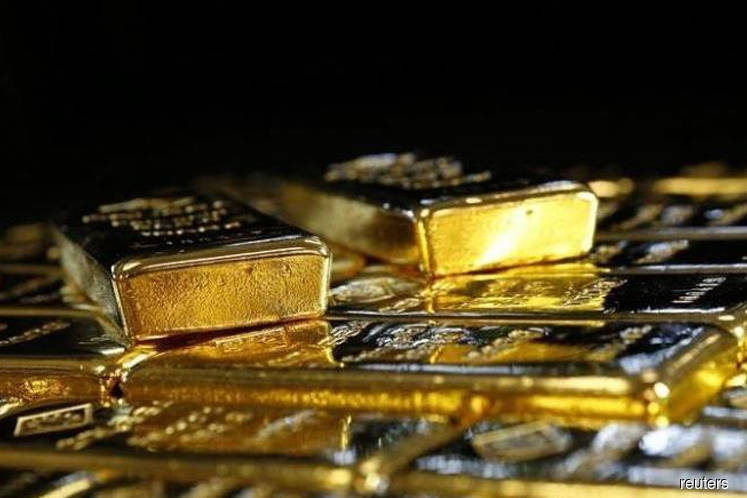 BENGALURU (Aug 23): Gold prices fell on Thursday, after hitting a one-week high in the previous session, as fears of another round of US tariffs on China and expectations of higher interest rates lifted the dollar.
Spot gold was down 0.3% at US$1,191.62 an ounce at 0651 GMT. Prices hit their highest since Aug 13 at US$1,201.51 in the previous session, but failed to hold the psychological US$1,200 level after recovering from 1½-year lows touched last week.
US gold futures were down 0.5% at US$1,197.8.
"People are worried about the fresh round of US tariffs on China and are buying the dollar, which is seen as a safe haven now," said Peter Fung, head of dealing at Wing Fung Precious Metals in Hong Kong.
US and Chinese officials met for the first time in over two months to find a way out of their deepening trade conflict, but there was no evidence the low-level discussions would halt a new round of US tariffs due to go into effect on Thursday.
Gold, which has fallen nearly 13% since hitting a high of US$1,365.23 in April, has lost its appeal as a safe haven amid a Turkish currency crisis and US-China trade disputes, as investors increasingly flock to the US dollar instead.
"The fear of rate hikes is also pressuring gold. Despite Donald Trump's recent attack on rising interest rates, we think the Fed may have its way," Fung said.
Minutes of the Federal Reserve's latest policy meeting suggested the US central bank is on course to further raise interest rates after it raised rates twice this year.
Rising interest rates increase the opportunity cost of holding non-yielding gold while boosting the dollar, in which it is priced.
The dollar was up 0.3% against a basket of six major currencies, at 95.411.
Markets are now keeping a close eye on the Fed's economic symposium in Jackson Hole, Wyoming, starting Friday for any change in stance from the central bank, especially after President Donald Trump's attack on its monetary policy early this week.
Uncertainty stemming from legal woes facing members of Trump's inner circle and his continued attack on the Fed could be enough to force investors to close out their record short position in gold, ANZ analysts said in a note.
Net shorts in COMEX gold contracts are at a record high.
Spot silver was down 0.8% at US$14.62 an ounce.
Platinum fell 1.2% to US$781.05 an ounce, while palladium fell 1% to US$916.70, after hitting a three-week high at US$928.50 on Wednesday.