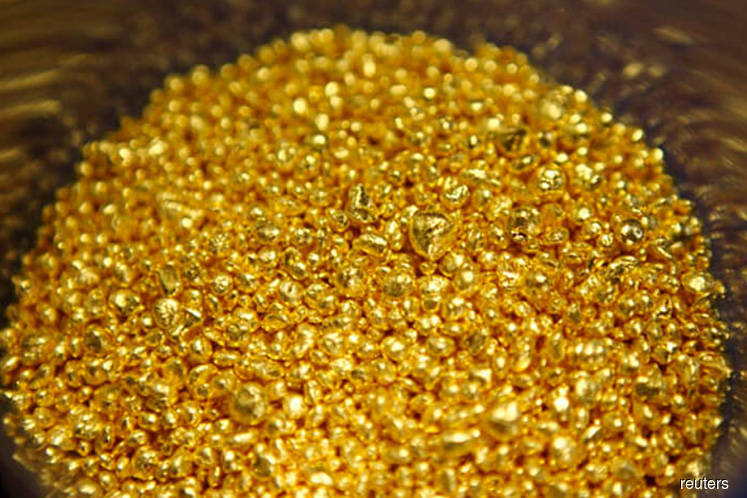 LONDON (Aug 29): Gold climbed on Wednesday as funds bet prices would find short-term support at US$1,200 per ounce, but a stronger dollar and expectations for increases in US interest rates limited gains.
Spot gold was up 0.1% at US$1,204.43 an ounce at 1050 GMT. Prices hit their highest since Aug 10 at US$1,214.28 on Tuesday, but closed 0.8% lower as US Treasuries rose after the United States and Mexico struck a trade deal.
Analysts and traders are closely watching the psychologically important level of US$1,200. Gold dipped below that this month for the first time since March 2017, giving it momentum to touch a low of US$1,159.96.
"Gold is a tad higher now because we have managed to find support at US$1,200 and that is attracting some intra-day bids at this stage," said Saxo Bank analyst Ole Hansen.
"The market is more balanced than we have seen recently but we are still one spark short of a sustained rally here," he said.
Gold is still pinned down by a stronger dollar, which makes commodities it is priced in more expensive for holders of other currencies and can cap a rising gold market.
The dollar rose as relief about a US-Mexico trade deal gave way to concern among investors that the conflict over trade between the United States and China was not about to end soon.
Adding to gold's woes are expectations for further US interest rate increases this year, record bets on prices falling and liquidations in exchange-traded funds (ETFs), analysts said.
"There is still a lot of uncertainty and the monetary policy backdrop is not positive for gold prices," said Capital Economics commodities economist Simona Gambarini.
Higher rates would dent the appeal of non-interest yielding gold.
The first support is at US$1,200 per ounce and the next key level is US$1,180, said ActivTrades chief analyst Carlo Alberto De Casa. A rise above US$1,210 would be a first positive impulse, he added.
Gold prices are on track to fall for the fifth straight month, which would make it the longest losing streak since early 2013.
US gold futures were down 0.3% at US$1,210.60.
Holdings in the largest gold-backed ETF, SPDR Gold Trust GLD, have declined 3.6 million ounces from a peak in late April.
Spot silver was up 0.2% at US$14.67.
Platinum rose 0.4% to US$788.60, while palladium was 0.4% higher at US$938.25 after hitting a seven-week top at US$956 on Tuesday.