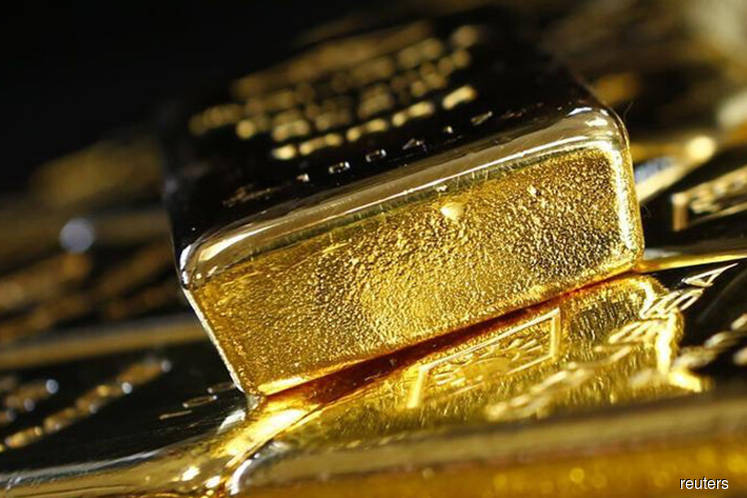 BENGALURU (Aug 27): Gold inched lower on Monday as the dollar recovered slightly, but losses were curbed by short-covering after the metal gained nearly 2% in the last session amid market perception of a dovish stance on interest rates by the US Federal Reserve.
Spot gold was down 0.2% at US$1,203.67 per ounce at 0741 GMT. It had climbed 1.7% on Friday in its biggest one-day percentage gain since May 2017. US gold futures were down 0.2% at US$1,210.60 an ounce.
"Gold faces headwinds from the fact that the dollar rally, old though it may be, is still alive, although facing threats from domestic political uncertainty," said Nicholas Frappell, general manager at Australia-based ABC Bullion.
The dollar index, which tracks the greenback against a basket of six major currencies, was up 0.1%. It had fallen nearly 1% in the previous session weighed down by comments from Fed Chair Jerome Powell, who signalled a gradual approach to interest rate hikes.
Speaking at a research symposium at Jackson Hole, Wyoming on Friday, Powell made the case that gradual rate hikes were the best way to protect US economic recovery, keep job growth strong and inflation under control.
"While the speech was a tad dovish, gold's resurgence may be as much position-related as it is a real demand, given the extended short gold positions that have been built up over the past few weeks which resulted in several stop losses runs getting triggered," said Stephen Innes, APAC trading head, OANDA.
Hedge funds and money managers increased their net short position in COMEX gold contracts to another record in the week to Aug 21, adding 1,306 contracts to bring it to 78,579, the largest since records became publicly available in 2006, data showed.
Higher activity in gold options amid geopolitical tensions and a record-long bull market for US equities suggest that investors are betting gold prices have found a floor, traders said.
"A sharp move lower to USD/JPY through Friday's low underpinned a modest recovery to the metal. However, the dollar soon found interest to reverse these gains and see bullion hold toward US$1,205 into the London open," analysts at MKS Pamp Group said in a note.
Among other precious metals, spot silver was almost flat at US$14.80 an ounce, while platinum was down 0.9% at US$783.25. Palladium fell 0.5% to US$931.20 an ounce after touching a one-month high of US$940.50 earlier in the session.