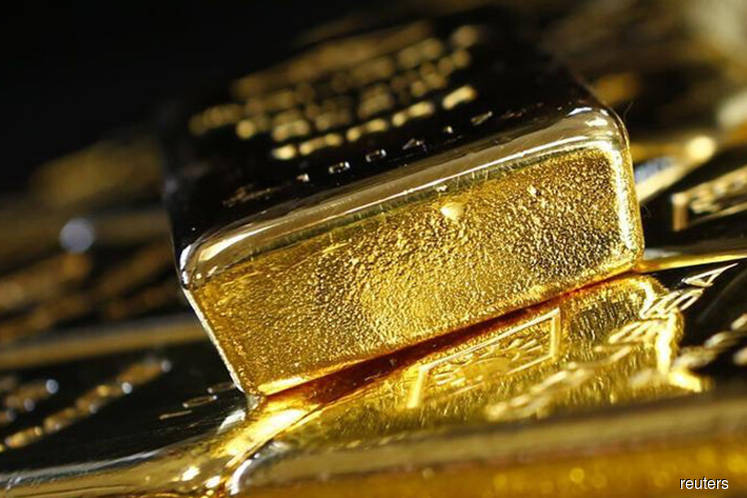 LONDON (Sept 7): Gold steadied on Friday as the dollar slipped versus a currency basket despite fears over looming China-US trade tariffs, and as investors turned their attention to US payrolls data due later.
The public consultation period for proposed US tariffs on an additional US$200 billion of Chinese imports ended at 0400 GMT Friday. Tariffs could go into effect at any moment, though there is no clear timetable.
The dollar has gained considerably from global trade tensions but slipped off two-week highs this week, helping gold stabilise. A weaker dollar makes dollar-priced gold cheaper for non-US investors.
"I'm struggling to (see) how the dollar could extend gains from here. Other central banks are becoming hawkish, the pound could come back up and the euro, once the ECB starts tightening. Gold is due for a rally," said Fawad Razaqzada, analyst at FOREX.com.
Spot gold edged up 0.1% to US$1,201.04 as of 1020 GMT, after it hit a near one-week high on Thursday at US$1,206.98, and was headed for a third straight session of gains.
US gold futures rose 0.2% to US$1,206.70 an ounce.
The dollar lost ground against the safe-haven yen and Swiss franc after a report suggested US President Donald Trump would next take up trade issues with Japan. Battered emerging market currencies also recovered their poise.
"The stronger yen versus the dollar is leading to some buying in gold ... The recent low of around US$1,160 in August is really the bottom in gold for now," said Yuichi Ikemizu, Tokyo branch manager, ICBC Standard Bank.
Elsewhere, investors will be closely watching a US employment report due later in the day for clues on the pace of interest rate hikes. The payrolls report is expected to show a robust rise of 191,000 jobs.
Gold has tumbled about 12% from a peak of US$1,365.23 in April, though present levels have invoked a lot of physical buying in Asia, traders and analysts said.
Spot silver was up 0.2% at US$14.1 per ounce.
Platinum fell 0.5% to US$786.70, while palladium rose 0.6% to US$980.90.
"The World Platinum Investment Council estimates (the) global platinum market saw a surplus of 340,000 an ounce in the second quarter, compared to a deficit of 175,000 in the first. For the full year, the council estimates the market (in) a surplus of 295,000 ounces," ING said in a note.