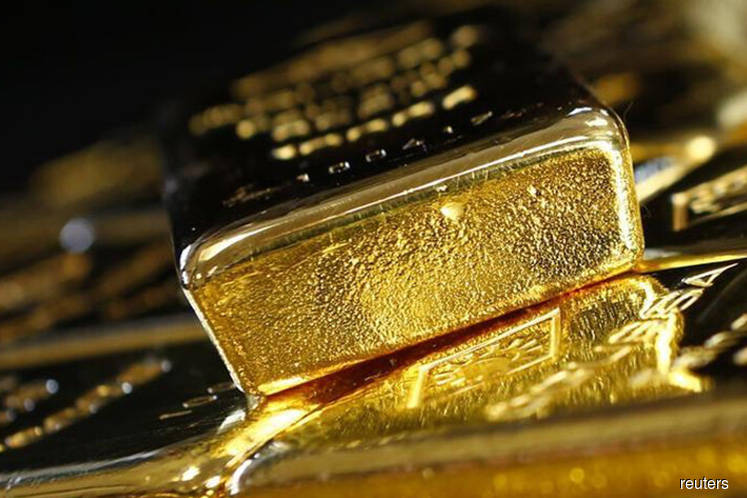 BENGALURU (Aug 21): Gold prices hit a one-week high on Wednesday and inched closer to the key US$1,200 level as the dollar remained weak on US President Donald Trump's criticism of the Federal Reserve and ahead of minutes from the central bank's August meeting.
Trump's reiteration on Monday of displeasure with rising interest rates has weighed on the dollar, ahead of the release of the Fed's minutes later on Wednesday and its annual economic symposium at Jackson Hole, Wyoming on Friday.
"Trump's comments have certainly put a dampener on the dollar," said Sydney-based ANZ analyst Daniel Hynes. "This especially ahead of the Jackson Hole symposium is an issue, which the investors are clearly focussed on."
Gold is highly sensitive to rising US interest rates as it increases the opportunity cost of holding non-yielding metal while boosting the dollar.
Spot gold was largely unchanged at US$1,195.68 an ounce at 0227 GMT, after touching US$1,197.66, its highest level since Aug 14. US gold futures rose 0.2% to US$1,202 an ounce.
The precious metal has come under pressure this year, sliding more than 12% since hitting a high of US$1,365.23 in April amid US interest rate hikes and a soaring dollar.
But the dollar's advance has slowed ahead of lower-level trade talks between Chinese and US officials in Washington this week and has further weakened after Trump told Reuters on Monday he was "not thrilled" at the Fed's rate hikes.
A weaker dollar, in which gold is priced, has helped the precious metal recover from a more than 1½-year low hit last week after prices slipped below the key psychological level of US$1,200.
The dollar index, which measures the greenback against a basket of currencies, fell about 0.1% on Wednesday after touching its lowest since Aug 9 at 95.08 in the previous session.
Meanwhile, liquidations continued at SPDR Gold Trust, the world's largest gold-backed exchange-traded fund. Holdings have fallen about 3.4 million ounces from a peak in late April.
Spot silver was up 0.3% at US$14.79 an ounce.
Platinum rose 0.3% to US$795.70, after touching a one-week high of US$803.10. Palladium fell 0.6% to US$911.