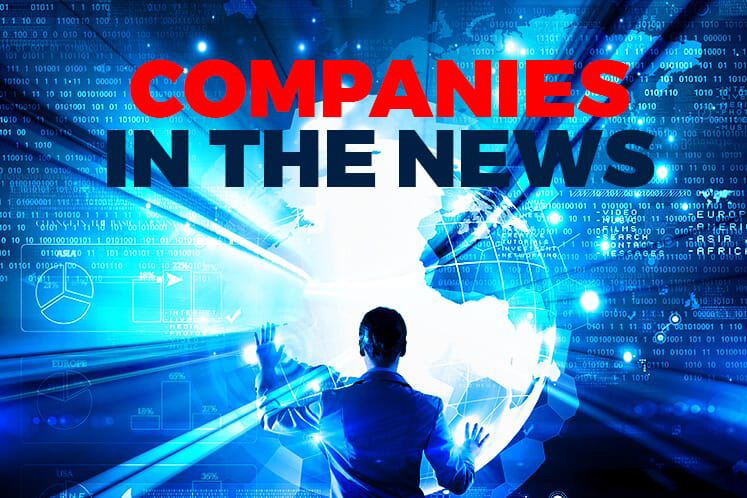 KUALA LUMPUR (March 14): Based on corporate announcements and news flow today, stocks in focus on Thursday (March 15) may include Glomac Bhd, MK Land Holdings Bhd, JAKS Resources Bhd, V.S. Industry Bhd, T7 Global Bhd, YFG Bhd, Malaysia Airports Holdings Bhd and Denko Industrial Corp Bhd.
Glomac Bhd reported a 19.8% decline in its net profit to RM4.31 million in the third financial quarter ended Jan 31, 2018 (3QFY18) from RM5.37 million a year ago, in the absence of cost savings that it saw from the finalisation of costs at its Lakeside Residences project in Puchong Jaya, Selangor in 3QFY17.
This resulted in lower earnings per share of 0.54 sen in 3QFY18 compared with 0.68 sen in 3QFY17. Revenue for the quarter increased 20% to RM105.13 million from RM87.49 million in 3QFY17.
In a filing with Bursa Malaysia today, the property developer attributed the higher quarterly revenue to contributions from Lakeside Residences, Saujana KLIA in Dengkil and Saujana Perdana in Sungai Buloh.
For the cumulative nine months (9MFY18), the group's net profit dropped 92.8% to RM7.82 million from RM109.16 million a year ago, while revenue fell 26.1% to RM312.55 million from RM422.9 million in 9MFY17.
MK Land Holdings Bhd said the RM80.77 million in income tax and penalties, claimed from its unit Saujana Triangle Sdn Bhd (STSB) by the Inland Revenue Department (IRB), has become due after the Court of Appeal upheld the High Court's decision.
The High Court had disallowed STSB's application for leave and stay to commence judicial review, which was made in respect of the IRB's notices of assessment.
STSB's solicitors and tax consultants had advised that there are reasonable grounds to challenge the validity of the said notices of assessment and additional assessment raised by the Director General of Inland Revenue and the penalties imposed via its appeal to the Special Commissioners of Income Tax.
JAKS Resources Bhd has proposed a placement to raise up to a minimum of RM68.88 million mainly to fund the group's ongoing projects.
The proposed placement would involve an issuance of up to 50.67 new shares to third party investors to be identified, and at an issue price to be determined later.
Of the RM68.88 million proceeds, RM45 million would be used to finance construction costs for the group's ongoing projects, and RM20 million for the working capital of its 51%-owned Evolve Concept Mall in Petaling Jaya.
The remaining funds would be utilised for working capital and estimated expenses relating to the proposed placement.
The proposed exercise is expected to be completed by the third quarter of this year.
V.S. Industry Bhd has withdrawn its previous application that was submitted to Bursa Securities for approval on Feb 27 in relation to the listing of and quotation for the bonus shares to be issued under a proposed one-for-four bonus issue.
No reason was given, except to say that a new application for the listing of and quotation for the bonus shares has been submitted to Bursa today.
VS had said then that the proposed bonus issue of up to 397.58million shares was to reward its existing shareholders, while enhancing the group's capital base.
The proposed exercise was to have been completed in the second quarter of this year.
T7 Global Bhd has entered into a new Memorandum of Understanding (MoU) with Terengganu state-linked corporation Eastern Pacific Industrial Corp Bhd (Epic) and CMC Engineering Sdn Bhd, a wholly-owned bumiputera company, to form a consortium to undertake the construction of the RM60 billion East Coast Rail Line (ECRL) project's Terengganu parcel.
However, China State Construction Engineering (M) Sdn Bhd (CSCEM), a subsidiary of China State Construction Engineering Corp Ltd, is excluded from the new MoU.
In the previous MoU signed on Oct 20 last year, CSCEM's role was as the technology partner in the strategic partnership to ensure the smooth implementation of the ECRL project.
T7 did not give the reason why the parties opted for a new MoU, except to say that it was "due to the development of the project".
YFG Bhd's shares will be delisted from the Main Market of Bursa Malaysia on March 26 after the regulator rejected the group's application for more time to submit its regularisation plan.
The company had withdrawn the proposed regularisation plan submitted to Bursa Securities and its application for a further extension of time of up to Aug 31 to submit a new proposed regularisation plan had been rejected by Bursa.
Unless an appeal against the delisting is submitted to Bursa by March 21, the securities will be delisted on March 26.
Malaysia Airports Holdings Bhd (MAHB) has clarified that there are no plans yet to develop a third terminal at the Kuala Lumpur International Airport (KLIA).
"We wish to clarify a misunderstanding with regard to news reports on KLIA3," it said in a statement today. "There are no immediate plans to build a third terminal for KLIA as stated by several leading newspapers today."
Denko Industrial Corp Bhd has proposed to acquire a piece of land measuring 62,127 sq ft in Johor for RM4.26 million to construct a warehouse.
In a stock exchange filing today, Denko said its wholly-owned subsidiary ATA Industrial (M) Sdn Bhd entered into a sale and purchase agreement (SPA) with Blessplus Sdn Bhd.
Denko indicated the proposed plot is located closer to ATA Industrial's main manufacturing base and that upon completion of the warehouse, Denko would shift from some of its existing rented warehouses.
The proposed acquisition is expected to be completed within six months from the date of the SPA.