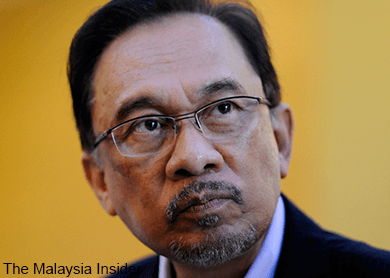 (Sept 25): Leaders from democratic parties and organisations around the world attending the Progressive Alliance seminar in Batu Ferringhi, Penang, today demanded for persecution of government critics to stop and for former opposition leader Datuk Seri Anwar Ibrahim to be freed.
The 80 delegates, including an ambassador, MPs, state ministers, elected representatives and party heads, from 60 organisations from 40 countries, held up placards with messages expressing their demands after a session titled 'Stop All Persecutions – Free Political Prisoners, Free Anwar' this evening.
The Progressive Alliance seminar participants earlier heard of measures taken by the Malaysian government to discourage dissent and the actions taken against opposition politicians like Anwar and even journalists.
Alor Star MP Gooi Hsiao Leung, who represented Anwar's daughter, Lembah Pantai MP Nurul Izzah, spoke about how her father was persecuted and jailed for sodomy, as well as the current affairs of Malaysia, such as the recent Bersih 4 and 'red shirt' rallies.
He said the jailing of Anwar was to deprive Malaysia of the opposition leader, who was the biggest threat to the ruling party's hold on power.
"Izzah cannot be here today because her family was just given permission to see Anwar in jail. She asked me to convey her father's thanks for the support."
Member of the European Parliament Neena Gill, who is from the British Labour Party, said pressure must be brought upon Malaysia to address the questions regarding its persecution of people who spoke out against the administration.
She briefly spoke of the sedition charges faced by well-known cartoonist Zunar, law academic Dr Azmi Sharom, student activist Ali Abdul Jalil, who is now in self-imposed exile to escape the charges against him, as well as Anwar, who has been jailed for sodomy.
She said the European governments were not giving the issues in Malaysia the platform they needed, and she planned to go home and urge her parliamentary colleagues to support an emergency motion.
"Malaysia is sitting in the G20, representing Asean members. The contradictions must be addressed and I hope the human rights committee will condemn such issues," she said.
Gill said the EU and Malaysia had trade partnership and agreements that were important to Malaysia for it to reach its goal of a high income nation and this could be used as a tool if no charges were made.
She said the EU should consider opposing the sale of surveillance technology that could be used by authoritarian regimes.
She also called for activists, whistleblowers and citizens to be protected when they go online, using the Internet to bypass censorship.
Moez Ben Dhia from Tunisia's Democratic Forum for Labour and Freedoms (Ettakatol) said Islam and Islamic culture were not opposed to democracy, and they could be compatible.
He said he used to cite Malaysia as a good example of a democratic Islamic nation, and urged the government to continue being such an example and not move backwards.
Social Democracy in Asia Network coordinator Marie Chris Cabreros said, as a movement of political parties, trade unions and progressive civil societies, they were very concerned about what was happening in Malaysia, and they were aware of the draconian laws, detentions and arrests of people.
"We also know of the anti-corruption propaganda launched by the government and we know of the political motivation behind the conviction of Anwar.
"Organisations from the Progressive Alliance in March voiced support for your movement to free Anwar, and we continue this call by being here in Malaysia to join you in this movement to uphold democracy, which is universal, cutting across religion, race, and generations.
"We uphold a democracy that unifies the people, and strengthens institutions instead of eroding them... We support a government that is transparent, accountable and inclusive. A non-transparent government erodes democracy and progress, which all Malaysians inspire for, regardless of their race and religion," she said.
Among the organisations represented at the two-day seminar were the Australian Labour Party, People's Movement for the Liberation of Angola, Germany's Social Democratic Party, Britain's Labour Party, India's Socialist (Samajwadi) Party and Association for Democratic Socialism, Indonesian Democratic Party Struggle and Nasional Demokrat, Patriotic Union of Kurdistan from Iraq, Japan's Democratic Party, the Labour Party of Kenya, and Malaysia's DAP. – The Malaysian Insider