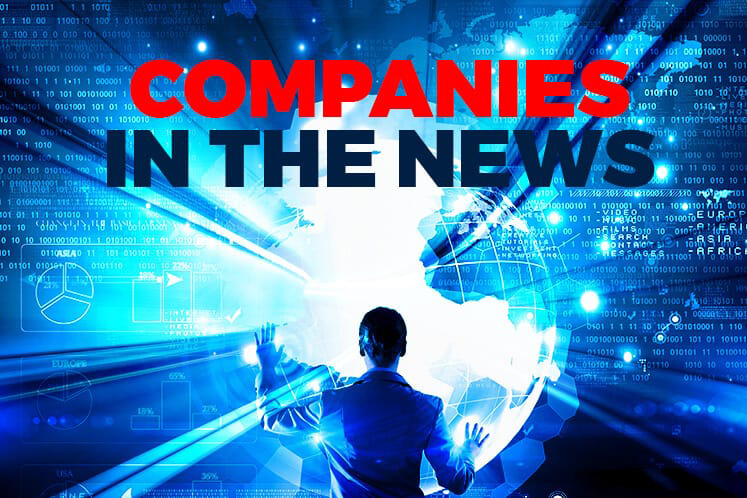 KUALA LUMPUR (Jan 26): Based on corporate announcements and news flow today, stocks in focus on Monday (Jan 29) may include: GFM Services Bhd, Spring Gallery Bhd, Sunzen Biotech Bhd, AirAsia Bhd, AirAsia X Bhd, Cypark Resources Bhd, Dagang NeXchange Bhd, Tenaga Nasional Bhd, Pesona Metro Holdings Bhd, Kimlun Corp Bhd and LB Aluminium Bhd.
GFM Services Bhd's proposed purchase of KP Mukah Sdn Bhd, which holds a university concession, will raise its order book to RM1.5 billion while generating stable cashflow.
The integrated facilities management services provider inked a conditional share sale agreement today with property developer Kumpulan Parabena Sdn Bhd for the 100% acquisition of KP Mukah for RM130 million.
KP Mukah is a special purpose vehicle of Kumpulan Parabena and is the lessor of an infrastructure facility and provider of maintenance services for Universiti-Institut Teknologi Mara (UiTM) Mukah.
Spring Gallery Bhd will develop a theme park in Klebang, Malacca, after winning the rights for the project from Village Roadshow Theme Parks Pty Ltd, the theme park's operator.
Spring Gallery's wholly-owned Million Rich Development Sdn Bhd (MRDSB) had accepted a letter of intent from Village Roadshow for the development and operation of the theme park, which is planned to be built on nine pieces of land collectively measuring 292,795 square meters.
Sunzen Biotech Bhd has reentered into a share sale agreement with vendors of Ecolite Biotech Manufacturing Sdn Bhd to purchase a 70% stake in Ecolite for RM12.05 million.
Sunzen said the purchase consideration will be wholly satisfied via the issuance of 40.85 million new shares in Sunzen at an issue price of 29.5 sen per share.
The animal health care products maker had initially proposed the acquisition in July last year as a step towards diversifying its activities to include manufacturing and trading of traditional Chinese medicines and herbal health foods and beverages. However, it was called off in November due to issues arising from the due diligence conducted on Ecolite and its subsidiaries, with the parties mutually agreeing to terminate the SSA.
AirAsia Bhd said it carried 10.44 million passengers between October and December 2017, 17% higher than the 8.93 million passengers in the same period last year, while load factor rose to 88% from 87%.
For the whole year of 2017, AirAsia Bhd Consolidated carried a record 39.09 million passengers, 11% more than the 35.1 million passengers in 2016.
Meanwhile, its sister company AirAsia X Bhd carried 1.55 million passengers in the fourth quarter of 2017, which was 12% more than the 1.38 million passengers carried in the same  period of 2016.
For 2017 as a whole, total passengers carried climbed 25% to 5.84 million passengers from 4.69 million in 2016. Load factor rose 3 percentage points to 82%.
Cypark Resources Bhd won a contract worth RM260.51 million for works related to a large-scale solar photovoltaic plant in Negeri Sembilan. It accepted a conditional letter of award from Cove Suria Sdn Bhd, and will effectively work on the 30MW plant situated in Empangan Kelinchi.
The contract period for the engineering, procurement, construction and commissioning of the plant is 24 months, while for the operation and maintenance of the plant it is 21 years with effect from the commercial operation date confirmed by Tenaga Nasional Bhd.
Dagang NeXchange Bhd (DNeX) has acquired a substantial stake in two consulting and accounting system services companies, as it aims to expand and strengthen its information technology and e-services business segment.
Its wholly-owned subsidiary Dagang Net entered into a conditional agreement with Nuraslina Zainal Abidin to acquire a 51% stake in Genaxis Sdn Bhd for RM10 million. This acquisition gives DNeX a 60% direct stake in Innovation Associates Consulting Sdn Bhd (IAC).
Tenaga Nasional Bhd's met profit for the three months ended Nov 30, 2017 grew 23.6% to RM2.15 billion from RM1.74 billion a year ago, thanks to higher sales of electricity and a gain on foreign exchange.
"The higher net profit was mainly due to favourable foreign exchange translation, boosted by the strengthening of the ringgit. This indicates positive macroeconomic development in Malaysia, which benefits TNB in terms of electricity demand," TNB president and chief executive officer Datuk Seri Azman Mohd said.
Quarterly revenue grew 3.3% to RM11.61 billion from RM11.24 billion a year ago, boosted by higher electricity sales.
Pesona Metro Holdings Bhd won a RM161.86 million contract from Sime Darby Property (Subang) Sdn Bhd to build serviced apartments in Subang Jaya, Selangor.
Its wholly-owned subsidiary Pesona Metro Sdn Bhd obtained the letter of award from SDPS for the project.
The project consists of two blocks of 20-storey residential towers housing 361 units, one level of facilities, three levels of commercial units, nine levels of elevated carpark and one level of basement carpark. Pesona Metro said it will be utilising internal funds for the project.
Kimlun Corp Bhd is acquiring 47 vacant detached lots and 30 double-storey detached houses in Shah Alam from Melati Ehsan Holdings Bhd for RM68.4 million.
Kimlun said the acquisition enables it to raise its land bank in a strategic location in order to enhance its future revenue and earnings
LB Aluminium Bhd announced its intention to venture into property development as it looks to increase its income.
The group said the diversification will allow it to take advantage of attractive investment opportunities as and when they arise, and help reduce its reliance on its manufacturing business, which is increasingly competitive and subject to volatility of its primary raw material.