This article first appeared in The Edge Malaysia Weekly, on May 21, 2018 - May 27, 2018.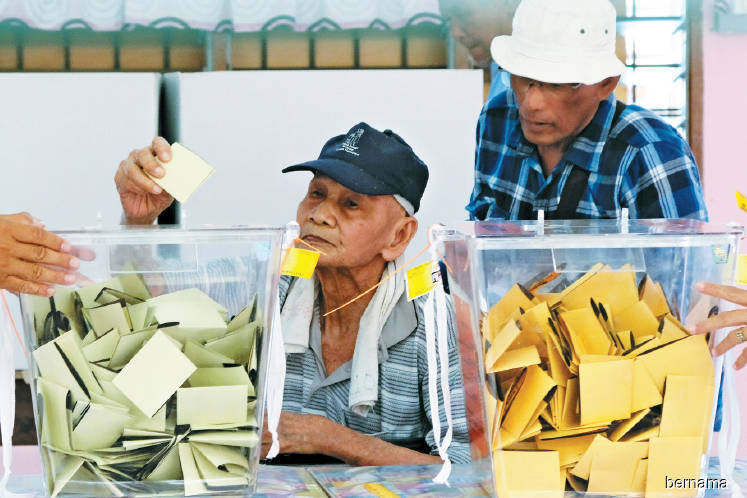 WHEN Datuk Seri Najib Razak struck a deal with PAS before the country's 14th general election, it was hailed as a master stroke. It spelt the end of Pakatan Rakyat, with PAS exiting the opposition coalition. That was success No 1 for Najib.
However, the so-called deal did not require PAS to merge with Umno or to join Barisan Nasional. That would have complicated matters, particularly when it came to the allocation of seats.
The plan was to keep the status quo, so to speak, leaving Umno/BN and PAS in their original state — two separate, but friendly, political entities. Need we be reminded that in the run-up to GE14, PAS only attacked Pakatan Harapan?
That would pave the way for three-cornered fights throughout the peninsula, with BN, PAS and Pakatan Harapan all throwing their hats into the ring.
And that was how it shaped up to be in GE14, although in many constituencies, independent candidates joined in the fray, resulting in four and even five-cornered fights. That was success No 2 for Najib .
As he and his war-room generals saw it, multi-cornered fights would ensure a win for BN. It had happened many times before. One example was during GE13 when BN took the Selangor state seat of Kota Damansara that was being contested by candidates from BN, PKR, PAS and four independents.
This time around, BN expected to win the multi-cornered fights as well and go on to seize overall victory. What's more, the Election Commission's redelineation exercise — which segregated voters based on race, resulting in super ethnic constituencies — seemed to tip the scales even more in BN's favour.
Obviously, the incumbent coalition had given up any hope of getting Chinese support, hence the lumping of Chinese voters into opposition territory. As DAP's Tony Pua put it just days before GE14, "What's the point of me winning with a record majority when it is just one seat in parliament?"
He was referring to the big number of Malay voters transferred to marginal constituencies that BN thought it could win because of the gerrymandering.
It's a given that BN, or rather, Umno, had heavily banked on Malay votes to pull it through.
But all that did not happen. Why?
A highly placed Umno source wasn't very helpful when I asked him, and pinned the blame on Najib. He did not even mention any name, preferring to use the term nakhoda, which means the captain of a ship.
"The main factor was that the nakhoda wanted to bring the ship down with him. He did not want to jump off alone. Only after the ship had sunk was the nakhoda changed". There was sadness, anger and bitterness in his remarks, which is understandable considering Umno's current plight.
But Wan Hamidi Hamid of Research for Social Advancement Bhd (REFSA) has another take on the situation. "It was because of the split in the Malay votes. Worse still, it happened in the redelineated areas, with the Malay votes split between Umno and PAS, and Pakatan getting between 30% and 40% in each area," he explains.
Umno had anticipated the split in the Malay votes, except that it thought that would work in its favour.
Wan Hamidi, who is REFSA deputy director, thinks that if "Umno and PAS had not clashed, maybe they could have got a combined 50% in each area".
I must add that PAS benefited somewhat, chipping away votes from Umno.
However, an analyst with political risk consultancy Bower Group Asia believes Umno would have lost even more seats if not for the multi-cornered fights. Before polling day, says Asrul Hadi Abdullah Sani, many Umno members were in a dilemma as they wanted to support the party, but not Najib. "What the results revealed was that many did not vote along party lines." That could also mean that a significant number of Umno supporters stayed home or went to the polling booth and marked X for Mahathir.
Asrul said the 11% difference in the total votes obtained by PH and BN was "very damning", citing a Malay Mail report that said BN's share of the popular vote was the lowest in recent history.
The reasons why Malaysians, in particular the Malays, turned against Umno on May 9 have been well documented and analysed, and I don't intend to repeat them here.
Suffice it to say that the multi-cornered strategy backfired on Umno, as did the creation of super ethnic constituencies.
Najib and Co learned it the hard way. And at what a price.
Mohsin Abdullah is a contributing editor at The Edge who has covered politics for more than four decades
Save by subscribing to us for your print and/or digital copy.
P/S: The Edge is also available on Apple's AppStore and Androids' Google Play.