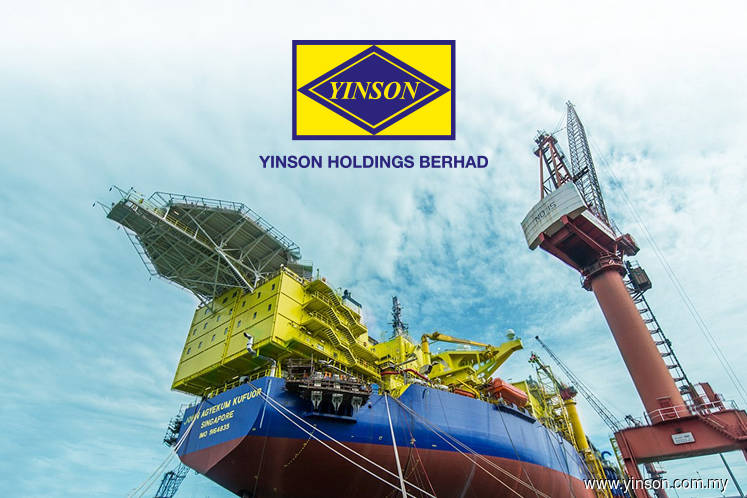 KUALA LUMPUR (July 12): Tenders for floating production, storage and offloading (FPSO) jobs are now at the highest in three years, Yinson Holdings Bhd group chief executive officer Lim Chern Yuan said, adding that this bodes well for the offshore production and support services provider.
"We see more bidding activities. I have never seen it (number of tenders) this high in the last three years. Over the past few years, we believe there were some underinvestment in the oil and gas (O&G) business and now is mainly a catch-up," he told a news conference after the group's annual general meeting today.
"So, we will see a lot of jobs being awarded in the industry in the short term," he added.
"On our part, we have already secured one project this year and we are in an exclusive discussion with another," said Lim.
In May, Yinson had secured its first FPSO charter contract valued at US$860 million in Malaysia.
The project was originally awarded to TH Heavy Engineering Bhd (THHE) by JX Nippon Oil & Gas Exploration (Malaysia) Ltd (JX Nippon) on Nov 27, 2014. THHE, however, was unable to complete the project due to financial distress following the then downturn in oil prices. Yinson will pay THHE a novation fee of RM374 million.
Yinson is also in exclusive negotiations for the potential supply and charter of a FPSO unit to process hydrocarbons from the Anyala and Madu fields located offshore Nigeria. The client First Exploration & Petroleum Development Co Ltd (First E&P) owns 40% of the rights to the two fields, with the remainder being held by Nigerian National Petroleum Corp in an unincorporated joint-venture basis.
"Both the client and us are aligned to try to sign something definitive as soon as possible but it is a very long-term contract and big in value. On our side, we will try to close it by September," Lim said.
As of May 2018, Yinson's order book stood at US$4.3 billion which will keep the group busy until 2037. As a matter of principle, Lim said the group is not really looking into winning many projects, but rather solid projects that will benefit Yinson in the long run.
Lim also said high crude oil prices — currently trading nearing the US$80 levels — will not have a direct benefit to Yinson as its charter rates are fixed. However, the group will capitalise on the increased demand for FPSOs in the market, he added.
On new FPSO projects, Lim said: "Historically, we have always looked at Africa and Asia. A new area that we have started looking into is the Americas. That is where we have started looking at bidding activities."
Lim is also unfazed by the competition from other FPSO players amid the upturn in the O&G sector.
"At this point in time, we don't see a lot of FPSO players coming into the business. It is a very capital-intensive business where you need track record, capital and the human resources," he said.
"What we have done in the past one to two years was to build up our balance sheet, our human resources and with the oil price being where it is right now, I think we are in a good position to take on (more) projects," Lim added.
At 3.37pm, Yinson shares were traded down one sen or 0.22% at RM4.51, with 150,100 shares, bringing a market capitalisation of RM4.92 billion.