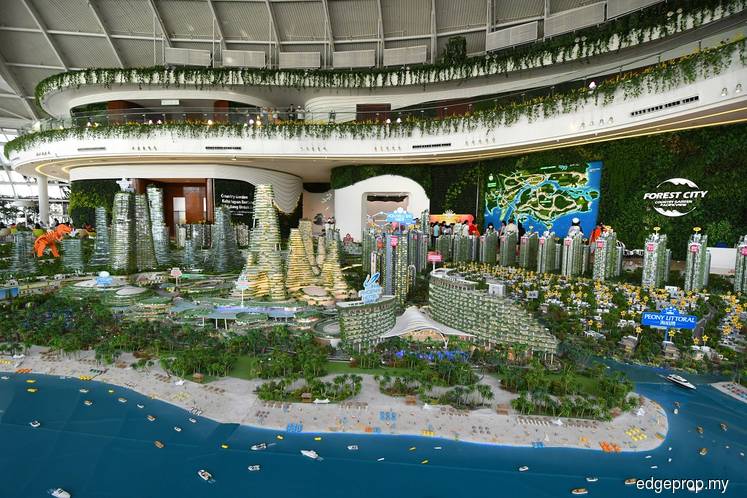 ISKANDAR PUTERI (Sept 4): The Inaccurate information about the Forest City project in local media reports have caused a misunderstanding among certain parties, said Johor Menteri Besar Datuk Osman Sapian.
As such, he said his office had taken steps to provide a more accurate and detailed information about the project today, after receiving a full report from the developer, Country Garden Pacificview (CGPV).
"For the past few weeks, I have not been able to provide any details as I was waiting for CGPV's report, and the report was finally handed over to me two days ago.
"I hope this will provide a clearer picture to the public to avoid any negative perception of the company," he told a press conference at his office here, today.
Osman said that he was not taking sides, adding that the state government had always welcomed foreign investments.
So far, the implementation of the Forest City project has been running as usual.
Osman said CGPV has so far paid RM309 million in taxes to the Federal Government, including RM205 million corporate tax, besides RM630 million in the form of dividends and land premiums to the state government.
He said the company had also invested about RM11.5 billion in the project and awarded contracts worth RM1.4 billion to 150 local contractors.
"To date the company has employed 1,545 employees, including 1,200 locals, and all of them have paid a total of RM51 million in income tax.
"Besides, CGPV is also actively recruiting fresh graduates and will continue to do so in the future," he said, refuting an allegation that the project had not contributed to the nation's economy.
He also said all CGPV property buyers were bound by the Housing Development (Control and Licensing) Act 1966 whereby buyers would have to sign a sale and purchase agreement.
This means any payment or transaction must be made and paid to Malaysia either through cash, loan or payment in 13 stages based on the project progress, he added.
Osman described as baseless a claim that the Forest City property purchase transactions occurred outside Malaysia and the funds were not brought into the country.
He clarified that CGPV and its holding company, Country Garden Holdings, were two different business entities operating independently, with a separate overseas management from the one in China.
Hence, this forbids China nationals buying a house from Country Garden Holdings in China from getting a free residential unit in Forest City, he added.
Osman also brushed aside a claim that the Forest City project would lead to an influx of 700,000 China nationals into Johor.
"The estimate consists of locals, tourists, professionals and corporates, students and foreign workers, not merely China nationals, and the numbers are based on the project that will be completed in 30 years," he added.