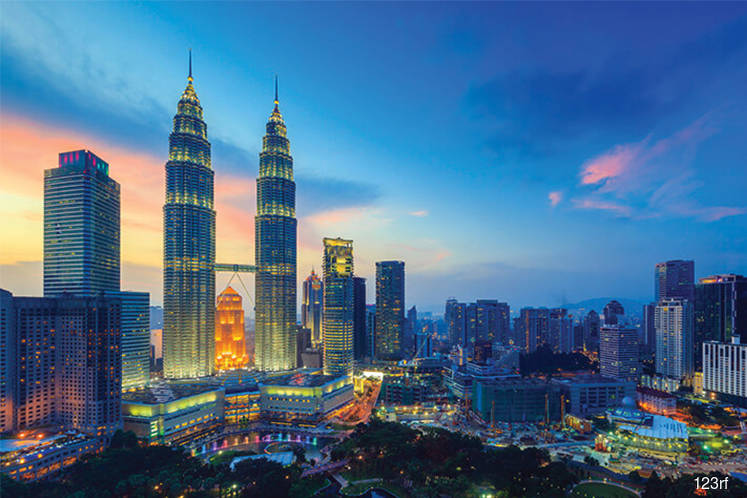 KUALA LUMPUR (Aug 14): Fitch Ratings has affirmed Malaysia's long-term foreign-currency issuer default rating (IDR) at 'A-' with a stable outlook. 
In a statement today, the global rating agency said the rating is supported by solid economic growth and a net external creditor position built up from a record of current-account surpluses.
These strengths are offset by the elevated government and private sector debt, and low per capita income and World Bank governance scores relative to rating peers, it added.
The affirmation takes into consideration measures such as rollback of the goods and services tax (GST), as well as the country's stated intention to reduce fiscal deficits and improve governance.
However, Fitch views measures taken by the Pakatan Harapan (PH) government to repeal the GST and to continue fuel subsidies in place since early 2018, as negative for Malaysia's credit profile.
Fitch also noted that Malaysia's structural indicators such as gross domestic product (GDP) per capita, standards of human development and governance, remain below the 'A' category median.
"One of the PH coalition's notable campaign promises was a royal commission inquiry into recent corruption scandals, such as that surrounding the state investment fund, 1Malaysia Development Bhd. The investigation could help raise governance standards over time, although improvements may take time to eventuate," Fitch said.
Malaysia ranked in the 61st percentile on the World Bank governance indicator, compared with the 'A' category historic median's 75th percentile.
Meanwhile, the agency has raised its estimate of government debt at end-2017 to around 65% of GDP, from 50.8%, following the government's recognition it will need to service a large share of explicitly-guaranteed debt.
"We expect the deficit to continue falling to around 2.5% of GDP by 2020 under our baseline assumptions, through a combination of subsidy rationalisation, further capital spending cuts, new revenue measures and better tax compliance.
"The government debt is also likely to decline to around 59% of GDP by 2020, although the decline could be more rapid if the government chooses to sell off public assets and use the proceeds for debt reduction," it noted.
"However, there are also upside risks to debt, as a part of contingent liabilities related to public-private partnerships of 14.9% of GDP may migrate to the sovereign balance sheet," Fitch added. 
The agency expects GDP growth to slow to 5.2% this year, 4.8% in 2019 and 4.6% in 2020, from 5.9% in 2017, as the government seeks to constrain recurrent spending in line with its narrower revenue base.
Nevertheless, Malaysia's average GDP growth for the five years to 2018, will remain above peer medians.
"Downside risks to our growth projections could materialise from accelerated spending cuts, disruption to capital projects or slowing investment in the event of prolonged policy and political uncertainty," Fitch said.
The global ratings agency also expects Malaysia's current account surplus to remain between 3%-4% of GDP between 2018-2020, supported by higher oil-related exports and slightly slower import growth, which should counter our forecast moderation in exports of electronics.
"Imports are likely to slow from the new government's review of major infrastructure projects. However, given Malaysia's high degree of trade openness, it remains vulnerable to negative external developments, such as rising trade protectionism.
"The country is also vulnerable to shifts in external investor sentiment, due to high levels of short-term external debt and foreign holdings of government debt, especially against the backdrop of rising US interest rates. Foreign holdings of treasury bills, Malaysian government securities and government investment issues were around 28% of total central government debt in the first quarter of 2018," Fitch said.