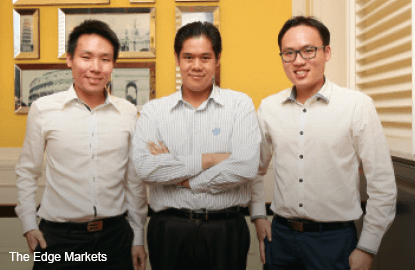 This article first appeared in Personal Wealth, The Edge Malaysia Weekly, on Dec 14 - 20, 2015.
INVESTORS can expect higher returns from soon-to-be-launched financial technology (fintech) platforms than from conventional asset classes. Next Bank KL, a newly established community of financial service providers, sees this as an opportunity for the masses to diversify their portfolios.
"Today, the only way a regular person with spare cash can invest is if they go into property, the stock market or unit trust funds. These [fintech] platforms provide another form of revenue that could potentially provide higher returns than any of the above have in the past, especially for retail investors," says Lee Yen Ming, one of the three co-leads of the Next Bank KL chapter.
"I am sure there are people with more money in their pockets than they know what to do with it. At the back of their mind, they know they want to build their wealth, so this provides a new avenue," he adds.
The rise of fintech firms is swiftly bridging the technology gap between retail investors and their institutional counterparts. 
Benchmarking the experience of more established fintech platforms in the UK and the US, Lee points out that the returns are expected to be more lucrative than bank deposit rates but riskier nonetheless as deposits of up to RM250,000 are insured by the Malaysia Deposit Insurance Corporation.
"The returns can vary, depending on the different platforms. But the thing we have seen is that the returns are definitely higher than what you would get from bank deposits," he says.
In June, the Securities Commission Malaysia (SC) approved six equity crowdfunding (ECF) operators from a shortlist of 27 applicants, opening an alternative funding platform for small businesses and entrepreneurs. Malaysia is the first country in Asia-Pacific to legislate ECFs.
The six platforms — comprising local and foreign players — are Alix Global, Ata Plus, Crowdonomic, Eureeca, PitchIN and Propellar Crowd+. These ECF operators are expected to launch their businesses by the end of this year. 
The SC is in the midst of drawing up a regulatory framework and guidelines to govern peer-to-peer (P2P) lending platforms. They are expected to be rolled out in the first quarter of 2016.
The framework for robo-advisers — online wealth management service providers that offer automated, algorithm-based portfolio management advice, which make human financial planners unnecessary — is also in the pipeline and will be introduced at a later date, the SC has said.
Next Bank operates in a similar vein as the SC-driven initiative Alliance of Fintech Community, which is aimed at getting all the fintech players on board to invigorate conversations and keep them abreast of the developments in the evolving landscape.
The global network, which spans six regions, launched a chapter here last month, hoping to complement parallel initiatives to create a community of financial services technology providers consisting of banks, investors, regulators and start-ups. Besides Lee, the other co-leads of Next Bank KL are Jason Lee and Wilson Beh. All three are banking industry professionals.
The chapter's co-leads are supportive of the SC's initiative to spearhead the industry. Having the regulator watch over the operations of fintech players drives the technology forward, out of grey areas, Jason says. "It creates a new market and opportunities for start-ups looking for formal funding." 
"[The SC] would want to have at least a baseline, in terms of ensuring that fraud and money laundering do not happen, especially when it wants to open up this sector and allow innovation to come in. In that sense, we see a lot of opportunities coming forth in the near future, especially with regulators like ours being very open to innovation," says Lee. 
According to consultancy firm Accenture, investment in fintech companies grew 201%, or US$12.21 billion, globally last year compared with 63% growth in overall venture-capital investments. While the US accounts for the lion's share of the investment, 
Europe experienced the highest level of growth, with an increase of 215% year on year. 
In Asia-Pacific alone, investments skyrocketed from about US$880 million last year to nearly US$3.5 billion in the first nine months of this year. As for Malaysia, Next Bank KL says the opportunities are vast as more than 60% of the 30 million population is aged between 15 and 64. The country's affluent population is large and growing at a compound annual growth rate of 10%.
The opening up of the fintech sector also encourages financial literacy. The World Bank, in a report released in April, estimated that about 81% of the Malaysian population has access to bank deposit accounts. However, such prudence does not translate into better financial preparation for income shock, notes Bank Negara Malaysia.
In such circumstances, the services provided by fintech entrepreneurs could bridge the gap as the entry point for investors is relatively low, says Beh. "Previously in the banking industry, if you want to invest in something, there are only a couple of ways. First, you must be a high-net-worth individual. If you want to invest in bonds, the smallest ticket size is RM5 million. And if you want to invest in an IPO, you either have to come from an institution or wait for the retail tickets. So what happens to those who want to invest in small ideas?
"For now, angel and venture capitalists do it because they are from that side of the business. But what about the general public who have cash to spare? These platforms open up a different ball game and the space for investors, who are aware of personal wealth development, to invest in great businesses and ideas. And the beauty of that is that they can select the business ideas that appeal to them."
Commercial banks have been proactively leveraging alternative delivery channels such as mobile phone banking and mobile units to increase outreach efficiency while keeping transaction costs low, as Malaysia has a 140% mobile penetration rate.
"We foresee that with the use of smartphones, the availability of the internet can actually help to tap into these segments, which require banking services but have yet to come on board through conventional means," says Beh.