This article first appeared in The Edge Financial Daily, on August 29, 2018.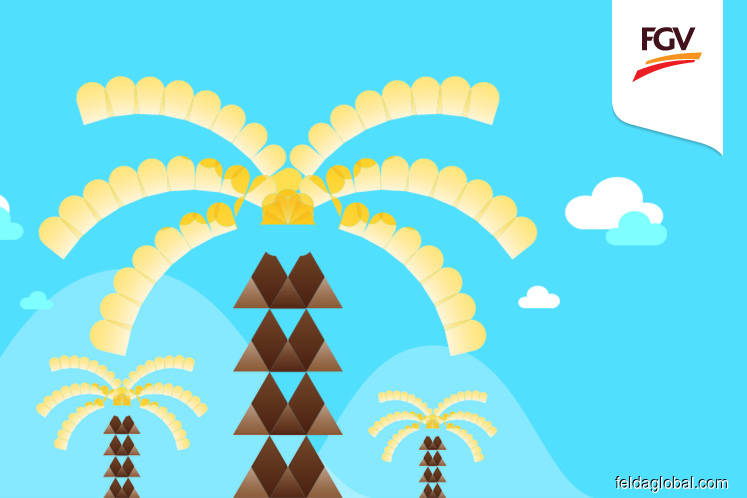 KUALA LUMPUR: FGV Holdings Bhd slipped into the red in the second quarter of financial year 2018 ended June 30 (2QFY18), with a net loss of RM23.23 million, compared with a net profit of RM37.26 million a year ago.
Quarterly revenue dropped 18.42% to RM3.44 billion, from RM4.21 billion previously, the group said in a filing with Bursa Malaysia.
FGV said the performance fell short of market expectations and was also below the internal targets set by the management.
"The poor performance was attributable among others to lower productivity which missed targets, lower average crude palm oil (CPO) price realised, higher production costs, and higher share of loss from joint ventures and associate companies," it said.
"However, the board of directors does acknowledge that further steps need to be taken by the management to enhance operational effectiveness and efficiencies, in order to produce sustained results under changing market conditions," it added.
FGV said it realised a lower CPO price of RM2,419 per tonne in 2QFY18, a 13.5% drop from RM2,796 per tonne a year ago, amid a 14.8% increase in the CPO sales volume to 480,738 tonnes from 421,045 tonnes.
Fresh fruit bunch (FFB) production slipped to 993,505 tonnes in 2QFY18 from 1.04 million tonnes a year ago.
Meanwhile, the CPO oil extraction rate improved to 20.61% from 19.77%, while ex-mill cost rose to RM1,884 per tonne from RM1,649 per tonne.
For the first half of 2018 ended June 30 (1HFY18), FGV posted a net loss of RM21.9 million, as compared with a net profit of RM38.96 million a year ago, while revenue declined 17.45% to RM7.04 billion from RM8.53 billion.
FGV said the year-to-date weaker performance was mainly pressured by the lower average CPO price, which averaged RM2,447 per tonne during the six months, against RM2,916 in the previous year's first half.
FGV said it registered a FFB yield of 7.23 tonnes per hectare, and expects to register a full-year yield of 17 tonnes per hectare in FY18, and more than 20 tonnes per hectare in 2019, as a result of improvements in agricultural practices and aggressive replanting.
Still, FGV said the expected FFB yield fell below the initial internal target 17.5 tonnes per hectare, which was also below the national industry average.
"The targets set by management at the beginning of this financial year had taken into account unprecedented labour shortages and the age profile of FGV's trees," it added.
Of the 342,420 hectares of the planted area, FGV said a third or 131,470 hectares is above 20- years-old, while the remaining 144,991 hectares is categorised as young and immature.
On prospects, FGV said it anticipates a challenging year, given the bearish CPO price outlook, operational inefficiencies and unrealised returns from investments.
Listed on the Main Market, FGV shares dropped five sen or 2.94% to RM1.65 yesterday, for a market capitalisation of RM6.02 billion.