This article first appeared in The Edge Financial Daily, on May 4, 2018.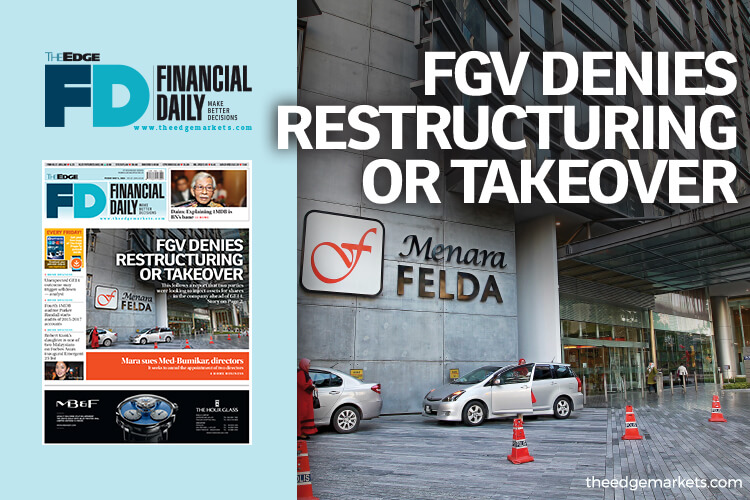 KUALA LUMPUR: Felda Global Ventures Holdings Bhd (FGV) has denied talk that it will be announcing a large scale restructuring, or be taken over before the 14th general election on May 9.
In response to a report on April 30 by International Palm Oil Monitor (Ipom) which suggested such a move would take place before May 9, FGV's chairman Datuk Azhar Abdul Hamid said, "We are not disputing that there are proposals [involving corporate exercises at FGV], all this while I have said that we will evaluate proposals and we will take it to the board, and then the shareholders. There is a governance trail we have to follow; we are a listed company. If it makes sense, we will go to the shareholders."
In a nutshell, he disputed the offers being deliberated at the board level even.
Meanwhile, FGV's official statement to The Edge Financial Daily read, "There is no truth in this story. It is not only false, it is also mischievous."
Ipom on Monday said that two parties — one linked to Tan Sri Syed Mokhtar Albukhary and another, a joint venture between Tan Sri Peter Sondakh's Rajawali group and representatives of PT Gama Plantation, owned by Indonesian Chinese tycoon, Martua Sitorus, one of the founders of Wilmar International Ltd — were looking at injecting assets into FGV for shares.
"The three parties are in talks for a take-over/restructuring of FGV. The announcement may be made before the Malaysian general elections on May 9, 2018. This will in no doubt be a strategic move by the ruling government to curry favour with Malaysians," Ipom had said in its report.
It has been reported that Syed Mokhtar, who controls Central Sugars Refinery Sdn Bhd and Gula Padang Terap Sdn Bhd, has been looking to merge FGV's sugar business held under 51% publicly traded unit, MSM Malaysia Holdings Bhd, with his own.
It was also reported that Sondakh and Sitorus, who is also known as Thio Seeng Haap, were looking to inject their plantation assets into FGV for shares.
Sondakh has 37.6% in PT Eagle High Plantations, while Sitorus' brother Ganda has considerable plantation assets, such as PT Agro Mandiri Semesta known as Gama  Plantation and PT Ganda Sawit Utama, among others.
In the past FGV denied having any talks with Syed Mokhtar, and parent Federal Land Development Authority (Felda)'s executives had denied any plan for Sondakh and Sitorus to surface in FGV.
After Ipom's piece, FGV's stock has fallen seven sen and closed at RM1.66 apiece yesterday, giving it a market capitalisation of RM6.05 billion.
Much of the negative sentiment may stem from Felda which via its unit Felda Investment Corp Properties Sdn Bhd acquired into Sondakh's Eagle High in April last year, buying a 37% stake for a whopping US$505.4 million.
Yesterday, Eagle High closed at 248 rupiah (RM0.06972), giving it a market capitalisation of US$561.05 million (RM2.21 billion). This would mean that Felda's 37% stake now has a market value of US$207.59 million, or about 40% of what it paid a little more than a year ago.
Considering Felda is a substantial shareholder of FGV, even if the decision to accept Sondakh's and Sitorus' offer had reached the board and shareholder levels, the land authority would not be allowed to vote for or against the acquisition of Gama, Ganda Eagle High and related plantation assets since it would be a related party transaction.
It is also noteworthy that FGV's board is largely made up of independent directors.
Other than Felda controlling 33.67% of the shares in FGV, other substantial shareholders of the plantation giant include Lembaga Tabung Haji with a 7.81% stake, Kumpulan Wang Persaraan (Diperbadankan) holding 7.82% in the plantation company, Koperasi Permodalan Felda controlling 5.18% shareholding and Kerajaan Negeri Pahang which has accumulated 5% equity interest.