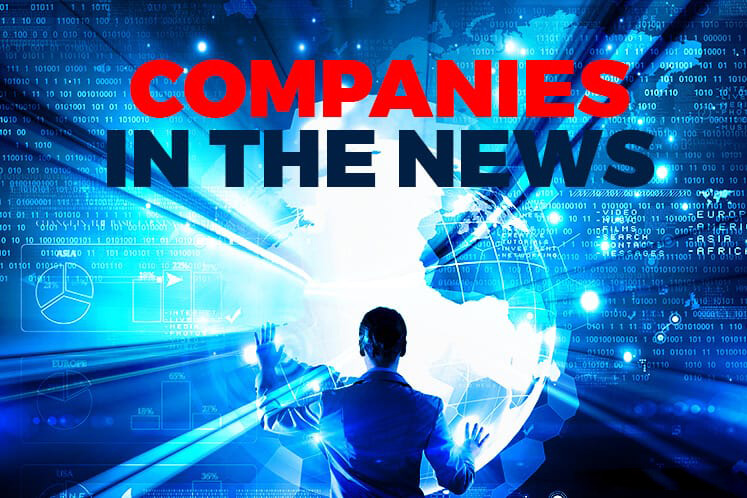 KUALA LUMPUR (March 22): Based on corporate announcements and news flow today, companies in focus on Friday (March 23) may include: Eversendai Corp Bhd, UMW Holdings Bhd, Scientex Bhd, Ann Joo Resources Bhd, Bina Puri Holdings Bhd, Titijaya Land Bhd, Sapura Energy Bhd, Muhibbah Engineering (M) Bhd and Advancecon Holdings Bhd.
Eversendai Corp Bhd is confident that its first completed liftboat Vahana Aryan will secure a charter contract within the next two to three months, as demand for liftboats is overwhelming supply worldwide.
Eversendai has launched the sea trial of Vahana Aryan, which has a capacity to accommodate 200 men with a 300-tonne crane for servicing wellhead platforms in the oil and gas industry.
According to Eversendai, Vahana Aryan can be elevated on location, which improves productivity by eliminating downtime caused by rough weather.
The current mismatch of demand and supply of liftboats in the oil and gas industry opens up an opportunity for Eversendai to command a respectable level in liftboat charter rates.
UMW Holdings Bhd (UMWH) announced that it has received the acknowledgment receipt from the Securities Commission Malaysia (SC) of its proposed establishment of Perpetual Sukuk Issuance Programme of RM2 billion in nominal value.
Maybank Investment Bank Bhd announced on behalf of UMWH that its Perpetual Sukuk Programme has been assigned a preliminary rating of A1, which has been placed on Rating Watch Positive by RAM Rating Services Bhd.
UMWH said the issuance of the Perpetual Sukuk is expected to improve its borrowings structure by enabling the group to access the capital markets for longer tenure funding.
UMWH further added that the proceeds from the exercise would be used by the group to finance its debt obligations and/or capital requirements, investments, general corporate purpose and capital expenditure.
Scientex Bhd's net profit for the second quarter ended Jan 31, 2018 rose 4.3% to RM67.98 million from RM65.19 million a year earlier, driven by growth in its manufacturing segment.
Quarterly revenue rose 8.3% to RM634.75 million versus RM586.25 million a year earlier.
For the six months ended Jan 31, Scientex posted a net profit of RM29.02 million against RM25.41 million previously, on the back of revenue RM1.29 billion versus RM1.12 billion.
Scientex is also in the process of acquiring Klang Hock Plastic Industries Sdn Bhd (KHPI) for RM190 million. This acquisition is immediately valued accretive once completed in the second quarter of the calendar year 2018.
Ann Joo Resources Bhd said that holders of the company's redeemable convertible cumulative preference shares (RCPS) have until 5pm on April 11 this year to submit their conversion notice form to convert the RCPS into ordinary shares. This is to enable the ordinary shares to be entitled for the steel manufacturer's dividend of 13 sen a share, which will be paid on May 21 this year.
Ann Joo said the completed form of conversion notice together with the requisite payment must be received by Ann Joo's share registrar Symphony Share Registrars Sdn Bhd by the stipulated date and time to enable the ordinary shares to be credited into Ann Joo shareholders' accounts by April 23 this year, for the dividend entitlement.
Bina Puri Holdings Bhd and Titijaya Land Bhd have entered into a new joint venture to develop a residential and commercial project on an 11.2-acre land adjacent to the monorail depot in Brickfields.
Bina Puri said its wholly-owned units, Bina Puri Properties Sdn Bhd (BP Properties) and Bina Puri Development Sdn Bhd (BP Development), signed a JV agreement with Titijaya yesterday.
It also said that another wholly-owned unit of the group, Bina Puri Construction Sdn Bhd (BP Construction), plans to dispose of its 70% stake in BP Development to Titijaya for RM2.5 million.
Previously, in 2014, BP Construction and Titijaya had signed a JV for the latter's 70%-owned Prosperous Hectares Sdn Bhd to develop the land as its turnkey contractor.
Yesterday, that JV was terminated, and BP Construction entered into a share sale agreement with Titijaya to sell its 30% stake in Prosperous Hectares for RM900,000.
Sapura Energy Bhd said it will commence production at the B15 field offshore Sarawak with the first gas milestone achieved within two years of the sanction of its field development plan (FDP).
This milestone achievement at B15 was achieved on schedule and within budget. Sapura E&P (Sapura Exploration and Production (Sarawak) Inc) has made significant gas discoveries over the past two years. The development plans for these discoveries are progressing well and should come on stream over the next two to five years.
The B15 field was discovered in December 2010 and is located within the SK310 production sharing contract (PSC) area. The development comprises a processing platform with a 35km evacuation pipeline tied into the existing B11 infrastructure for onwards transmission into the Malaysia Liquefied Natural Gas (MLNG) complex at Bintulu.
Muhibbah Engineering (M) Bhd's 49%-owned joint-venture company has won an RM32.7 million contract for the Light Rail Transit Line 3 (LRT3) project.
Muhibbah said the company is tasked to design, supply, install and test the noise barrier for the line that links Bandar Utama in Petaling Jaya with Klang.
Muhibbah said the construction works will start immediately and are expected to be completed by the fourth quarter of 2019.
Advancecon Holdings Bhd has clinched its single-largest contract win of RM370.1 million to undertake earthworks and civil works for the West Coast Expressway (WCE) project.
The group said its wholly-owned unit, Advancecon Infra Sdn Bhd (AISB), was awarded the contract by West Coast Expressway Sdn Bhd.
AISB will undertake the job at the stretch of WCE from the Assam Jawa Interchange to the Tanjung Karang Interchange.
The contract is for a duration of 30 months from the date of site possession — which is to be determined later — and will be funded via internally-generated funds or borrowings.