This article first appeared in The Edge Financial Daily, on February 13, 2018.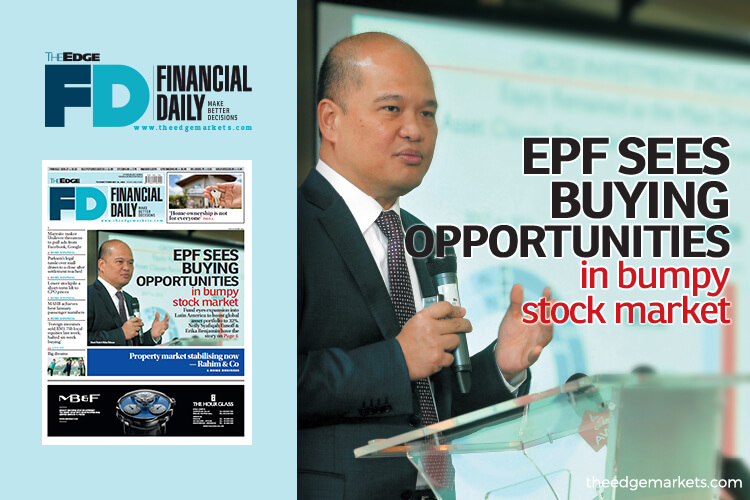 KUALA LUMPUR: The Employees Provident Fund (EPF) expects global equity markets to be volatile this year but sees buying opportunities amid the bumpy ride ahead.
"Last year was an uninterrupted year for equity markets as they continued to do well," said EPF chief executive officer Datuk Shahril Ridza Ridzuan. "But there is a market pullback happening now and we expect this year to be bumpy as people are looking at microeconomic fundamentals.
"It will be fine for us for the equity markets to be bumpy, as we like volatility which allows us to have more liquidity in the market.
"But now we are looking at whether it is a structural pullback or temporary pullback in terms of the market taking a breather," he said at a media briefing yesterday.
As for the 14th general election (GE14) expected later this year, Shahril said its impact has already been priced in by the market and as such a further steep rise or fall in prices is less likely.
"Actually there are no uncertainties in the [local] equity market as most of the investors have already priced in that (GE14) and are now focussing on the corporate results," he said, stressing that political events usually tend to only have a short-term impact on the stock market.
"For investors like us (EPF) we are more focussed on long-term investment which is driven by the structural factors (microeconomic factors) that go into our projection of growth," he said.
On Bank Negara Malaysia's move to raise its overnight policy rate by 25 basis points to 3.25% last month, Shahril said the increase is the result of a normalisation of economic growth.
"We are comfortable with the microeconomic conditions domestically and globally as there is quite a lot of growth coming in now to the point where the central bank can finally start to normalise the interest rate," he said.
At the same time, the EPF is also targeting to expand its global asset portfolio to 32% from 28% last year by actively looking at one or two overseas markets to further enhance the fund's presence and provide better returns for its members.
Shahril said the need to look for more opportunities globally is to help the fund compensate for any downturn in any of its investment markets and continue to grow.
"We will be looking at adding one or two new markets of territories to our [global asset] portfolio. We need to have a balanced portfolio and exposure as much as we can to growth around the world.
"We continue to discuss with the appropriate authorities for them to allow us to invest overseas. In 2018, we (EPF) are potentially looking at Latin America as we have very little exposure to that part of the world which is also a growth market by itself," he said.
As of Dec 31, 2017, the EPF's overseas investments made up about 28% of total investment assets, while the remaining 72% being held under domestic assets.
Shahril said despite making up 28% of total investment assets, the overseas investments had provided high returns, contributing 41.4% of the EPF's gross investment income in 2017.
"At 28%, it is pretty commendable resulting in very high return for our members. Our historical chart has shown that global assets give us the necessary diversification and exposure to growth, which is vital for the fund to continue to perform and provide the kind of returns that our members expect.
"Returns are one thing but risk management is far more important to us as it allows us to make sure that we have assets in the right market and industry so it helps to [counter] the downturn in any one market or any one sector for us to get the returns," he said.
The retirement fund has invested in 30 markets, which include the developed market as well as North Asia and Asean.