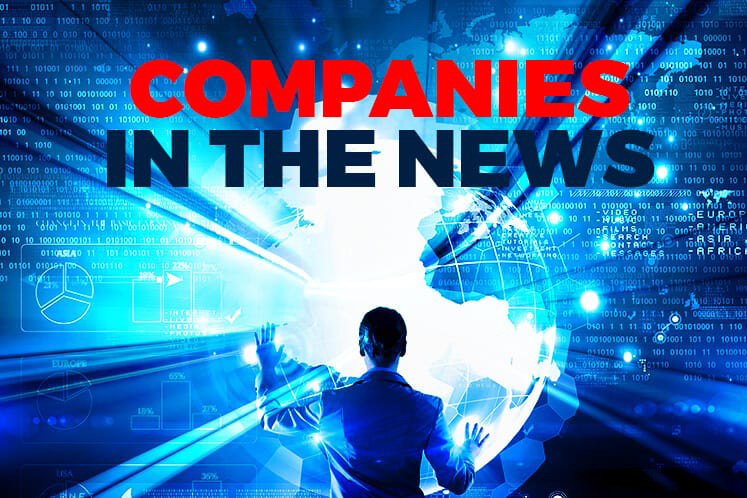 KUALA LUMPUR (Nov 14): Based on corporate announcements and news flow today, stocks in focus on Wednesday (Nov 15) may include: Eastern & Oriental Bhd, Petra Energy Bhd, Apex Healthcare Bhd, Scomi Energy Services Bhd, Paramount Corp Bhd, Lay Hong Bhd, Sunway Construction Group Bhd and Ho Wah Genting Bhd.
Eastern & Oriental Bhd's (E&O) net profit jumped more than five times to RM19.68 million in the second quarter ended Sept 30, 2017, from RM3.83 million a year earlier, thanks to its core property segment's earnings which more than doubled.
Quarterly revenue grew 2.5 times to RM195.88 million from RM79.28 million.
Half-year net profit rose 5.8 times to RM40.92 million from RM7.07 million previously as the property segment's operating profit more than doubled to RM103.7 million from RM51.8 million. Revenue, meanwhile, rose 52.2% to RM369.32 million from RM242.59 million.
E&O said the higher half-year revenue was due to higher revenue recognition from ongoing projects in Seri Tanjung Pinang (STP), namely The Tamarind, the Amaris Terraces and the Ariza Seafront Terrace.
Higher sales of completed properties such as the Andaman condominiums in STP and Princes House in London, also led to higher revenue recognition.
Integrated brownfield services provider Petra Energy Bhd has won a contract from Petronas Carigali Sdn Bhd to provide maintenance, construction and modification (MCM) services offshore of Sabah.
"There is no firm contract value stated in the letter of award as the contract is on a 'call-out' basis based on the work orders issued by Petronas Carigali and will include any or all other work and services which is generally related to the scope of works in this contract at a fixed schedule of rates," it said.
The five-year contract will expire on Sept 19, 2022, with an option to extend for another one year.
Apex Healthcare Bhd's net profit grew 29% year-on-year to RM11.27 million in the third quarter ended Sept 30, 2017, from RM8.74 million a year earlier, on stronger contributions from its consumer products division as well as pharmaceutical sales to Malaysia and Singapore's public sector.
Revenue for the quarter increased 10.3% to RM157.73 million from RM142.96 million.
For the cumulative nine months, net profit rose 12.3%  to RM31.66 million from RM28.2 million, boosted by  reinvestment allowance tax incentives provided.
Revenue, meanwhile, improved 7% to RM467.68 million from RM437.12 million.
Scomi Energy Services Bhd's joint-venture company Ophir Production Sdn Bhd has achieved first oil following the completion of its field development plan of the Ophir Field located offshore of the east coast of Peninsular Malaysia.
Scomi Energy holds a 30% stake in Ophir, which was granted a risk service contract (RSC) by Petronas in 2014 to develop the Ophir Field. Australia-based Octanex Ltd has a 50% stake in Ophir, while Vestigo Petroleum Sdn Bhd holds the remaining 20%.
The Ophir Field will be developed via three production wells, a wellhead platform, and a floating, production, storage and offloading vessel.
Paramount Corp Bhd's net profit grew over seven times in the third quarter ended Sept 30, 2017 to RM87.76 million, from RM11.16 million a year earlier, mainly on the disposal of its Sri KDU campus, which generated a gain of RM77.8 million.
Bottomline grew 42% to RM191.1 million from RM134.78 million due to higher contribution from both its property and education divisions.
For the nine-month period, Paramount's net profit surged 143% to RM108.72 million from RM44.76 million last year, while revenue improved 32% to RM518.59 million from RM393.41 million.
"The substantial revenue growth was contributed by the record property sales of RM633 million for nine months in comparison to RM403 million for full-year FY16, and by the new stream of income from REAL Education that the group acquired earlier this year," said Paramount group chief executive officer Jeffrey Chew in a statement.
Higher revenue from its livestock division drove Lay Hong Bhd's second quarter net profit up over three times to RM12.17 million from RM3.54 million a year earlier.
Revenue for the quarter ended Sept 30, 2017 grew 20% to RM204.56 million from RM170.98 million, with the integrated livestock farming segment registering higher revenue of RM171.3 million on higher quantity and higher priced eggs and frozen products.
Cumulative six-month net profit increased fourfold to RM16.59 million from RM3.96 million in the previous year. First half revenue rose 18% to RM387.59 million from RM329.93 million in the previous April-September period.
Lay Hong noted the entry of NH Foods Ltd as a substantial shareholder marked an important step forward for the group's chicken product manufacturing business, with plans for an expansion to increase production capacity on track.
Its current egg production rate stands at 2.3 million eggs per day to date and the group expects to grow this target. It also targets to bump up its boiler capacity to cater to new requirements in food processing.
As part of this expansion, it has identified a piece of industrial land in Selangor Halal Hub, Pulau Indah, to set up a plant.
Sunway Construction Group Bhd's (SunCon) joint venture with Taisei Corp of Japan has bagged a RM139.83 million contract from Nippon Express (M) Sdn Bhd to build a new warehouse in Shah Alam.
Taking the latest project into account, SunCon's outstanding order book amounts to RM6.8 billion.
SunCon said Taisei-Sunway JV has accepted the letter of acceptance from Nippon Express for the proposed project.
Upon award of the project, Taisei and SunCon will enter into a detailed JV agreement, with both companies holding equal stakes in the venture.
Taisei will be the lead partner for the project, which is for a period of 22 months and is expected to be completed by the third quarter of 2019.
Ho Wah Genting Bhd (HWGB) is planning a four-to-one share consolidation, as well as to diversify into the travel retail business.
It is also looking to raise gross proceeds of up to RM20.18 million via a private placement of up to 30% of its issued shares, or 77.62 million shares, after the proposed share consolidation exercise.
The proceeds will be used as shareholder's equity and shareholder's loan into a new business venture with Dufry International AG for the operation of a duty and tax free shop in Genting Highlands Resort, Pahang, and for the group's working capital.
As at Nov 10, 2017, being the latest practicable date prior to the date of the announcement, the group's issued share capital totalled RM49.91 million, comprising 998.25 million shares.
For illustrative purposes, the 998.25 million HWGB shares (assuming none of the outstanding convertible securities is exercised into new shares) will be consolidated into 249.56 million consolidated shares pursuant to the exercise.
As for its proposed private placement, HWGB's major shareholder Ho Wah Genting Holding Sdn Bhd has provided an irrevocable undertaking to subscribe to at least 37.43 million and up to 38.81 million placement shares, representing up to 50% of the total available placement shares pursuant to the exercise.
The remaining placement shares are proposed to be placed out to independent investors to be identified at a later date, said HWGB. The actual number of placement shares to be issued pursuant to the proposed private placement will be determined at a later date, after obtaining all the relevant approvals for the proposals.