This article first appeared in The Edge Malaysia Weekly, on September 8, 2014 - September 14, 2014.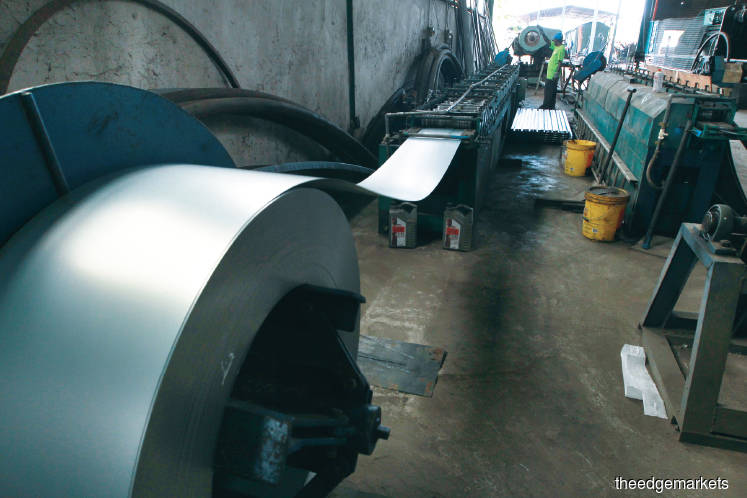 Many entrepreneurs on the east coast are now looking west. Having established themselves in their home markets, many of them, such as Kinsteel Bhd's Tan Sri Pheng Yin Huah, feel ready to take on the rest of Peninsular Malaysia.
But less well-known is Franky Cheng Gen Min, the founder of Henle Steel Sdn Bhd, a steel trading company that is just about to make its move. 
The 53-year-old steel trader displays all the business acumen of one who started out with nothing and rose through the ranks with a combination of hard work, business savvy and true grit. 
His father was a blacksmith in Mersing, Johor, and Cheng was expected to take over the family business. But he had other plans. As soon as he had completed his Form Five, he headed to Kuantan, Pahang, to seek his fortune. He landed a job at a foundry and set about learning the trade.
It was not easy, but Cheng was willing to put in the work. Four years later, he had mastered the technical aspects of running a foundry and realised that he did not need to work for someone else. This was a labour-intensive business that did not need any expensive equipment. He would be more than able to start his own foundry.
He rented a wooden shoplot in Kuantan for RM300 a month and started his business. Three years later, he had saved enough (RM6,500) for a down payment on his own place. He'd had his eye on a 1,400 sq ft lot, also in Kuantan. For the next 14 years, he operated out of this shoplot with fewer than 20 workers.
Cheng was able to achieve a monthly turnover of RM10,000 very quickly. Of this amount, 50% was spent on materials and labour. His margins, thus, were a cool 50%.
But as business grew with more jobs coming in, his workers started clamouring for more money. And if they didn't get what they wanted, they left. All this gave Cheng so much stress that he decided to leave the running of the foundry to his brother, who had come to Kuantan to join him, and got into the roller shutter business.
A roller shutter is a type of door shutter consisting of many horizontal slats (or sometimes bars or web systems) hinged together. The door is raised to open it and lowered to close it. It provides protection against burglars.
Cheng was attracted to the comparatively simple operating mechanism and when he got into the business, he saw that there were opportunities to trade in the hardware accessories related to it, such as bearings and gate rollers.
Trading in these products helped him start out with relatively low risk because the products were inexpensive and he didn't need a large store as he was only dealing with retail customers. From there, he built up his network and started distributing his products wholesale to business clients.
The margins may have been lower but he was dealing with much higher volumes as he was not limited to his own production capacity, like with the foundry. So, all in, he was making more money. 
"In the foundry, I could do maybe 10 installations a day, but when trading, I could do much more within the same period," says Cheng.
In 2001, he began to supply steel to property developers in Pahang and for the first time, he found himself having to provide credit facilities for his clients. This made him nervous because his business had always been cash on delivery and now, he was worried about the possibility of bad debts. Consequently, he was very selective when it came to his customers.
Also, he needed to pay his suppliers. If his customers were late in paying, he would be unable to pay his suppliers. In cases like these, he always asked for an extension, but he always made sure to pay something extra as a form of interest if he had to do this. This way, his suppliers could see that he was not taking the extensions for granted, and would continue to work with him.
"I did this not only to compensate them for the time taken, but also to build a lasting business relationship," he explains.
Cheng likes to keep things simple and straightforward, which is why his business model isn't complicated. He buys steel from upstream suppliers and distributes them to his clients. Some of the steel, he simply passes on, acting as a go-between, while some of the steel he refines as a value-add. It all depends on what his customers want.
Today, his clients range from property developers to chemical and petroleum refineries. Most of them are regular customers, especially the chemical and petroleum refiners, which need to procure steel regularly for maintenance purposes.
Steel trading is highly competitive and right now, there are 20 major players on the east coast. Henle Steel is one of the largest, and despite having relatively stable recurring income, Cheng is determined not to remain a big fish in small pond. So he is coming to Kuala Lumpur to compete with the big boys.
Cheng, who started his business with little more than a high school education, four years of working experience and a head full of dreams, is undaunted by the prospect of competing with companies so much larger and more established than his, in a region he is unfamiliar with.
"There are always obstacles, but you need to face them squarely and figure out how to resolve them. I don't think the KL market will reject us when we offer our products at such reasonable prices," he says.
Cheng is convinced he will have a competitive advantage in this market. Firstly, because his more than three decades in the field has allowed him to establish a broad network in the industry. And secondly, because he can procure steel in bulk, which reduces his cost per unit.
When you consider that his companies on the east coast — Heng Lee Roller Shutter and Hardware Trading, Heng Lee Foundry, and Hinle Metal & Hardware Supplies Sdn Bhd — racked up more than RM30 million last year, you will see that he is not being overly ambitious.
Cheng does not believe in spending money unnecessarily. In fact, his companies' gearing was less than 1% last year before he purchased land to build a new and more modern warehouse as part of his expansion plans. He bought two four-acre tracts of agricultural land in Kuantan which has since been converted into industrial land.
"Our current warehouse has been fully utilised and I need more space to cater for a larger clientele, especially when I'm trying to expand the business beyond the east coast," he says.
The new warehouse should be ready by 2016. He will be spending about RM12 million to construct the warehouse and equip it with more advanced facilities so as to accurately control all inventory going in and out of it.
Cheng says the expansion is justified because business has grown an average of 10% annually since he ventured into steel trading in 1996. In fact, coming to Kuala Lumpur is just the first step in the bigger plans he has for the company. 
In 2011, he incorporated Henle Steel Sdn Bhd, which recorded an after-tax profit of RM15,615 in 2013 against a loss of RM4,322 in 2012. He intends to grow this to annual revenues of RM30 million to RM40 million within five years, from the latest reported revenue of RM684,117 for financial year 2013. Once he achieves this, Cheng aims to list the company on Bursa Malaysia.
However, despite his plans to list, he has not put his existing businesses on the east coast under Henle Steel. "I will only do it when I have to, as my existing customers are used to dealing with us in our present form."
Moving forward, Cheng has set his sights on more than just steel trading. For instance, he may team up with one or two of his property developer clients to embark on residential developments in Pahang. 
Apart from the lucrative margins in property development, it is also part of his strategy to expand his business along the supply chain. 
Other than pure expansion, Cheng wants to modernise the way his businesses are run. He is looking to hire promising talent in accounting and administration, sales and marketing, and warehouse management to help him do this.
He has already brought in new blood for the business — his two sons and two daughters. All of them are already working in various departments of the company to familiarise themselves with the business. 
Cheng is watching carefully to see which of his children shows the most aptitude. "It will depend on how they perform. Only then will I pick a successor to groom."
Save by subscribing to us for your print and/or digital copy.
P/S: The Edge is also available on Apple's AppStore and Androids' Google Play.