This article first appeared in The Edge Financial Daily, on June 29, 2018.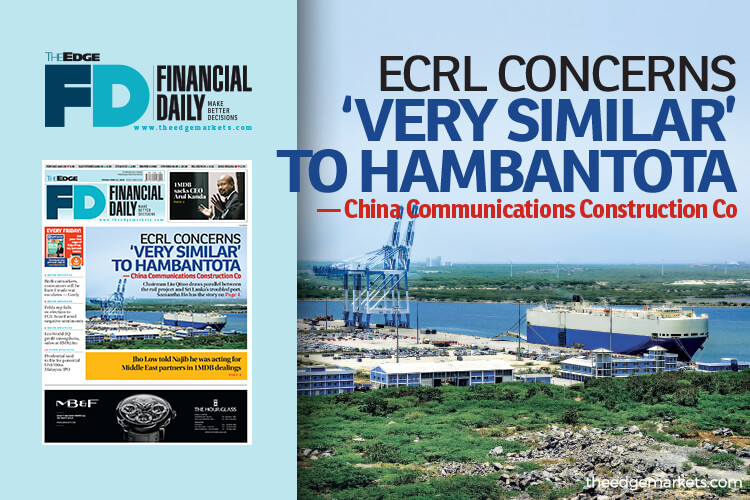 HONG KONG:  The main contractor for the East Coast Rail Link (ECRL) project, China Communications Construction Co Ltd (CCCC) has likened concerns over the Malaysian project to that of Sri Lanka's troubled Hambantota port.
"In Malaysia, everyone is concerned about the ECRL project, very similar to [the port project in] Sri Lanka," said CCCC chairman Liu Qitao, whose company is also the parent of China Marine Port Holdings Ltd, which had taken control of the debt-ridden Sri Lankan port in December 2015.
Less than a year before that, Sri Lanka had witnessed a change in government. The new administration had struggled to keep up with debt payments, eventually handing over an 85% stake to the Chinese company on a 99-year lease via a US$1.2 billion debt-equity swap.
The construction of Hambantota port was partly done by China Harbour Engineering Co Ltd, which is a CCCC subsidiary.
"In the beginning they [had] certain concerns, but after our discussions, they discovered that [the port project] is really beneficial for the livelihood of Sri Lankans," Liu said.
Speaking at a panel discussion at a Belt and Road Initiative summit here yesterday, he said he is "not very concerned" about risks related to the change in the Malaysian government and its pledged review of the controversial 688km ECRL project that would connect Port Klang, Selangor, and Pengkalan Kubur in Kelantan, and cut travel time from seven hours to four.
"For such a project [that is] tied to livelihoods, I believe that the new government will definitely take that into consideration," he said, adding that CCCC is focused on contributing to Malaysia's growth potential.
Regardless of which government is in power, Liu said, "as long as it is a good project, everyone will be confident about it".
"We're confident [that] first of all, this project is based on business principles — it is very open and transparent," he said.
Ironically, CCCC has been blacklisted since 2009 by the World Bank from participating in its projects after an internal investigation deemed that the Chinese state-owned enterprise had been involved in corrupt practices in the Philippines.
Liu noted that CCCC is operating in over 100 countries and sees risks everywhere. "Risks are there, but there is one thing that is very important for each project that we plan and do — it is definitely based on internal demand and the creation of value.
"If we blindly move forward in non-livelihood projects which [are] destructive for the economy or the environment, then I would think there are more risks," he said.
State-owned Export-Import (Exim) Bank is providing a RM55 billion loan for the RM60 billion to RM70 billion ECRL project, which has been awarded to CCCC, via direct negotiation.
On Monday, Prime Minister Tun Dr Mahathir Mohamad said Malaysia would proceed with the ECRL if it can obtain more favourable terms, adding that he does not think the project should cost RM55 billion, as previously announced.
Earlier, Finance Minister Lim Guan Eng reportedly said the government wants to renegotiate and reduce the cost of the ECRL.
Payments for the rail project had been made "without regard for the progress of the construction", Dr Mahathir had said. It was reported that Malaysia has already paid RM19.7 billion, which included a 15% mobilisation fee, with under 15% of the project completed.