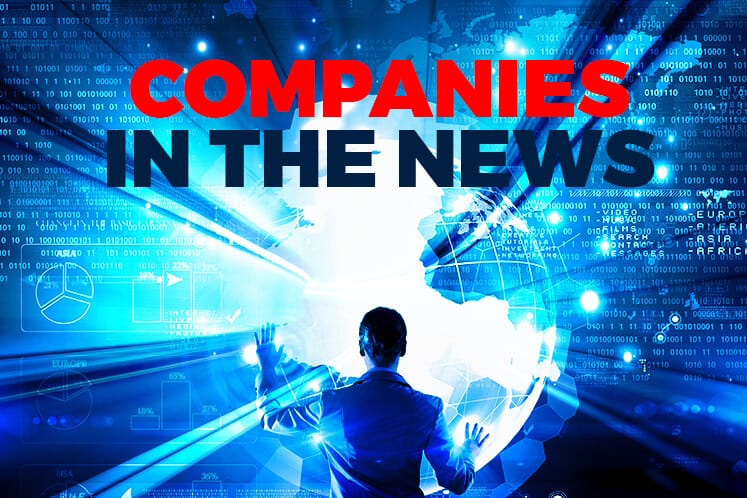 KUALA LUMPUR (March 19): Based on corporate announcements and news flow today, companies in focus on Tuesday (March 20) may include: Eco World International Bhd, George Kent (Malaysia) Bhd, YTL Power International Bhd, YKGI Holdings Bhd, TRC Synergy Bhd, Lafarge Malaysia Bhd, Leweko Resources Bhd, Cabnet Holdings Bhd, Tenaga Nasional Bhd, Willowglen MSC Bhd, Parkson Holdings Bhd, Poh Huat Resources Bhd and Malaysian Resources Corp Bhd.
Eco World International Bhd (EWI) said it has completed Stage 1 acquisitions of six sites in the UK for 63.76 million pounds (RM348.47 million) under EWI and the UK-based Willmott Dixon Holdings Ltd's development arm Be Living Holdings Ltd's planned joint development of 12 sites in Greater London and the South East of England.
The completion of the Stage 1 Acquisitions has added about 1.1 billion pounds to EWI's remaining gross development value (GDV) of 1.01 billion pounds (as at 31 October 2017) and upon completion of the Stage 2 sale and purchase agreements, the group's GDV will increase by another 1.5 billion pounds.
In terms of the number of projects, this has increased from 3 projects to 9 with the completion of the Stage 1 Acquisitions and once the Stage 2 acquisitions are completed, EWI will have 15 projects in the United Kingdom.
George Kent (Malaysia) Bhd's net profit rose 23.5% to a record RM51.88 million in the fourth quarter ended Jan 31, 2018 from RM42.02 million a year ago, on improved performance of its engineering division.
Quarterly revenue, however, fell 8.6% to RM172.91 million from RM189.14 million.
George Kent declared a third interim dividend of 5 sen per share amounting to RM28.16 million, payable on April 25.
For the full year, George Kent hit record levels once again, with net profit surging 22.9% to RM124.43 million from RM101.28 million in FY17, while revenue grew 3% to RM616.99 million from RM598.97 million.
YTL Power International Bhd's indirect wholly-owned subsidiary YTL Jawa Energy BV is acquiring Dutch company Bel Air Den Haag Beheer BV, which owns the 306-room Mariott The Hague, for 60.3 million euros (RM289.6 million).
Once completed, Bel Air would become YTL Jawa's wholly-owned subsidiary and an indirect subsidiary of YTL Power.
YTL Power said the acquisition will enhance the group's earnings potential and is not expected to have any material effect on the earnings, net assets or gearing of the YTL Power group for the current financial year.
YKGI Holdings Bhd has entered into mutual confidential agreements with CSC Steel Holdings Bhd and NS BlueScope Malaysia Sdn Bhd to dispose of certain assets, confirming a recent report by The Edge Malaysia weekly.
The company said NS BlueScope is conducting due diligence on the proposed transaction, adding that it has not received any offer from the parties yet.
TRC Synergy Bhd's subsidiary and another firm are jointly suing the Brunei Economic Development Board for B$13 million (RM38.23 million) with regard to an airport project.
TRC said its wholly-owned unit Trans Resources Corp Sdn Bhd and Swee Sdn Bhd initiated the suit in the High Court of Brunei to recover the amount in relation to the modernisation of the Brunei International Airport Terminal.
Lafarge Malaysia Bhd will be supplying RM270 million worth of cement for all eight packages of work for the East Coast Rail Link (ECRL) project.
This follows a contract signed by the group's wholly-owned subsidiary Lafarge Cement Sdn Bhd with China Communications Construction (ECRL) Sdn Bhd.
The contract is from now until Dec 31, 2019 with the option for parties to renew the contract for a further two years, subject to mutually-agreed renewal terms and conditions.
The Public Works Department (JKR) has accepted Leweko Resources Bhd's RM34.45 million tender to replace old bridges in Peninsular Malaysia.
Leweko said its indirect subsidiary Dura Construction Sdn Bhd has received the letter of acceptance from JKR, and that the terms of the deal would be formalised in a contract signed by both parties.
The contract is for a period of 24 months.
Cabnet Holdings Bhd has proposed a bonus issue of warrants on the basis of one warrant for every two shares held, alongside a three-for-eight bonus issue of its shares.
The proposals will entail an issuance of 65 million bonus warrants as well as 48.75 million bonus Cabnet shares.
Both the bonus warrants and shares will not be implemented in stages. It expects the proposals to be completed in the second quarter of 2018.
Tenaga Nasional Bhd (TNB) has signed two large-scale solar power purchase agreements (PPAs) with special purpose companies (SPC) set up by the successful bidders.
The two bidders are TNB itself for a facility in Kuala Muda, Kedah and Gebeng Sdn Bhd for a facility in Kuantan, Pahang. The two SPC will each design, construct, own, operate and maintain a solar photovoltaic energy generating facility.
TNB Bukit Selambau Solar Sdn Bhd's plant will have a capacity of 30MWac while Gebeng's is 29.92MWac. Their scheduled commercial operation date is Dec 31, 2020 and Feb 3, 2020, respectively.
TNB also announced a final dividend of 21.41 sen per share for the financial year ended Dec 31, 2017, payable on April 19. The ex-date is April 4.
Willowglen MSC Bhd has proposed a one-for-one bonus issue to increase liquidity of its counter.
The proposal entails 248 million bonus shares to be issued in stages ex-capitalisation of reserve.
As at March 12, the company has issued share capital of RM29.24 million.
The proposed bonus issue is expected to be completed by the second quarter of 2018.
Parkson Holdings Bhd's indirect Chinese subsidiary has successfully bid for part of a property in Wuxi, China that the unit is currently renting, for RMB200 million (RM124 million) cash.
Parkson's Hong Kong-listed 54.97% subsidiary Parkson Retail Group Ltd (PRGL) said its 60%-owned Wuxi Sanyang Parkson Plaza Co Ltd (WSPP) succeeded in the judicial auction in bidding for the property from Sanyang Yinhui Properties Development Company Ltd, which has been declared bankrupt.
The minimum bidding price was 189.6 million yuan. PRGL expects full payment of the acquisition to be satisfied by March 25. However, completion of the acquisition is still subject to the final confirmation of the Wuxi Intermediate Court, it added.
Net profit for Poh Huat Resources Bhd's first quarter ended Jan 31, 2018 plunged 64.69% to RM6.24 million from RM17.67 million a year ago, due to margin compressions in both its Malaysian and Vietnamese operations.
Quarterly revenue dipped by 0.96% to RM161.89 million from RM163.46 million, largely due to a fall in contribution from its Vietnamese operations, even though its Malaysian business recorded a 23% increase in turnover.
Malaysian Resources Corp Bhd (MRCB) is selling a 1.866-acre piece of land on Jalan Kia Peng to the Social Security Organisation (Socso) for RM323 million.
MRCB said the group is expected to realise an estimated after-tax gain of RM30 million to MRCB Group from the proposed disposal, which is expected to improve its consolidated earnings per share for the financial year ending Dec 31, 2018.
MRCB's indirect wholly-owned subsidiary Legasi Azam Sdn Bhd entered into a sale and purchase agreement with Socso for the proposed disposal.
MRCB said the proceeds from the disposal will be utilised for the group's working capital and property development activities within 12 months from receiving the purchase price.