This article first appeared in The Edge Financial Daily, on November 16, 2017.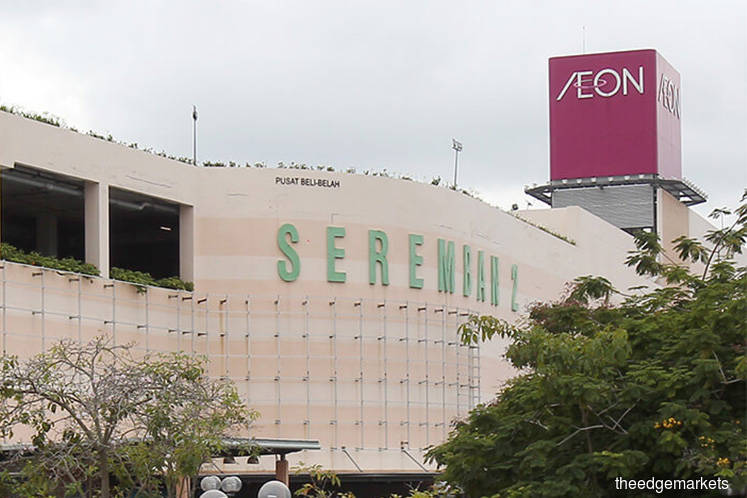 AEON Co (M) Bhd
(Nov 15, RM1.99)
Maintain hold with a target price of RM2.23: AEON Co (M) Bhd's results for the third quarter of financial year 2017 (3QFY17) are expected to be released on Nov 23. We expect cumulative earnings for the first nine months of FY17 (9MFY17) to come in the range of RM60 million to RM69 million, representing 30.9% to 49.2% growth year-on-year (y-o-y). This is attributable to: i) sales contribution from nationwide sales; ii) maiden contributions from AEON Kempas; and iii) the after-effect of merchandise mix realignment.
AEON Co has a capital expenditure (capex) budget of RM500 million planned for FY17. So far, the group has utilised about 60% of the allocated capex and is expected to spend another RM150 million in 4QFY17. The utilised capex has been used to: i) expand AEON Taman Maluri mall; ii) open a new mall in Kempas, Johor; and iii) refurbish old stores. The balance of RM150 million is expected to be used to continue financing the extension of AEON Taman Maluri mall and for the opening of a new mall in Kuching, Sarawak.
In the case of AEON Taman Maluri mall, the group plans to turn the open-space car park (100,000 sq ft) into part of the mall building (90,000 sq ft). It is targeted to be completed by the second half of 2019. Currently, the progress has reached 10% completion. We are positive about the outlook of this mall and have already considered its extension impacts in our earnings model.
On Sept 7, AEON Co opened a new mall in Bandar Dato Onn, Kempas, Johor. Currently the mall has about 85% occupancy rate and it is expected to be fully occupied by the end of the year. Main advantages of the mall include: i) good location 15 to 20 minutes from Tebrau; ii) opening of an MBO cinema, which will help increase consumers traffic to the mall; and iii) less mall competition within the surrounding area.
Considering that 3QFY17 has no major festival, earnings for this quarter are expected to come from: i) nationwide sales held in August; ii) maiden contribution from AEON Kempas; and iii) higher margins earned from realignment of merchandise mix of which products are currently in trend with consumers. Therefore, we expect the adjusted net profit in 9MFY17 to come in the range of RM60 million to RM69 million, representing 30.9% to 49.2% growth y-o-y.
We are positive about Budget 2018 as it is expected to spur consumers' purchasing power. Budget 2018 measures include: i) middle-income taxpayers are expected to have an extra RM300 to RM1,000 of disposable income from tax-cut implementations; ii) the continuation of the 1Malaysia People's Aid (BR1M); and iii) increase in bonus for civil servants as well as pensioners. Based on the total BR1M allocation of RM6.8 billion (versus RM6.6 billion in 2017), allocation for civil servants and pensioners' bonus of RM2.4 billion (versus RM800 million in 2017) and RM1.5 billion tax reductions, these would increase consumers' spending power, which will bode well for AEON Co. Furthermore, the government: i) expects 28 million tourist arrivals in 2018; ii) announced that 2020 will be the Visit Malaysia Year; and iii) is allocating RM3.5 billion for the tourism sector in 2018, which we believe will also be positive for AEON Co. Hence, we expect top-line growth of 10.8% y-o-y for FY18 after taking the above into consideration. For comparison, AEON Co's three-year average sales growth between FY14 and FY16 was only 4.7%.
Moving forward, AEON Co has allocated less capex in FY17 to FY19 of RM500 million for each financial year (versus average RM700 million each for FY15 to FY16). The capex in FY18 and FY19 will be used to: i) finance the opening of the mall in Kuching by FY18; ii) reopen AEON Taman Maluri mall extension in FY19; iii) construction of AEON Nilai; and iv) store refurbishments in Bandar Utama, Bandar Sunway and Seremban 2. We find that the above future plans are in line with its plan to normalise capex level from RM700 million in FY15 and FY16 to RM500 million in FY17 to FY19. This would reduce the net gearing from 0.52 times in FY16 to an estimated 0.48 times in FY17. Note that the net gearing level for the first half of FY17 was 0.46 times. — TA Research, Nov 15