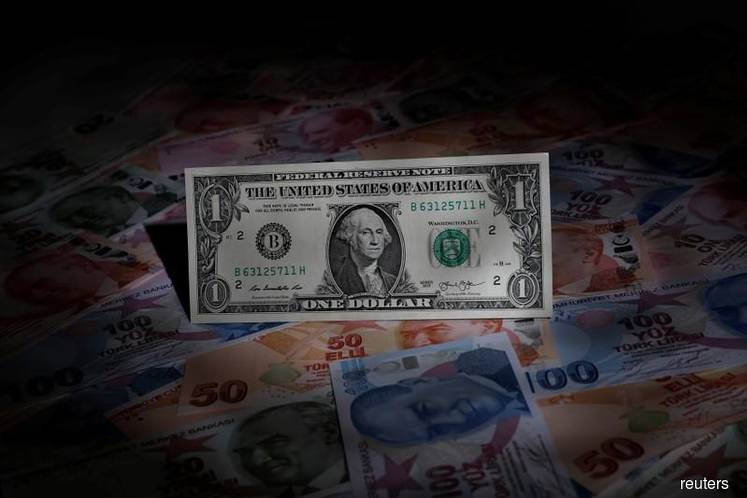 TOKYO (Aug 15): The dollar held firm near a 13-month high against a basket of major currencies on Wednesday after safe-haven demand on fears over fallout from the Turkish lira's recent drop boosted the U.S. currency.
The greenback's strength was bolstered by the euro's fall, which has been dogged by concerns over the exposure of European banks to financial turmoil in Turkey.
"In light of all the turmoil we've seen out of Turkey and the subsequent contagion into other emerging markets, the dollar is pretty much establishing itself as the safe-haven currency," said Bart Wakabayashi, Tokyo branch manager at State Street Bank.
"The dollar is the higher-yielding of the safe-haven currencies, so it obviously will attract the most flows. If you are going to park your money somewhere to stay away from the turmoil, the dollar is going to be the currency of choice," he said.
On Wednesday, an index that tracks the dollar against the euro, yen and four other currencies was flat at 96.729, hovering near a 13-month high of 96.794 reached the previous day.
The Turkish lira stabilised after rebounding more than 8 percent overnight. The currency traded 0.82 percent weaker on the day at 6.41 to the dollar after plunging to an all-time low of 7.24 on Monday.
The lira has lost more than two-fifths of its value against the greenback this year, hit by worries over President Tayyip Erdogan's calls for lower interest rates and fraying ties between the United States and Turkey, a NATO ally.
Erdogan said on Tuesday that Ankara would boycott electronic products from the United States, retaliating in a row with Washington that has helped drive the lira to record lows.
The lira was supported by remarks from Turkish Finance Minister Berat Albayrak, who told a news conference the lira will strengthen.
The euro edged down a tad to $1.1339, close to a 13-month low of $1.1330 reached the previous day. The common currency traded at 1.1280 Swiss franc, near a 13-month low of 1.1266 franc touched overnight.
"Once we got into August there was quite a bit of selling (of the euro), and it accelerated with the Turkey situation," said Wakabayashi.
The pound was frail, sliding back to a 13-month low of $1.2704 touched overnight after weaker-than-forecast wage growth offset an unexpected fall in Britain's unemployment rate.
Sterling last traded at $1.2709, down 0.08 percent on the previous day.
"With the Bank of England unlikely to raise rates for some time (the market prices the next hike for 12 months' time), U.K. economic data will be a second-order consideration for the pound compared to Brexit negotiations for now," Nick Smyth, an interest rate strategist at BNZ Markets in Wellington, said in a note.
Elsewhere, China's offshore yuan weakened 0.1 percent to 6.9036 yuan per dollar, hovering near a 12-day low of 6.91 per dollar touched on Monday. - Reuters