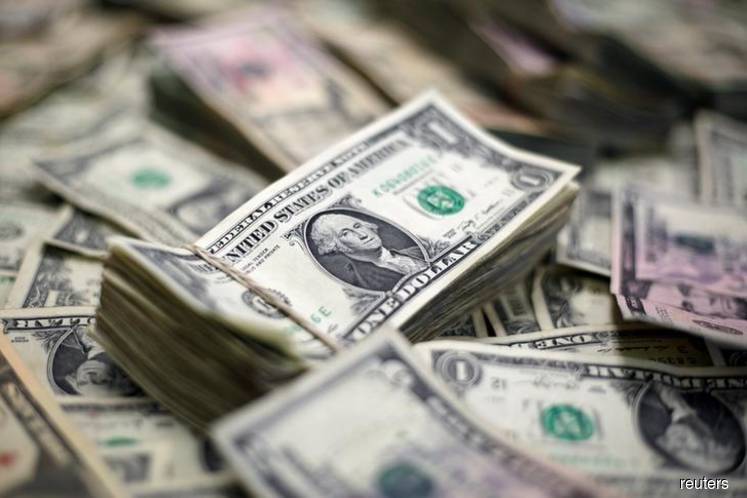 LONDON (Aug 24): The dollar fell on Friday ahead of a speech by the Federal Reserve's chairman which investors hope will provide an indication of the central bank's plans for monetary tightening and reaction to recent criticism by US President Donald Trump.
The greenback rallied on Thursday, boosted by a new round of tariffs in the escalating US-China trade conflict and the Federal Reserve's latest policy meeting minutes which signalled a September interest rate rise.
But the currency wilted on Friday and was headed for its biggest weekly decline since March.
Analysts said growing US political uncertainty, reinforced by the criminal conviction of one of Trump's ex-advisors this week, was keeping the dollar under pressure, despite the United States embarking on greater monetary tightening than elsewhere.
Another of Trump's former advisers has pleaded guilty to breaking campaign finance laws, bank fraud and tax evasion.
"In the current state of the US political system, that is dominated by doubts in the system of checks and balances, remnants of US dollar negativity remain," said Commerzbank analyst Ulrich Leuchtmann.
The dollar weakened on Monday after Trump said he was "not thrilled" with Fed Chairman Jerome Powell's rate hikes and that the US central bank should do more to help him to boost the economy.
American presidents rarely criticize the Fed, whose independence is considered important for economic stability.
Investors are focusing on a speech by Powell to be held later on Friday at an annual meeting of central bankers in Jackson Hole, Wyoming.
"I think Powell may imply that, regardless of political pressure, the Fed may continue with rate hikes as long as the US economy keeps expanding," said Masafumi Yamamoto, chief currency strategist at Mizuho Securities.
"If the market can confirm that, then I think the dollar's strength will continue."
The dollar index, which measures the greenback's performance against six major currencies, was down 0.2%, trading around 95.5.
On Thursday, the dollar gained nearly 0.7% against the Japanese yen after the Fed's minutes showed officials discussed raising rates soon.
US and Chinese officials ended two days of trade talks on Thursday without any major breakthroughs.
The talks between the two nations ended as their trade war escalated on Thursday after a new round of US tariffs kicked in on US$16 billion worth of imports from China, followed immediately by reciprocal tariffs from Beijing.
As a safe haven currency, the dollar has benefited from fears of international trade turmoil in recent months.
As the dollar fell on Friday the euro edged up 0.2% higher to US$1.1563, recouping some losses after shedding more than half a percent during the previous session.
The single currency weakened on Thursday after Italian deputy prime minister Luigi Di Maio threatened his party would vote to suspend funding to the European Union next year unless other EU countries agreed to take in migrants.
In quiet markets, the largest mover among the major currencies was the Australian dollar which gained half a percent on Friday, after the ruling Liberal party voted in a new leader.
The Aussie dollar tumbled 1.4% on Thursday to become the worst performing G10 currency, after hitting its lowest since January 2017 of A$0.7202 last week, as the country was gripped by political uncertainty.