This article first appeared in The Edge Malaysia Weekly, on February 5, 2018 - February 11, 2018.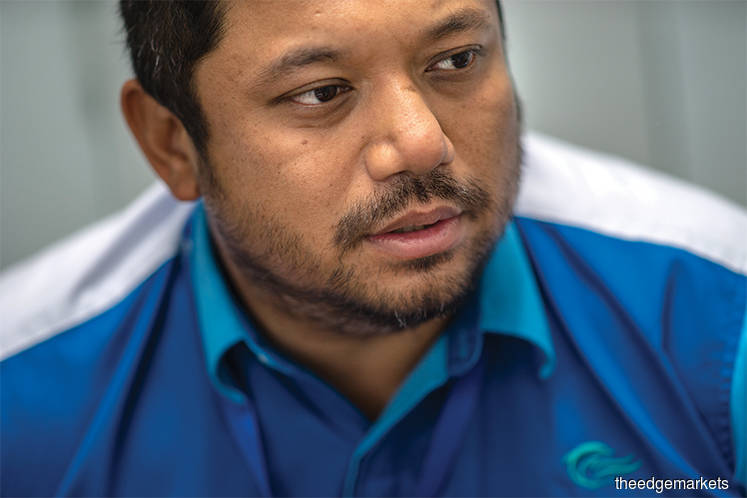 THE Edge: What is the competition like for new and existing services among transhipment hubs in Southeast Asia?
Ruben Gnanalingam: There are definitely a lot less clients than before. As you know, the container shipping industry has been undergoing consolidation, which has resulted in fewer players.
As players get bigger, this removes inefficiencies and sometimes, inefficiencies are what ports ride on. So now, there is a lot less inefficiencies in the market, [and] competition for services is getting tougher.
But overall, volume is still growing. As these mergers and acquisitions happen, there will be correction in the market. After the correction, volume will start growing again.
Was the drop in Westports' container throughput last year mainly due to CMA CGM SA shifting its principal Southeast Asian hub to Singapore?
The M&A led to alliance changes, so the effect did not come from just one party but from the changes in alliances. For example, United Arab Shipping Corp does not exist anymore — it was our second largest client. [This] effect cannot be downplayed either.
CMA CGM is our biggest client, and people were overweight on the impact that it brought. But you have to look at the overall impact from the fact that [the] Ocean Three alliance does not exist anymore. That was the biggest impact. If Ocean Three had still existed, I think we would have been fine.
Why did the Ocean Alliance choose to use Singapore as its hub?
The shipping companies formed a new alliance, and then they looked at where they could go. But they did not want to be in one hub because they are too big, and there are benefits of staying in two hubs too.
There are pros and cons of being in two hubs, and they are trying to maximise the pros, [and] at the same time, minimise the cons. At the end of the day, they chose to be in two hubs — Singapore and Westports — although for some services, they call at PTP (Port of Tanjung Pelepas) too.
Their cargo is so big that we couldn't be their primary hub anyway, as much as we wanted to. We couldn't take all the services. We and Northport combined cannot take all the services. So the best that we could take on was a proportion of them, and I think that is what we got.
What is the update on Westports2?
We are still conducting the studies and we have to update the government on the findings of the studies. Once we do that, we will have to update the terms of the agreement, such as the number of years of the concession period and what we can and cannot do.
The challenge is basically to see whether all the initial studies were correct. The original one was more towards feasibility, and now the key challenge is to see what geographical hindrance there could be to the full expansion that we want to do.
The biggest challenge is that the government has already said that it can't fund the expansion, or provide assistance for the dredging, so that is difficult. So, we have to do a lot of these by ourselves.
What differentiates your leadership style from your father's?
Our leadership style is actually similar, because I learnt a lot of things from him. I might have gone to various schools and educational institutions, but most of my education in business came from him.
The only thing that differentiates him and me is that he uses a lot more wisdom, the 'gut feel', whereas I still use a lot of statistics. This is because I started in an era where statistics were in abundance, while he came from an era where gut feel was all you needed because there were no statistics.
Westports1 is your father's legacy. How are you going to grow Westports2?
I don't believe in legacies. They are not the key to making an organisation last. The key is, instead, evolution. One thing that is constant in this world is that things are going to change. If you are not prepared to change, that is how you go extinct.
We've always told people to embrace change. Even as leaders, and I've told my top management team that you have to change in your space … you have to evolve with the times, technology and market. All these factors always change.
You see so many great leaders [where] there's a certain period of time when they build this certain thing in one company. And then you look back at the leaders who have been running companies successfully for 30 years.
The biggest difference between these guys is the latter wants to change, whereas the former has one trick. He could only do one thing, one style, and he couldn't change his style. So that is the part that we always focus on.
We have our style but we must make sure that our style keeps evolving. And if you can't evolve for the needs of the company, then you must step aside. I have said many times, if I happen to find somebody who is better than me who can do this job, I would be happy to step aside.
Save by subscribing to us for your print and/or digital copy.
P/S: The Edge is also available on Apple's AppStore and Androids' Google Play.