This article first appeared in The Edge Malaysia Weekly, on August 20, 2018 - August 26, 2018.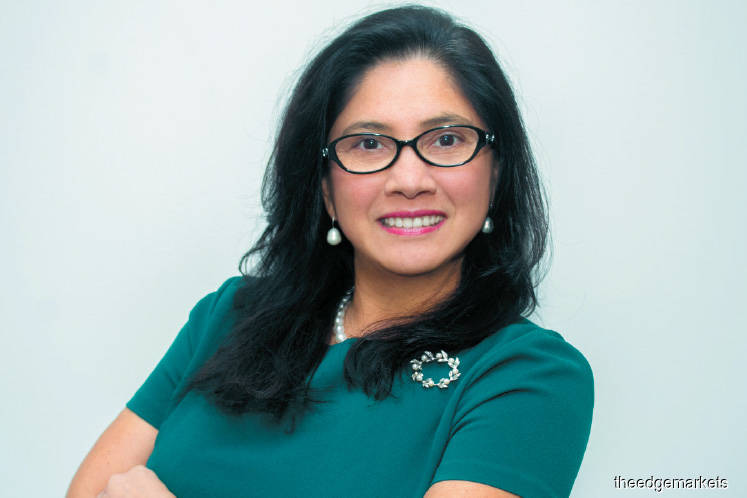 SIOBHAN Das
Executive Director, American Malaysian Chamber of Commerce Malaysia (AMCHAM)
AMCHAM companies have been watching the transition closely and have been reassured by the commitment toward greater transparency and the rule of law. We were delighted to hear directly from the prime minister that Malaysia is "open for business" when he spoke recently at our annual general meeting Luncheon. We understand that it takes time for the dust to settle and that the policy and decision makers in the new government need time to make considered decisions. We also applaud the efforts being made by many quarters to be more open, collaborative and willing to listen to the needs of industry as this is the engine that is driving growth in Malaysia.
There is, however, a lot more work to do and we hope our suggestions here will be viewed in the spirit of working together to ensure Malaysia retains its strong standing in the investment community and that the country can support a robust and efficient operating environment that will keep it ahead of what is a very competitive environment amid challenging times.
Consultation
AMCHAM members would like the various ministries and stakeholders to develop more robust and substantive forms of consultation with the private sector to ensure that new regulations and policies are aligned with business realities and can be complied with without creating undue costs and administrative burdens for businesses. For chambers like ours, we are able to tap into the real-time impact of potential decisions and provide critical feedback ahead of decisions. Often, in the past, industry consultation, if conducted at all, could be quite cursory with insufficient notice provided for business associations to prepare qualitative and relevant feedback on policy proposals. The oft-preferred large "town hall" forums were not conducive to substantive dialogue. The prime minister has spoken openly of the challenges that the new government faces in transitioning from an opposition party to a functioning government. This makes stakeholder engagement and staggered implementation all the more important for ensuring the smooth transition of any new policy implementation.
Coordination and alignment
Industry concerns would also benefit from enhanced communication and alignment between government ministries and agencies as decisions made by one ministry can have a considerable impact on the ability of several other ministries to achieve their policy objectives. Lack of coordination between government bodies creates confusion for the private sector and makes the regulatory environment less predictable and stable. We have suggested to the new government that it convenes a regular inter-agency "foreign investor dialogue" in which business associations can discuss cross-cutting regulations and policies with senior representatives (secretary-general level or higher) from all relevant government bodies.
Competitiveness
The region is becoming increasingly competitive. Malaysia's excellence over the years and decades allows it to compete on a global level, including with far-flung locales such as Costa Rica and countries in Europe. AMCHAM encourages the government to benchmark other countries that are competing with Malaysia for industrial investment and strive to ensure that it remains internationally competitive. This requires continued improvements across a range of factors that investors take into account in their deployment decisions. Tax regimes and investment-attractive opportunities are important considerations, as well as talent and human capital, trade agreements, power quality and infrastructure, respect for intellectual property rights, market access and costs associated with regulatory compliance, to name a few.
We would like the new government to look at industry as a partner in the country's development, and strive to implement a polisi galakan that supports and encourages innovation and new solutions rather than a polisi larangan that serves only to hold back the private sector. Having a growth-enabling mindset rather than a regulatory mindset will bring about disruptive ideas for growth in untapped sectors. Timing is as important as these opportunities need to be formulated and communicated to the business communities.
Tax and fiscal reform
The government is rightly dedicating much time and attention to finding solutions to the country's present fiscal situation, and it is important that decisions made are in the country's long-term macro-economic interest. The government should resist the temptation towards short-term solutions that could bring in some quick cash but damage Malaysia's image in the eyes of the investment community, and should instead focus on designing a tax system that is efficient, equitable and sustainable. Immediate measures should be taken to reassure the business community by resolving outstanding Goods and Services Tax refund issues and formally repealing the withholding tax provisions that were announced in Budget 2016 and then exempted by way of ministerial relief once the then government realised the impact implementation would have on investment and the types of business it continues to attract. We recognise that revenue is needed and encourage a review to identify sources of revenue that will not turn away high-value investments that, in turn, support an eco-system that enables its own revenue generation. This should include dedicating resources to supporting enforcement where there is high leakage, such as the country's high volumes of illicit trade. That would be one positive measure that could help to reduce the fiscal deficit.
Digital economy policies
The digital economy is growing exponentially, and those countries that are quick to develop enabling regulatory and tax frameworks stand to reap great economic gains. Malaysia needs to keep this at the forefront as it considers what type of regulatory regime it wants to have over the coming years. Will, for example, the new government permit cross-border data flows and enable companies to leverage on the cost savings that can be achieved through centralised global services? Will the new Sales and Services Tax regime be designed so as to secure tax revenues from the digital economy without inhibiting its growth and development? Will Malaysia re-orientate itself so as to encourage high-technology investments, and provide companies the opportunity to tap into globally mobile talent pools? This new government is coming to a time of great flux and opportunity in the world. By ensuring strong institutions and building upon the foundations of the many decades of resilient growth, we believe Malaysia will stand to be one of the most attractive places for growth and investments. The energy of its people is reflected in the New Malaysia. A vast number our member companies benefit from having close to 100% Malaysian workforce. It is through their talent and innovation that we all work together for a shared prosperous future. We look forward to seeing this new government seize the opportunity it has been provided by the people for the country.
Save by subscribing to us for your print and/or digital copy.
P/S: The Edge is also available on Apple's AppStore and Androids' Google Play.